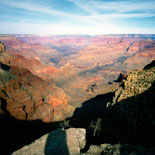 Grand Canyon West Rim Jeep Tour
Climb aboard the Tour Trekker vehicle for an extraordinary journey to the Grand Canyon and other fascinating landmarks in the area south of Las Vegas. After a short drive, you will travel across the Hoover Dam Bypass Bridge, which is renowned as a modern engineering marvel. The 1,060-foot span is the first steel and concrete composite bridge in the United States as well as the second highest bridge in the country. The adventure continues with a ride along the trails in a forest of Joshua trees, which is a member of the yucca family that early settlers used for fuel and fencing material. After viewing this remarkable natural environment, you will head to the Grand Canyon's west rim, the ancestral home to the Hualapai tribe. Here you can enjoy the rugged beauty of one of the world's most cherished natural wonders.
Interested in the Grand Canyon West Rim Jeep Tour? Use the following coupon code (promo code) and save an additional $10 on tickets.
Grand Canyon West Rim Jeep Tour Coupon Code: LVGW10
Purchase Tickets Here: http://www.trustedtours.com/store/grand-canyon-west-rim-jeep-tour.aspx
For an additional fee, you can experience the Grand Canyon Skywalk, a glass-bottom walkway that extends 70 feet from the rim and more than 4,000 feet above the base of the canyon. The transparent cantilever platform provides remarkable panoramic vistas of the canyon, which was carved by flowing waters of the Colorado River. After the completion of this 8- to 9-hour excursion, you will be dropped off at your hotel.