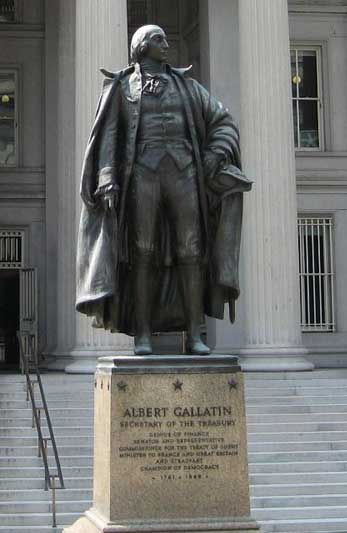 On the north plaza of the Treasury Building, just around the corner of 15th at Pennsylvania Avenue, stands the bronze statue of Albert Gallatin, the second and longest serving Secretary of the Treasury.  Appointed by Thomas Jefferson in 1801, Gallatin was kept on by James Madison, until he resigned in 1814.
Like the Alexander Hamilton statue on the south plaza, this elegant rendering of Albert Gallatin is by sculptor James Earle Fraser. Both are beautiful.  Each figure is similarly attired in the dress of gentlemen of their day – knee breeches, ruffled fichu at the neck, vest, dramatic cloak.
Gallatin's confident demeanor reflects the accomplishments listed on the pedestal: "Genius of Finance, Senator and Representative, Commissioner for the Treaty of Ghent (ending the War of 1812), Minister to France and Great Britain, and Steadfast Champion of Democracy."
Alexander Hamilton and Albert Gallatin were political rivals. While serving in Congress, Gallatin believed the Treasury under Hamilton operated too independently.  To curb Hamilton's notion of an independent Treasury, Gallatin was responsible for the law requiring an annual report by the Secretary of the Treasury to be reviewed by the House Ways and Means Committee which he helped create.
The role and reach of Treasury in funding the federal government was just one of the issues dividing not only these two men, but those in early government as well.  The rivalry between Hamilton and Gallatin became symbolic of a national political divide – one that endures yet today – as the Gallatin statue became the center of a 20th century Congressional debate.
As the first Secretary of the Treasury, Hamilton was not honored by a memorial until over 100 years after his tenure. A statue was approved by Congress and unveiled at the south entrance to the Treasury Building in 1923.  That initiated a debate – a reminder that politics in American government is nothing new.  It has been around since the birth of the nation.
Democrats had long maintained that Hamilton was given too much credit for his accomplishment and felt that Gallatin deserved more. They maintained it was Gallatin who cleaned up the national debt left by Hamilton. They wanted a memorial to Albert Gallatin placed at the north entrance to the Treasury Building to honor his work – and balance the political playing field!
It took a lot of lobbying. The Gallatin statue was finally approved by the Republican controlled Congress in 1926.  However, there was a condition to the approval – only private funds were to be used for the memorial.
Comments Off on Albert Gallatin Statue