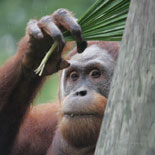 Bourbon Street isn't the only place in New Orleans where you can take a walk on the wild side! The Audubon Zoo offers visitors the opportunity to explore 58 acres of wildlife habitat. More than 2,000 animals make their home here, including rare white tigers and alligators, monkeys, whooping cranes, and gorillas.
Planning a visit to the Audubon Zoo in New Orleans? Use the following coupon for additional savings!
Coupon Code:   NOZO5
Purchase Tickets Here: Audubon Zoo Discount Tickets
The zoo is designed to allow visitors to enjoy a self-guided walking tour while encountering animals from around the world. Immerse yourself in Louisiana Culture while experiencing peaceful lagoons and plentiful cypress trees in the Louisiana Swamp Exhibit. From there, it is just a short distance to the grasslands of Africa, where you will encounter giraffes and rhinos grazing inside the African Savannah. Take a jaunt over to the South American Pampas, and you will come across tapirs, emus, and some of the largest rodents on the face of the planet, the capybaras.
Curious about the Mayan culture? Jaguar Jungle will bring you up close and personal with the mysterious jaguars that make their home in a habitat that brings to mind a misty Mayan rainforest. Inside the Asian Domain, you will come face to face with Jean and Panya, the Zoo's Asian elephants. Larger than life, these ladies are two of the Zoo's most popular celebrities.
After spending the day exploring the Zoo's fascinating habitats, the entire family can cool off at the Cool Zoo. This wet-n-wild water park operates on a seasonal basis and features jumping waterspouts, spray and squirt features, and a gator waterslide. There are even three different splash zones to match the needs of different age groups, including one just for toddlers. Top off your visit with a ride on the Swamp Train and Endangered Species Carousel. Still in the mood for more adventure? Head over to Dinosaur Adventure, where you can travel back in time with eleven life-size moving, roaring dinosaurs situated in completely natural settings.
Audubon Zoo offers visitors the opportunity to explore some of the most fascinating creatures and habitats in the world. Rated as one of the top zoos in the country, Audubon Zoo is one of the few zoos to house two rare white tigers, King Zulu and King Rex.
Promo Code:   NOZO5
Purchase Tickets Here: Audubon Zoo Tickets
Comments Off on Audubon Zoo Coupon Code and Promo Code