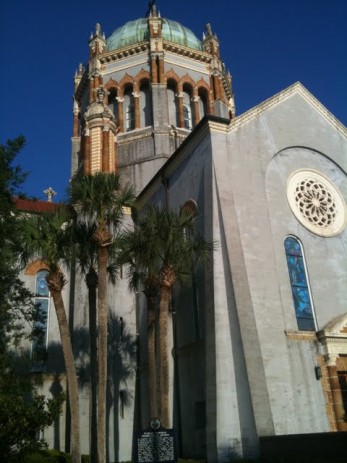 St. Augustine's  location also gives it ideal year-round weather. With its hottest days in July rising to 88°, and its coolest temperature in January an average of 45°, it is a more moderate in climate than tropical south Florida, yet its winter days are kept mild by the warming influence of the Gulf Stream flowing off shore.
Seasons
There are three seasons in St. Augustine: spring, summer and fall. Winter – sunny, dry, and mild – is a delightful blend of summer and fall. Rain clouds predictably gather in spring and fall, but thunderstorms generally last only a short time. This pleasantly mild year-round temperature lends itself to outdoor events and activities throughout the year.

In the spring, enjoy arts and craft festivals and the Gamble Roger Folk Festival, one of the best in the country. With summer comes Summer Concerts in the Plaza, theater at the Limelight, or concerts and great food on St. Augustine Beach Pier. As September folds into fall, the diverse cultural heritage of St. Augustine – Spanish, Greek, Colonial, and Cracker- is celebrated through festivals, re-enactments and events. After Thanksgiving, the Ancient City lights up for Christmas during the Night of Lights celebration, best viewed from Christmas trolleys or horse-drawn carriages. Of course, water sports, tennis, golf, deep sea, fresh water or pier fishing, and hiking in the many parks can be enjoyed any time.
Population
The population the city of St. Augustine proper is over 12,000. However, neighboring communities flow one into the other which, taken together, create a population of over 25,000. St. John's County, of which St. Augustine is a part, also includes beach communities to the north and to the south, and ranch and farm land to the west, has a population of just over 161,000.
Size
Selected by AAA in 2006 as one of the 10 most walkable cities in North America, historic St. Augustine is compact, covering approximately 8.4 square miles. Without lingering, the historic district can be walked from one end to the other in 20 minutes. 
Transportation
St. Augustine is primarily accessible by car. Its delightful accommodation choices make it the perfect weekend get-away. It is also a pleasant day trip from Orlando, located just under two hours to the east, a nice change from the largess of theme park venues.
Once in St. Augustine, the Downtown Parking Facility, next to the Visitors Information Center on Castillo Drive and convenient to sites in the historic district, has 1,170 spaces. Parking is free at Old Town St. Augustine on San Marco Avenue with the purchase of a trolley tour on Old Town Trolley Tours of St. Augustine.
Accommodations
With a wide selection of 5,663 rooms from which to choose in St. John's County, the choices of accommodations are many. Enjoy a romantic stay at one of 26 intimate historic inns, all with descriptive names; experience the elegance at the Casa Monica Hotel, meticulously restored to its 1888 Flagler-era splendor; relax in the simplicity of the leisure life of 1960 America in the low-scaled motels in unpretentious beach towns. For those desiring contemporary accommodations, St. Augustine of the 21st century is showcased at nearby world class golf resorts and in full service luxury beachfront resorts.
Comments Off on Basics