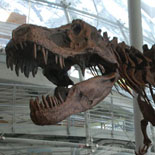 The California Academy of Sciences is a world-class research and academic institution that was founded in 1853. The Academy has an aquarium, a natural history museum and a planetarium in a 400,000 square foot state-of-the-art building located in Golden Gate Park. Green elements in the award-winning museum include solar panels and a living roof. Approximately 1.6 million people visit the Academy each year to experience the interactive displays, live animals and planetarium shows.
Save time and buy your tickets ahead at http://www.trustedtours.com/store/california-academy-of-sciences.aspx
A four-story, spherical enclosure enables guests to experience the flora and fauna of rainforests from around the globe. There is an acrylic passageway that leads you across a flooded Amazonian riverbed with fish swimming overhead. The Foucault pendulum and Earthquake are popular exhibits. You will see firsthand how a pendulum proves that the earth spins. A multimedia show and bone-rattling simulator allow visitors to experience the catastrophic 1906 fire and earthquake. Other highlights include penguins in the Africa Hall, an albino alligator in the Swamp, a menacing Tyrannosaurus rex, planetarium shows and a live coral reef. The Academy rotates 20 million specimens and artifacts along with other visiting exhibits.
The Academy buildings suffered damage during the Loma Prieta earthquake. After an extensive renovation project, the facility reopened in 2008. It is now one of the newest natural history museums in the country. Mention your coupon code to receive a $1.00 discount on the price of admission.
Comments Off on California Academy of Sciences