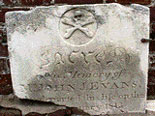 The Savannah Ghost Tour was hands down one of the best attractions in the city. Savannah is known for being one of the most haunted cities in the country, so this tour certainly will not disappoint. Some of the other ghost tours around town were seen traveling in buses, which definitely lacked the spooky appeal of riding in one of the funky streetcars through the streets of the historic district in Savannah. The tour guide calls is the "Trolley of the Doomed" and it certainly felt mysterious!
The tour guide aboard the trolley, called the conductor, gave a fascinating mix of history and legend, and shared several true life examples of why the city earned its reputation as such a spooky location. Be prepared to learn about the scariest characters who called the city of Savannah home, as well as to see close up some of the locations of murders, dastardly deeds, and mysterious events. It is not recommended to bring young children along on the tour. There were some children around the age of 12 who seemed to really enjoy themselves, but any younger and it may be too scary to handle for them.
The tour leaves every night beginning at 7pm. In the summer, it is spookier to choose the later tours, as it is darker and becomes more haunted as the weather cools as well. The tour leaves from 301 E. River Street, which is easy to walk to from many of the area hotels, but there is also parking available nearby. Tickets should be purchased in advance, from http://www.trustedtours.com/store/savannah-ghosts-tour.aspx, and right now you can save 5% off the price of the tour by using the coupon code SVSG5. Check out the twitter feed http://twitter.com/trustedtours to get other coupon codes and information on other tours and daily deals in Savannah.
Comments Off