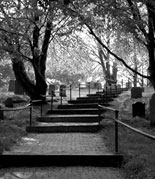 Plymouth is the location where the Pilgrims came ashore in 1620 and the site of the first Thanksgiving. When visiting America's Hometown, consider these top 10 family friendly attractions.
Native Plymouth Tours is a one-mile excursion through the historic town center. The story of the colony is relayed from the perspective of Native Americans who lived in the area when the Pilgrims first arrived. Guests will learn how these diverse groups interacted. The tour highlights life before and after the Plymouth Colony.

Plimoth Plantation is a hands-on, interactive, living history museum. Costumed interpreters re-create colonial and Native American life in the early 17th century. Children can watch a variety of demonstrations, talk to the interpreters and perform period-era chores. The plantation also has a petting zoo.
The Mayflower II is full-scale replica of the ship that brought the Pilgrims from England. Climb aboard to gain an insight of the conditions that they endured during the ocean voyage. Families will see the captain's quarters and the cargo hold, which stored the provisions for the colonists. The Mayflower artifacts are historically accurate reproductions.
The Plymouth National Wax Museum has more than 150 life size figures arranged in 26 scenes from Plymouth's history. Highlights include the departure from England, the landing at Plymouth Rock and the signing of the Mayflower Compact. History will come alive as your children tour the museum.
Plymouth Grist Mill is situated on the bank of Town Brook. The museum illustrates how corn was milled into flour. A reproduction of the original mill, the current structure contains parts that date from the early 19th century. You will see how the flow of water powered the mill's gears.
Imagination Island is an indoor theme park. There are mazes, tunnels and slides. Children can jump in the moon bounce and play with Legos, dollhouses, cars and trains. Pirates, firefighters, monarchs and superheroes reign supreme at Imagination Island. The attraction has a play area designed to entertain younger children.
Boomers! is 20,000 square feet of family fun. This indoor play zone has laser tag and a large variety of age-appropriate hands-on, interactive play structures. There are arcade games, mats, nets, ladders, tubes and slides. While the children are playing, parents can enjoy the massage center.
Edaville USA is a family theme park with 12 vintage amusement rides. It is the oldest heritage railroad in the country. Families can see how cranberries are harvested. Popular rides include Thomas the Tank Engine and a Ferris wheel. During the holiday season, the park is ablaze with a Festival of Lights.
Captain John Whale Watch is an offshore excursion to the migration routes of Atlantic whales. During the marine wildlife cruise, a naturalist will provide insights into the local area as you sail out from Plymouth Harbor past Gurnet Light. You will also see dolphins, porpoises and other marine animals. Remember to dress for the open-air conditions on the boat.
Comments Off on Family Things To Do In Plymouth, MA