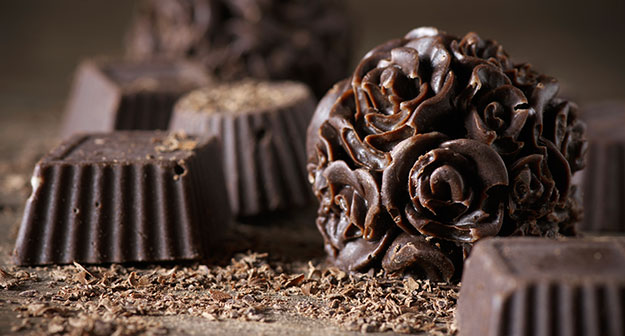 Chocolate:  Delicious; decadent; divine. Satisfying; sensual.  Aphrodisiac; antioxidant; anti-depressant.  It gives a "buzz" to some; calms others. It's comfort food, a treat, a love token. It's given as Easter bunnies, Hanukkah coins, and presented for Valentines in in heart-shaped boxes. Fruit, nuts and insects are dipped in it; donuts covered in it; cookies sprinkled with it; pastries stuffed with it; ice-cream smothered in it.  We sip it hot, slurp it cold.  We bite into it, nibble, and savor it.  It's the stuff of romance, featured in films, in literature, in poetry.
It's powers are mythical.  Used by Mayans both for ceremonial purposes and as an everyday bitter drink made of pure cacao long before the discovery of the New World, today this sweetened and altered source of pleasure is part of daily life.
The deliciousness of chocolate, whatever it does, however it does it, and whatever form it takes, is universally craved.  Indulge in it on walking and tasting tours of two of Manhattans trendiest neighborhoods:  Downtown – SoHo and Nolita, or the Upper West Side.  These tours are for ages 21 and over.
Downtown Chocolate, Wine and Dessert Tour
On Saturdays and Sundays at 2:00pm, take a pleasant, satisfying 2-hour walk indulging in the "food of the gods."  Engaging, knowledgeable guides lead the way through the trendy neighborhood of SoHo, past the collection of fabulous cast iron buildings and warehouses converted into trendy lofts, and Nolita, where old world charm and trendy vibe co-exist along narrow streets.
This walking tour is just the right mix of history, sights, carefully selected chocolates and stores in which to savor decadent desserts – flaky, flavor-filled pastries, dusted and dipped artisan chocolate truffles and bon-bons filled with melt-in-your-mouth flavors,  fabulous artfully made dark chocolates.  Try out fine Chilean red and white wines and sparkling wines paired with chocolate and fine European cheeses.
Satisfying and sensory. Chocolate, wine, and sights: what a great all-in-one way to see New York City.
Coupon Code: NYCH5 ($5.00 off)
Purchase Discount Tickets For The Downtown NYC Chocolate Tour
Wine, Chocolate & Dessert Tour of the Upper West Side
This is chocolate indulgence at its best, and a great way to spend 2 hours on a Sunday afternoon!  The relaxed, guided  wine, chocolate and dessert walking tour of primarily residential Upper West Side, sprinkled with just the right amount of architecture and history, is the perfect way to explore this elegant neighborhood.  Bounded by Central Park and the Hudson River, it's a neighborhood of lovely brownstones, many home to Manhattan's artistic elite: artists, musicians, writers, film makers and stars.  Well-balanced throughout the stroll are 6 or 7 carefully chosen stops for tasting and trying: a private wine tasting in one of the city's best wine sellers; chocolatiers offering positively decadent artisan truffles and bon bons; tucked away bakeries serving freshly baked cookies and delicate pastries; "in" gourmet stores serving smooth gelato in multiple flavors, from ordinary to exotic or brimming with fresh-baked bread and fabulous cheeses.
A wonderful way to get a real feel for the food and flavor of a special corner of New York City.
Coupon Code:  NYUW5 ($5.00 off)
Purchase Discount Tickets For The Upper West Side NYC Chocolate Tour
Comments Off on NYC Chocolate Tour Coupons