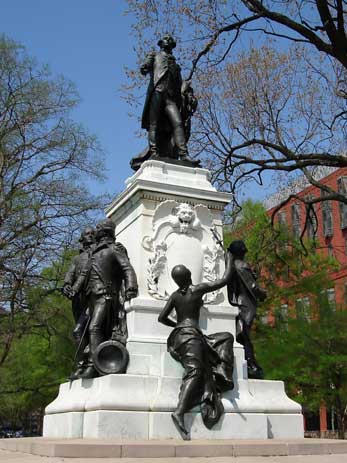 Walk east across the south end of the park to the southeast corner. The heroic bronze grouping is a fitting memorial to General Marquis Gilbert de Lafayette for his role on behalf of America's quest for liberty.  It graphically tells the story of the involvement of France in the American Revolution.
The assistance of the France in general, and Lafayette in particular, was so important to the success of the American Revolution that Congress commissioned this work by sculptors Jean Alexandre Joseph Falguiere and Marius Jean Antonin Mercie, winners of a competition held to create it.
Lafayette stands atop the marble pedestal, surrounded by dramatic figures on each of the four sides.  He is depicted in civilian dress, but under his draped cloak, his hand rests on a sword. His civilian dress represents his diplomatic role; the sword represents his military role, both essential to his efforts.
It is said he is petitioning before the French National Assembly for help from France for the American cause. The bronze female figure looking up at Lafayette with sword lifted high represents America, pleading for help. France's involvement in the success of the American Revolution is acknowledged on the east and west sides of the pedestal.
On the west side, Commanders of the French army in America, Comte de Rochambeau (Site #22) and the Chevalier du Portail, discuss ground battle plans. The anchor on the east side provides a clue to the role of the two figures depicted here – Comte d'Estaing and Comte de Grasse, commanders of the naval force sent by France as a result of Lafayette's petition.
The thanks of a grateful Congress for the services rendered by General Lafayette and his compatriots to the American cause are inscribed on the north side of the pedestal, between two plump little cherubs holding hands.
The story-book quality of this hero is the stuff of legends.
To get to America, 19 year old Lafayette financed his own journey aboard his ship the Victoire, arriving in 1777, ready to fight for the American cause. He served as aide de camp to General George Washington, as major general in the Continental Army, distinguishing himself during the Battle of Yorktown, where he even gained the respect of the defeated British for maneuvering them into a position where no choice by to surrender.  In addition to his battlefield efforts, Lafayette petitioned the French for financial and naval assistance on behalf of the American cause.
He was a frequent visitor to the White House and a welcomed figure in Congress.  The dashing young Frenchman was also received with great honor and fanfare in Washington's social circles.