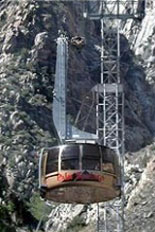 The Palm Springs Aerial Tramway is a breath-taking attraction, not to be missed. Climbing up the sheer cliffs of Chino Canyon, the ride begins in the northern section of Palm Springs, and lifts passengers up to the summit in the St. Jacinto Mountains, elevation 8,516 feet.
Coupon Code: PSAT5 ($2.45 Total Discount with Coupon Code!*)
Use Coupon Code and Purchase Discount Tickets at: http://www.trustedtours.com/store/palm-springs-aerial-tramway.aspx
The Tramway was envisioned in 1935 by electrical engineer Francis Crocker as a way to escape the heat of the valley, and it still serves that purpose today, offering visitors to the desert area a chance to, as Crocker used to say, "go up there where it's nice and cool." The steep canyon posed construction and access challenges that were met by an innovative use of helicopters, which were used to haul the men and the materials needed to construct the Tramway's towers and summit station.
The Tramway opened to great success in 1963. The Tramway has since been modernized – passengers today ride on the world's largest rotating tram cars. More than 12 million people have taken the ride up to the Mountain Station, which features two restaurants and a bar, the popular Lookout Lounge. All provide sweeping views of the Coachella valley below.
To beat the crowds, consider a week day trip up the mountains. Monday through Friday, the Tramways cars depart from the Valley Station every half hour, with the first car leaving at 10:00 am. Saturday, Sunday and holidays, the tram departs at 8:00 am, with the last tram leaving the mountain at 9:45 pm.
Tickets can be purchased online from Trusted Tours: http://www.trustedtours.com/store/palm-springs-aerial-tramway.aspx. Trusted Tours is offering a 5% discount for the Palm Springs Aerial Tramway. Simply use coupon code PSAT5 to access the discount.
Comments Off on Palm Springs Aerial Tramway Coupon