As the end of this contentious, seemingly never-ending, presidential election year nears, one wonders what drives these particular Americans to seek the presidency. Who are they, and why do they run? They are, after all, Everyman.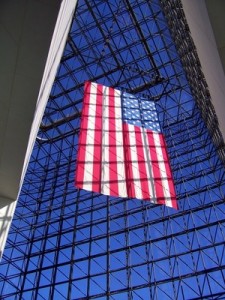 For insight, look no further than to those who have come before them.  Visit a Presidential Historic Site.  What you'll find depends on the era, and the president. All former presidents have at least one, with the exception of Zachary Taylor, who has none. Abraham Lincoln has six, the most by far.
A presidential site can be a birthplace, homestead, residence, museum, or library.  Some are thought-provoking in their sheer simplicity; others are Disney-esque complexes designed to dazzle and engage through multimedia presentations, interactive displays, and full-size replicas of Oval Offices. One even has a real Air Force One! Some are cold; others vibrant. Regardless of style, they are a snapshot of the American presidency at a moment in time and provide a sense of the individuals who aspired to, and reached, the pinnacle of power.
The sites honoring early presidents are time-frozen, allowing visitors to imagine.  Established post mortem, they are biographical interpretations – items collected, pieced together, displayed and staged to educate as well as preserve and perpetuate a legacy.
Some early sites are quite simple, like the sturdy, salt box style birthplaces and the four-generation homestead of the two presidents who were father and son, John Adams and John Quincy Adams, in Braintree, Massachusetts, 30 minutes outside of Boston.  Tucked comfortably into the New England countryside, they, along with John Adams' Stone Library, which contains more than 14,000 historic volumes, provide a real sense of the men and a young nation.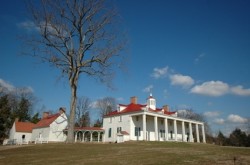 Other older sites are fully restored estates, re-enactments of life as it was. The most popular, Mount Vernon, home of George and Martha Washington from the time of their marriage in 1759 until his death in 1799, is just 16 miles outside of Washington, D. C. While part of the pastoral 500-acre estate remains as it was, it has kept up with the changing times with a new state-of-the-art museum housing 25 galleries and a high tech theater placed underground, beneath pastures where sheep graze, so as not to detract from the 18th century ambience of the home. From D. C. get there by car or take it all in on a Potomac boat cruise .  Avid cyclists might consider biking there via the invigorating 18-mile long Mount Vernon Trail.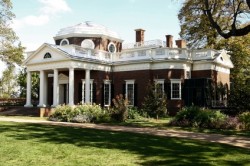 Thomas Jefferson's grand, 43-room Monticello, outside Charlottesville, Virginia, layered with porticos and pavilions, surrounded by gardens and vineyards, and filled with mementos of his travels abroad, reveal the legendary broad interests of America's 3rd President. However, you won't find his many books there.  Before there was a Presidential Library system, Jefferson donated his books to what is now the Library of Congress.
Some sites are off the beaten path and easily overlooked:
Theodore Roosevelt's birthplace, a rebuilt and redecorated brownstone in New York City, reflects the opulence of the Gilded Age.
The elegant Woodrow Wilson House is the only presidential home in Washington D.C.
John F. Kennedy's birthplace in the Town of Brookline, just outside Boston, is a place of early memories.
Key West, Florida is probably the last place one would expect to find a presidential site, but Harry Truman loved it and spent 11 working vacations there, in the Little White House.
The 12 full-fledged Presidential Libraries of more recent presidents, large complexes loaded with bells and whistles, are designed to attract, engage, and entertain. They came to be through a plan initiated by President Franklin D. Roosevelt in 1938, and agreed upon to by Congress, through which presidential libraries are constructed with private and non-Federal funds, but operated and maintained by the National Archives and Records Administration in accordance with the Presidential Libraries Acts of 1955 and 1986.
From FDR through Clinton, and including FDR's predecessor, Herbert Hoover, their mission is to preserve and protect the written record and physical history of American presidents.  These "Classrooms in Democracy," as Reagan called them, focus more on policies and politics, reflecting the role of the presidency today: negotiating the needs of a complex country through a polarized world moving at breakneck speed.
In contrast with the earlier presidential sites, most of these were designed with input from the presidents themselves, and are therefore purposeful, with a legacy in mind.  While large and showy, they are also scholarly places, repositories of thousands of documents available for research, many converted digitally for online access.
The largest building is the Lyndon Baines Johnson Presidential Library in Austin, Texas; the smallest is the Herbert Hoover Presidential Library in West Branch, Iowa.
The second largest by mere feet is the John F. Kennedy Library in Boston, dedicated in memory of our nation's 35th president.  A 1960s time capsule, its optimistic idealism is a tribute to this president who placed such a high value on public service.
The Franklin D. Roosevelt Library and Museum is a 2 ½ hour drive from New York City in Historic Hyde Park. There's a lot to see in the 500-acre compound on the Hudson River: FDR's birthplace, home and final resting place; his retreat, Top Cottage; and Eleanor Roosevelt's home.
The Harry S. Truman Presidential Museum and Library in Independence, Missouri is a scholarly place, sponsoring on-going conferences, lectures and symposiums focusing on the legacy of Truman's national and global decisions.
The Dwight D. Eisenhower Presidential Library and Museum in Abilene, Kansas, constructed of Kansas limestone and set on the flat Kansas prairie, is remarkably stark. It highlights Ike's distinguished military career as well as his presidency, for without the former, the latter might not have happened.
Richard Nixon's legacy was, until recently, tangled in the affairs of Watergate and only included within the Presidential Library system in 2007, through an agreement with the private Richard Nixon Library and Birthplace Foundation in Yorba Linda, California and the National Archives to give the Federal government controversial presidential materials, including the famous White House tapes, previously returned to Nixon in the 1980s and 1990s.  Over time, they, along with countless manuscripts and photos, will be available online through the Library's Virtual Library.
Some presidents chose to build their libraries on the grounds of universities, providing easy access for scholarly research. The George Bush Presidential Library and Museum is on the grounds of Texas A&M in College Station; the Gerald R. Ford Library is on the campus of the University of Michigan in Ann Arbor, while the Gerald Ford Museum is in his hometown of Grand Rapids.
The Ronald Reagan Presidential Library is upbeat, just like the man. Located in Simi Valley, just ½ hour from L.A., it feels like a movie set.  It's the one with Air Force One … and Marine One, the presidential helicopter, and an entire presidential motorcade!
In Atlanta, the Jimmy Carter Library is open for research, and the Museum portion of the Library includes historical memorabilia of the Carter presidency, including photos and exhibits related to the Middle East peace efforts and an exhibit of Carter's Nobel Peace Prize.
The William J. Clinton Presidential Center in Little Rock, Arkansas has the largest overall number of textual, audiovisual and artifact materials. It took eight flights of fully loaded military cargo planes to get all 625 tons there from Washington!
Each presidential historic site tells a chapter of the American story and provides clues as to why ordinary individuals take the arduous path to the presidency. Whether by choice or by fate, by circumstance or happenstance, by divine providence or a desire for power, the journey for each, as portrayed in these museums, is fascinating.
Comments Off on Presidential Sites – Places of Politics, Policies and Legacies