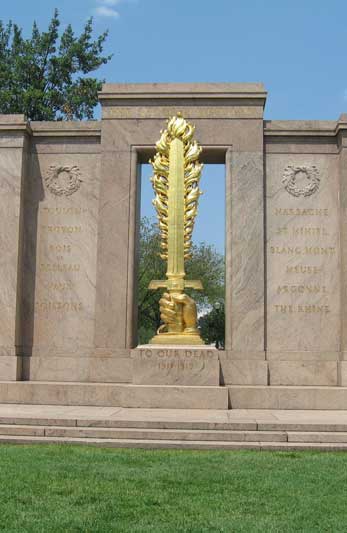 It's hard to miss the gilded bronze 18 foot tall flaming sword guarding the huge marble gateway facing Constitution Avenue just east of 17th Street NW, just off the Ellipse.
It's the powerful Second Division Memorial, honoring the 17,660 from the 2nd Division of the U. S. Army who gave their lives for their country during the World War I, World War II, and Korea.
The 250 lb. granite center section, honoring those who died in World War I was the original memorial, dedicated by President Franklin D. Roosevelt in 1936. The firmly gripped sword in the center of the opening symbolizes the 2nd Division's role in blocking the German's advance in to Paris. The Indian head inside a star on the sword's hilt is the insignia for the 2nd Division – the "Indian Head" or "Warrior" Division.  Important battles are carved in the granite below.
The end wings were dedicated in 1962. The west wing memorializes those who died in WWII where the 2nd Division landed at Omaha Beach in Normandy, later fighting in the Battle of the Bulge. The east wing honors those who gave their lives in Korea, where the "Warriors" remain along the DMZ to this day.
Comments Off on Second Division Memorial