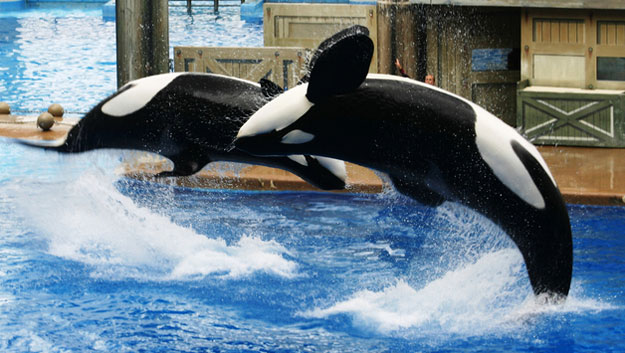 A lot can be packed into two full days in San Diego. Experience San Diego's Bayfront, neighborhoods, popular sights, museums and splash down in Big Bay. Head up the spectacular coastline to quaint La Jolla, the "Jewel of the Sea," perched high over the mighty Pacific. Shop, have lunch, see the dramatic coves. Walk along a beach, on an oceanfront boardwalk or play in the area's oldest beachfront amusement park. Sip a tequila al fresco in Old Town, taste craft beer along the waterfront; enjoy fabulous food in Little Italy, experience nightlife in Gaslamp Quarter. Here's a detailed itinerary to help you:
Popular Neighborhoods
Old Town
Old Town is the oldest settled area in San Diego that has a distinct "old Mexico" ambiance, numerous historic sites, good Mexican cuisine (often served in outdoor patios with live entertainment) and shopping for south-of- the-border handmade items. Nestled along hills above the city, Old Town is quieter and a bit further from the action downtown and along the waterfront.
Little Italy
Once an Italian fishing neighborhood, has fast become the center of San Diego's culinary scene. Stretching inland from the downtown waterfront, it's definitely the place for foodies. Edging on trendy, its charm lies in the quaintness of another era. Patio cafés, pubs, wonderful restaurants, art galleries and shops, many along India Street, make it a fun place to walk.
Gaslamp Quarter
Located downtown, is known as the place to go for entertainment and nightlife. It's where you'll also find many of the city's finest restaurants, bars, shops and trendy boutiques, art galleries and museums.
DAY 1
MORNING
Embarcadero, Maritime Museum, USS Midway, Seaport Village, SEAL Tour, Coronado
Take a refreshing morning walk along the Embarcadero for wonderful views of San Diego's scenic Bayfront. Check out historic ships of all shapes and sizes moored in the Maritime Museum. Many can be boarded and explored, others viewed from a distance. All have led storied lives – San Salvador is a replica of the one under command of Juan Cabrillo when he discovered the bay in 1542; tall ship Star of India circumnavigated the globe under sail multiple times; Steam Ferry Berkeley rescued thousands during the 1906 San Francisco earthquake. There's even a Russian submarine!
Board and explore USS Midway nearby touring the longest-serving Navy aircraft carrier of the 20th century is like walking through a floating city!
Stroll through peaceful, shady Seaport Village for fabulous bay views and nice shops. Grab a bite to eat at one of many food places while waiting for the departure time of your reserved SEAL Tour. The land and sea narrated tour aboard a big, blue amphibious vehicle is 90 minutes of interesting fun. By land, rumble along San Diego streets viewing sights from way above traffic level before splashing into the water off Shelter Island for an amazing cruise around the north end of Big Bay. From the water, views of the sights surrounding bay are awesome – the city skyline glinting in the sun, Cabrillo Monument high on Point Lobo, U.S. Navy jets taking off from Coronado Naval Air Station sharing airspace with seabirds soaring overhead. Highlights, if you're lucky: the sight of a massive aircraft carrier moored in the distance; sea lions sunning and frolicking on floating bait cages!
Hop back on the trolley for a scenic ride over San Diego-Coronado Bridge to the charming beachfront community of Coronado. Enjoy the ride along Coronado's Main Street, Orange Avenue, lined with shops, restaurants and galleries. Hop off for a walk around the crown jewel of San Diego's "Crown City", historic Hotel Del Coronado, built in 1888 for wealthy guests who came to enjoy its beachfront grandness. Have lunch in one of its many restaurants. Get glittering white sand in your shoes along Coronado Beach boardwalk.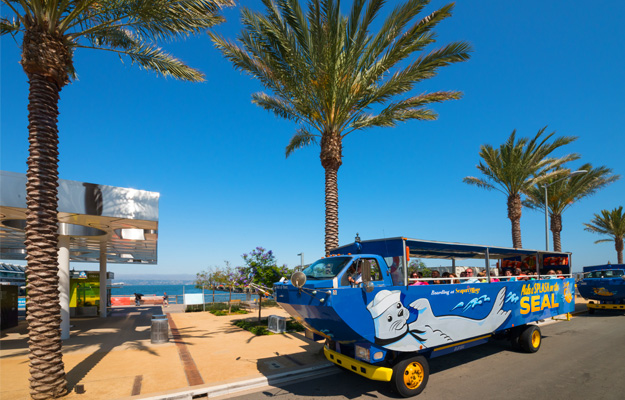 AFTERNOON
Balboa Park
There's a lot to see in San Diego's 1600 acre signature park and cultural center. Manicured, mature landscaping creates an elegant natural setting for grand, highly ornamented Spanish Renaissance buildings, constructed for the 1915-16 Panama-California Exposition, and those of Southwest design, built for the 1935-36 California International Exposition. These beautiful buildings house a diverse selection of 15 museums and performing arts venues. Plan ahead by choosing 2 (3 max), to visit. There is something for every interest – Anthropology at Museum of Man; fine art at San Diego Museum of Art and Timken Museum of Art; works of emerging artists at San Diego Arts Institute. The natural world is examined in the Natural History Museum; science and the universe explored in the Reuben H. Fleet Science Center.
EVENING
Gaslamp Quarter Dinner and Nightlife
The Gaslamp Quarter is alive at night – enjoy craft cocktails on a rooftop bar, reserve a table at one of many trendy restaurants, dance the night away to pulsating music in lively dance venues.
DAY 2
La Jolla, Belmont Park/Mission Beach
A visit to San Diego has to include experiencing some of SoCal's breathtakingly beautiful coastline and beaches. A day trip to La Jolla, Mission Beach and Belmont Park on Old Town Trolley's La Jolla Beach Tour is just the ticket!
Get up early to explore historic Old Town then your coastal adventure departs at 10:15 am. First stop: the Village of La Jolla. Located on a high rocky promontory surrounded on 3 sides by waves crashing ashore below and Mt. Soledad rising on the 4th side, La Jolla has a quaint Mediterranean feel, making it one of the most popular beach destinations in California.
Things To Explore In La Jolla
Shoppers: Walk along Prospect Ave to browse through upscale boutiques, lunch in a wide range of restaurants. George's at the Cove, a long-time favorite and elegant La Valencia Hotel have spectacular ocean views.
Art lovers: Spend your time at MCASD (Museum of Contemporary Art San Diego) La Jolla to see wonderful works of art across all media created since 1950, enjoy fabulous ocean views from Edwards Garden Gallery and lunch on the patio of the Museum Café.
Naturalists: Rent a bike and head to tucked-away La Jolla Cove where sea lions frolic, to Shell Beach Tide Pools to wade in the water, to La Jolla Caves, if you can pedal that far. Stop for fresh fish tacos at Crab Catcher or El Pescador for fish sandwich and ceviche if you're nearby.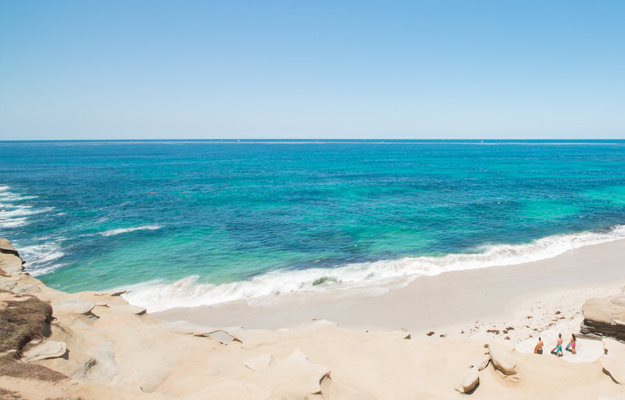 For beach time, old-fashioned waterfront amusement park rides and arcade games, cut your La Jolla time short to hop back on the Trolley for a ride south to the second stop – Belmont Park and Mission Beach. For water fun on Mission Beach, rent, kayaks, surfboards, beach chairs and more. SoCal's iconic oceanfront amusement parks have been an important part of the beachfront landscape since the 1920s. Experience the fun in Belmont Park, one of the oldest in California. It's a trip to another era with modern elements thrown in. Some of the early rides dating to 1925 are still in place! Giant Dipper, a fan favorite, is an old-timey wood roller coaster. There are also carousel rides, bumper cars, arcade games, thrill rides, water fun, zip-lining, rock wall climbing and a laser maze, not to mention wonderful ocean views!
DINNER
Celebrate two wonderful days in San Diego with drinks and dinner in Little Italy, San Diego's epicurean center. Start out by sampling San Diego's great selection of craft beers found just about anywhere. Try locally brewed ale at Waterfront Bar & Grill, hundreds of beer choices at BottleCraft Shop & Tasting Room. Relax in the roof lounge of Kettner Exchange or in Glass Door at the top of Porto Vista Hotel. Move on to restaurant-lined India Street for dinner. Pick any one, especially those serving Northern and Southern Italy dishes, Sicilian cuisine with modern twist, or Latin specialties.