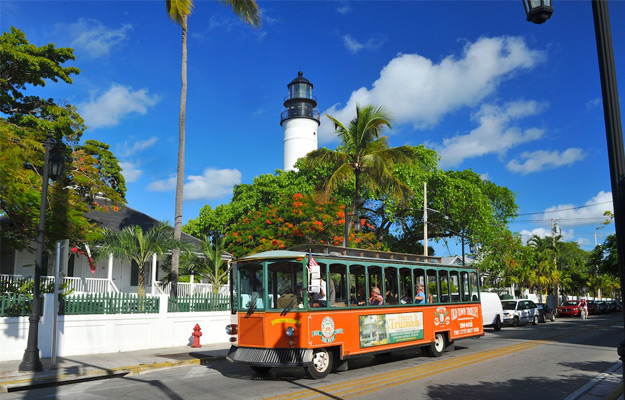 There's a lot to see in colorful, quaint Key West and easy to get into the laid-back Key West groove in 2 days. Start planning with some insider tips:
Old Town vs. New Town
Key West is divided into "Old Town" and "New Town." Old Town is the historic district, where the original settlement began and grew, and where streets are lined with picturesque "Conch" cottages draped in colorful tropical foliage. Must-see historic sites are here too, and so are great restaurants and bars. Large resort hotels line Old Town's Key West Harbor with charming B&Bs tucked away on off-the-beaten path lanes. New Town is the newer section of the island without the quaintness of Old Town. It's where local families live, where their kids go to school and play sports. Numerous new hotels with pleasant tropical amenities have backcountry and Atlantic views.
Duval Street
The island's best-known street and tourist magnet is synonymous with Key West. It runs 14 blocks from the Gulf of Mexico to the Atlantic Ocean. The Gulf end is "Lower" Duval, where you'll find bars, souvenir shop and T-shirt shops. cafes and restaurants. "Upper" Duval starts at Truman Avenue and ends at the Atlantic Ocean. It feels more open, is less congested, and has galleries, interesting shops, restaurants and cafes. In-between is, you guessed it, "Middle" Duval, although no one really calls it that. It's lined with a bit of everything: large eclectic selection of shops, bars, cafes, ice-cream shops, and restaurants. Finding an address is easy. The 14 blocks of Duval are numbered in ascending order by hundreds, beginning with the 100 block at Front Street in Lower Duval. At the Upper end: the Southernmost House at 1400 Duval.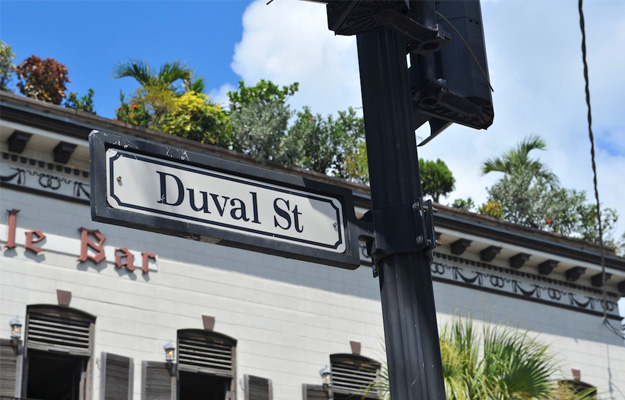 Get oriented and get around on the Conch Tour Train or Old Town Trolley
Both offer great 90 minute tours with similar narration delivered by entertaining conductors/drivers. The difference: the Train tour focuses primarily on Old Town; the Trolley tour route covers both Old Town and New Town. The Train has 3 stops, 2 of which are hop off/hop; the trolley has 13 stops, all hop off/hop on.
Now that you have the basics, here's how to see it in 2 days:
Day 1. Landlubber
Tour Old Town sites and visit attractions. Get an early star on the Conch Tour Train Tour. Unless you're staying in New Town, the train is your ticket. You'll get a great overview and see great Old Town details and hidden places too. Board at Front St., behind Mallory Square, the hub of Old Town. Get off the train at the second stop, Truval Village to explore Upper Duval, within easy walking distance of the must-see Hemingway Home and the spectacular views from the top of the Key West Lighthouse. Walk a few blocks to the Key West Butterfly & Nature Conservatory, where butterflies and birds fly freely. Take a selfie at the Southernmost Point in the U.S., a short walk away.
Have lunch at Banana Café on Duval, or on the beach at the Southernmost Cafe. Save room for homemade ice-cream at Flamingo Crossing; check out art galleries and shops. Board the next train pulling into the Truval stop for more great sights, history and lore on the way back to the Gulf side.
Hop off the Train at the Historic Seaport stop. Walk along Harbor Walk, see charter boats, fishing boats, tall-ships, yachts, catamarans, run-abouts. If you didn't have lunch on Upper Duval, have some fresh seafood at Conch Republic Seafood. Check out souvenirs at Mac's Sea Garden, cool linen clothing at Local Color; funky stuff along Lazy Way Lane. Order a whole Key lime pie to ship home from Kermits Key Lime Shoppe. Pop into the free Dry Tortugas National Park and Historic Key West Bight Museum for a look at the 11-foot diameter scale model of Fort Jefferson and other interesting exhibits. (Note: If your stay is longer than 2 days, the daylong trip to Fort Jefferson Dry Tortugas National Park, 75 miles off Key West, is a spectacular.)
Spend the rest of the afternoon visiting museums within easy walking distance of Mallory Square where the Train tour ends. Step back into another era in the Truman Little White House, where President Harry Truman spent 11 vacations. Find out which other recent presidents and international dignitaries visited the unique historic site. See gold and jeweled treasures brought up from sunken Spanish galleons at Mel Fisher Maritime Museum. Enter Key West Shipwreck Treasure Museum to see how Key West citizens made their living salvaging goods from ships wrecked on the off-shore reef line. The view from the Wreckers Tower is fantastic.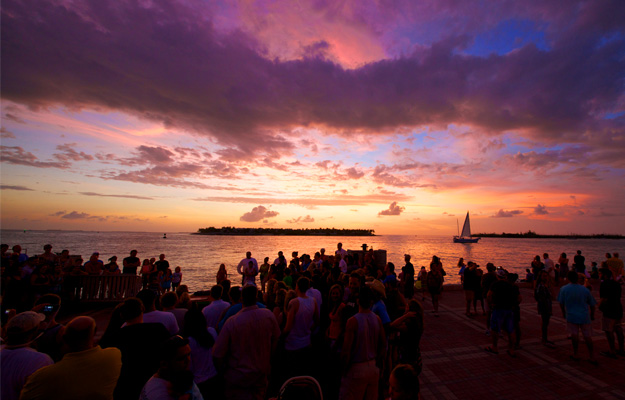 Evening Suggestions
Get ready for Sunset Celebration by sipping a mojito and dancing the salsa at El Meson de Pepe. An hour before sunset, make your way across Mallory Square to watch buskers perform their acts, have your tarot cards read, and browse the work of local artists displayed in pop up booths. As the sun dips into the Gulf, see if you can see the illusive green flash.
Enjoy the perfect ending to Day 1 at Latitudes on Sunset Key, a short launch ride from the docks behind the Westin. It's very popular, so advance dinner reservations are a must. Ask for a table on the beach or on the covered terrace. Spectacular!
Day 2. Seafaring: Wet or Dry
Getting out on the beautiful, clear water surroundings of Key West is part of the island experience. You can do it by getting wet or staying dry. There are numerous boat excursions offering similar fun in-water experiences.
All Day, All in One In-Water Adventures
Spend the whole day (6 hours) on a fun adventure on the water offered by several watersports operators. Have a blast snorkeling, zipping around on a personal watercraft, knee boarding, banana boat riding, kayaking, windsurfing, floating rock climbing, water trampoline jumping, parasailing. Lunch and complimentary beverages are part of the boat ride to the play zones. Check out what each offers: Sunset Watersports' Do It All; Sebago's Power Adventure Water Tour; Fury's Ultimate Water Adventure.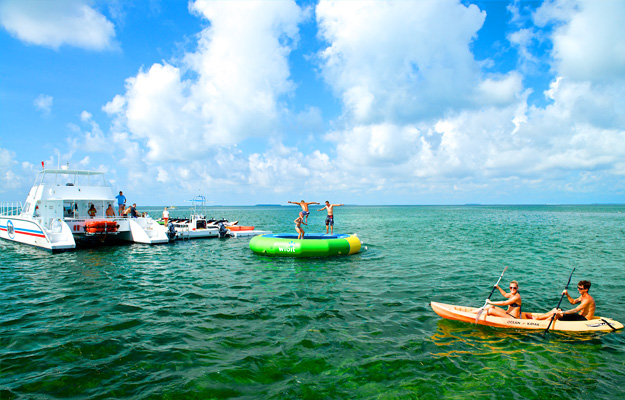 Kayak
Glide through remote, quiet mangrove forests and flats of the coastal backcountry for 2 hours on Key West Eco Kayak Tours.
Jet Ski
Zip around the island, from the Gulf to the Atlantic, on jet skis on Fury's 90 minute Ultimate Jet Ski Tour.
Snorkeling
Snorkel on the gorgeous live coral reef on a 3-hr. Reef Snorkeling trip. For something more private, spend 2 ½ hours snorkeling with a friend on a Snorkel Safari boat. Spend the morning or mid-day on a great sail and awesome shallow-water snorkel on Key West Snorkel & Sail Adventure. Spot bottlenose dolphin and snorkel the backcountry on a 3-hour Dolphin Watch & Snorkel Combo.
Parasail
Fly solo for 10 to 12 exhilarating minutes on Sebago's Key West Single Parasailing. Some things are better with on Key West Tandem Parasailing.
Staying Dry Water Adventures. Not everyone is comfortable in the water, but with beautiful turquoise water everywhere, most want to get out on it. Key West has got you covered!
You'll have a window to view the reef below in the air-conditioned comfort of Fury's Glass Bottom Boat Day Cruise, departing at noon, 2 & 4. If you want to see more nearshore sealife and see it up close, walk through the Key West Aquarium. It's a fave of visitors and locals alike. Being on the water doesn't get much better than on an elegant mid-day champagne cruise on sleek Schooner America 2.0. Fishing is big in Key West. Try your luck in the company of others on a ½ day Party Boat fishing trip aboard Gulfstream IV. Or let one of many experienced private charter boat captains put you right on the fish. The rest is up to you!
Evening
A Sunset Sail is a Key West tradition. Catamarans from Sebago, Sunset Watersports and Fury depart nightly with excited guests eager sail into the sunset. Schooners America 2.0 and Appledore unfurl their sails for a sweet ride out. Most sails last 2 hours; all offer soft drinks, wine, beer, light snacks and sometime champagne. There's always music onboard, live or recorded. Danger Charters Wind & Wine Sunset Sail is an intimate, upscale sail during which an array of fine wines, upscale beer and tasty hors d'oeuvres are served.
Back dockside and totally relaxed, there's a lot of evening left for dinner in one of Key West's great restaurants, or to party the night away in music-filled bars and nightspots.