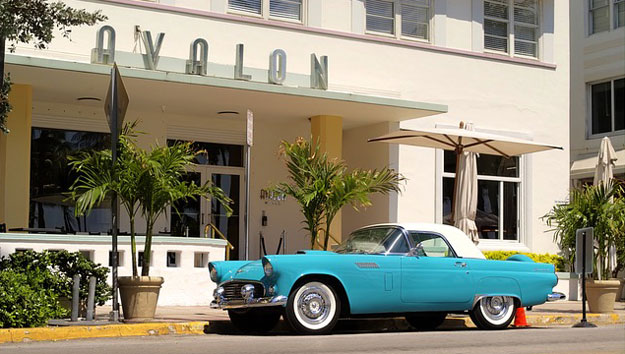 Tropical, multicultural Miami, a patchwork of diverse neighborhoods spreading from beautiful Biscayne Bay and the Atlantic Ocean to the mysterious Everglades, is vibrantly fast-paced.  It explodes with color and light. Some neighborhoods contributing to Miami's unique vibe -South Beach /Miami Beach, Coconut Grove and Coral Gables – are a perfect mix for a 2-Day visit.
DAY 1 – BEACHES

Known world-wide for its glam vibe, A-list attitude, and behind-the-velvet rope nightlife, SoBe's Atlantic Ocean location, long stretches of beach and picturesque Art Deco buildings make it a visually beautiful place. Here's a list of what to see and do in Miami:
Ocean Drive
This the epicenter of the SoBe scene. Architecturally significant "painted Ladies," the historic Art Deco buildings lining the busy pedestrian Atlantic-front street, now house restaurants, cafes, trendy clubs and lounge bars. It's the place of models posing for fashion shoots, beautiful people roller-blading and tourists converging. Walk along Ocean Pathway, check out colorful lifeguard huts along the beach. People-watch over coffee or a drink at News Cafe, an iconic fave.
Collins and Washington Avenues
While Ocean Drive is known world-wide, there's more along SoBe's 23 blocks; from South Point to Lincoln Road. Collins Avenue is lined with oceanfront hotels and an eclectic mix of restaurants, cafes, bakeries, pizza places, ice cream and gelato shops, serving food reflecting the diverse tastes of Miami's international population. Check out those in the 1100 block of Collins, and along Washington Avenue, a long-time commercial strip loaded with small restaurants and shops.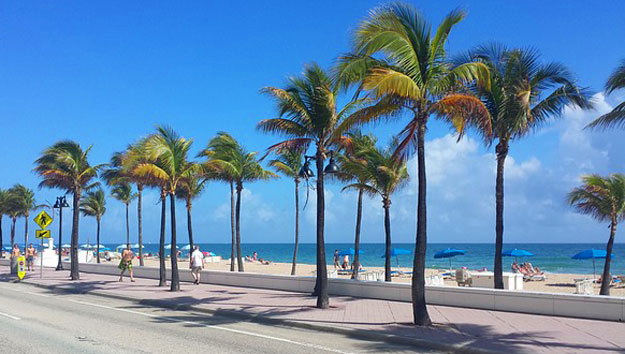 Versace Mansion
The storied mansion at the north end of Ocean Drive, conspicuous in its Mediterranean Revival grandeur, is a favorite photo op. Have breakfast or lunch with an ocean view nearby at Front Porch Café.
Espanola Way
Tucked between 14th and 15th St. west of Washington, this funky bohemian artist enclave of Mediterranean architecture, is often missed by visitors focusing on Ocean Drive.
Lincoln Road Mall
A popular pedestrian-only strip where you you will find a variety of shops and dining spots.
Beach Time
The stretch from 1 Washington Ave to 21st St./Lummus Park Beach is known as "America's Party Beach. It's always crowded with bodies in miniscule swimsuits and topless tourists sunning in the sand or frolicking in the water and on the beach.
And More
Three interesting places are clustered just north of 19th Street., a short distance yet a world apart from SoBe. At the Holocaust Memorial, a tranquil series of outdoor spaces movingly capture the visual, historical and emotional impact of the 6 million Jews who perished during the Holocaust. Miami Beach Botanical Gardens is a wonderful retreat into a meandering tropical paradise. The collection of multidisciplinary international contemporary art at the Bass Museum of Art occupies a temporary space across the street from its striking Art Deco permanent home until major renovation is completed in Dec. 2016.
OPTIONS WHEN TRAVELING WITH YOUNG KIDS  
Key Biscayne Beaches
Take the kids on a short car ride to Bill Baggs Cape Florida State Recreation Area, a quiet beach at the south end of Key Biscayne. The lighthouse is fun to climb and the Lighthouse Café is a good place for lunch. Crandon Park on the island's bayside northern end has a popular beach with cabana shelters and kayaks to rent and eco-adventure tours to take.
Nearby Attractions
While on Key Biscayne, take the kids to Miami Seaquarium to see all the sea creatures and aquatic shows they love.
BEST WAYS TO SEE MIAMI BEACH
Walk it
Walking along Ocean Drive, Collins and Washington is do-able, depending on how far you want to go.  Adventuring further out requires a car.
South Beach Local
It stops at popular destinations throughout SoBe, from South Pointe Park to Lincoln Road, for 25 cents per trip.
Segway It
Super fun for teens 16 and up and young adults. Glide past all the must-see places on a Miami Art Deco Segway Tour.  Engaging guides make sure you see a lot during the 2-hour narrated ride.
Historic Miami City Tour 
This is a good way to get the flavor of Miami's neighborhoods riding in AC comfort on a 4 hour (10am to 2pm) GPS guided small bus tour. See Downtown, Little Havana, Coral Gables, Coconut Grove, with time left in the afternoon to explore SoBe on your own.
DAY 2. COCONUT GROVE & CORAL GABLES
MORNING: THE GROVE
Start the day out like a local with breakfast at Greenstreet Cafe on Main Hwy. One of the earliest of Miami's settlements, The Grove has long been a popular gathering place for locals and is a favorite hangout of students and professors from nearby University of Miami. Its village atmosphere, bohemian attitude, trendy vibe, diversity, sidewalk cafes, restaurants, and mix of shops and nightlife give it an artsy, approachable appeal.
Visit two very different historical sites with fabulous Biscayne Bay views offering a glimpse of Miami as a frontier settlement and Gilded Age resort town.
The Barnacle
A large simple home with broad, covered verandas built in 1891 is a great example of the vernacular architecture of Miami's pioneer days. The house and large tranquil bayfront property, shaded by live oaks and massive banyan trees, looks much as it did when it was the home of Ralph Middleton Monroe, one of the earliest Grove residents. Monroe's love of sailing pristine Biscayne Bay, living among tropical plants and enjoying interesting friends who settled in the Grove, was influential in establishing the community's unique character. Walk along shady paths, see how residents withstood the summer heat on a tour of the house engineered to maximize the cooling breezes. Property entrance fee is a $2 donation; house access is by tour only at 10 & 11:30am; 1 & 2:30pm for $3.
Villa Vizcaya Museum & Gardens
It is one of the most magnificent of America's Gilded Age palatial homes. The bayfront Italian Renaissance villa, built for industrialist John Deering by the finest European and Bahamian artists and craftsmen was completed in 1922, and is filled with artwork and furnishings of this opulent era. The 34 room house and elaborate, statuary-filled formal gardens are wonderful to walk through on a self-guided tour. An audio tour enhances details. Open daily 9:30am -4:30pm, except Tuesdays. Entrance fee covers house and grounds.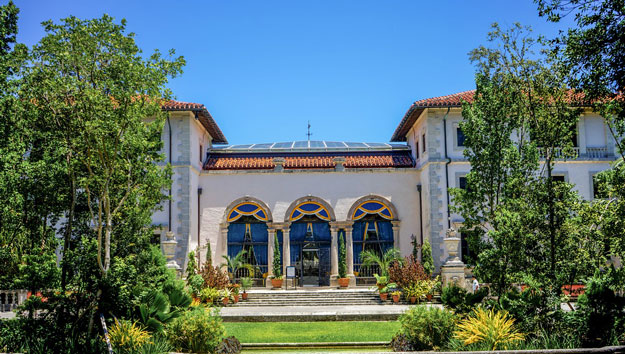 Shopping/Lunch
Check out the Grove's array of small, shops and boutiques. Walk through CocoWalk, a multilevel entertainment complex with shops, restaurant and nightlife.  Lunch at Cocowalk or try cuisine from all over the world at numerous restaurants and sidewalk cafes.
AFTERNOON: THE GABLES
Graciously cosmopolitan, largely residential Coral Gables lives up to its name "The City Beautiful."  Its unique character reflects the rags to riches story of South Florida in the early 1920s. Coral Gables was developed as a model city by George Merrick who hired America's best-known architects to create a city with a romanticized Spanish Mediterranean theme out of the flat South Florida landscape. The plan provided for separate residential and commercial areas, golf courses, even a private beach access through a canal. Architecture and street names evoking Spanish towns, extensive landscaping, mature trees planted on every street, grand entrances of native oolitic limestone, plazas, fountains and foliage-draped trellises of times past influence today's distinctive Coral Gables ambiance.
Lunch at historic Biltmore Hotel, built in the grand style of early 1900 Gilded Age resorts. It's the best way to take in gorgeous architectural details, hand-painted frescos on vaulted ceilings, marble columns and floors, loggias, courtyards and lavish gardens. Enjoy lunch al fresco in Cascade Restaurant overlooking the fabulously huge, storied pool and 85 foot waterfall; in 19th Hole with golf course views; in Fontana's lushly landscaped courtyard.
Fairchild Tropical Botanic Gardens
It's magical immersion into a tropical world that was created by a landscape of a broad spectrum of stunningly beautiful mature plants and lovely vistas. Imagine walking, or riding the tram, though flowering vine-covered trellises, orchid and fern houses, butterfly conservatory; through lush tropical fruit trees and every unusual palm imaginable.
Shopping/Dinning
Shop upscale boutiques along wide Ponce de Leon Blvd. and Miracle Mile. Browse through Books & Books on Aragon. Enjoy a pleasant shopping mall experience in high-end Village of Merrick Park, where three floors of designer boutiques and upscale stores line shaded open walkways overlooking outdoor gardens and restaurants.
The Gables is the place for lunch or dinner. Lunchtime brings out impeccably suited locals working in nearby international businesses, as well as casually dressed visitors from all over the world. Charming old world and contemporary restaurants with great service lining Ponce, Alhambra, Miracle Mile and side streets serve delicious cuisine from all corners of the globe.
OPTIONS FOR TRAVELING WITH YOUNG KIDS
ZooMiami
Zoo Miami is the best, and well worth the drive southwest of downtown Miami. Get there early, in the cool of the morning when animals in natural habitats throughout the 280 acre park are the most lively. Besides over 900 animals from all over the world to see, ZooMiami has many interactive activities and programs. Ride a camel, feed a giraffe, have fun in waterplay areas. Kids will want to stay all day!
Venetian Pool
How cool is it for a kid to swim through ledges, caves in a free-form pool created from a coral rock quarry in 1923! Tropical, shady, and fed by 800,000 gallons of cool, spring-fed water replaced daily, it's a fun adventure for any child over 3 years old and over 38" tall.
Kids like the lively atmosphere, music and things to do at Bayside Marketplace in downtown Miami. They'll love the thrill of a 30-minute Bayside Blaster Boat Ride.  For something longer and relaxed, views from a large comfortable yacht are spectacular on a Biscayne Bay Sightseeing Cruise.  See the glistening Miami skyline, Miami Beach, affluent Fisher Island, Millionaire's Row and cruise ships in port in the AC comfort of the salon, or from outside decks enjoying the tropical breeze.