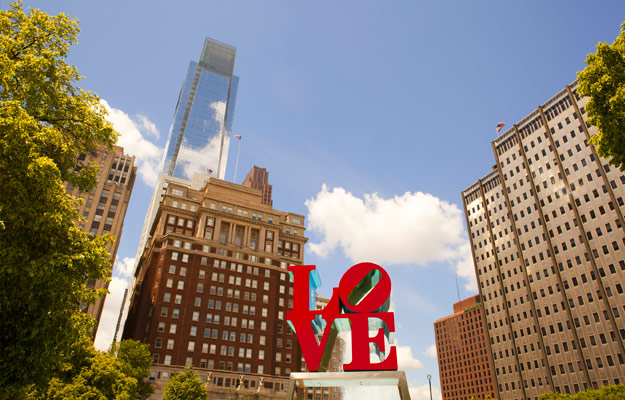 Historic Philadelphia – the place where events pivotal to the birth of America took place. It is here where the First Continental Congress in 1774 and the Second Continental Congress in 1775 took place. This is where the Articles of Confederation, Declaration of Independence and U.S. Constitution were created. Historic buildings where events took place, iconic symbols of American democracy and museums dedicated to telling the nation's story as well as Philadelphia's world-class art museum, science museums, attractions and zoos create a wonderful experience for visitors.
Big Bus 48-hour Pass is your ticket to a stress-free 2-day visit. Big Bus' narrated tour passes all the landmarks and highlights, easily visible from inside seating on the lower level or from the top deck of the double-decker bus. Personalize your Philly visit with hop off/hop on privileges at 27 stops along the route. Hop off at any stop, see the sights in the area, hop back on again to resume the tour.
DAY 1: MORNING 9am – 1pm
Stop #1: Independence Visitor Center, Independence Hall, Liberty Bell, Storytelling Benches
Independence Visitor Center: Whether you get here by Big Bus or on foot, it's where to go first for maps and information. It's also the place to pick up free timed tickets to tour nearby Independence Hall. Reserve tickets in advance online.
Independence Hall: Arrive at Independence Hall 15 minutes before your timed tour to allow time to go through a security check. It was here where the Founding Fathers gathered in 1776 to sign the Declaration of Independence. And 11 years later, delegates from 12 states met here to begin drafting the Constitution.
Liberty Bell: No tickets are necessary to see the Liberty Bell on Market Street near Independence Hall. Cast to call to order meetings of the Pennsylvania Assembly held in the State House, now Independence Hall, the iconic cracked bell has become a universal symbol of people seeking their rights.
Storytelling Benches: From Memorial Day through Labor Day from 11-4, while strolling through the Historic District, keep your eyes peeled for 10 Storytelling Benches scattered about. For 5 minutes at each one, uniformed professional storytellers tell tales and secret stories about historic happenings that occurred in the area around each bench. It's super fun!
Stop #2: Betsy Ross House
This tiny 1740s house made famous by the seamstress who made the first American flag. It's a pleasant, quick, self-guided visit, and great for kids, especially the audio tour designed for them.
Stop #3: Benjamin Franklin Gravesite and US Mint
Benjamin Franklin's Gravesite:  Benjamin Franklin is one American notable buried in the burying ground established in 1719. Signers of the Declaration of Independence, Benjamin Rush, Joseph Hewes and George Ross, are buried here. Toss some pennies around Franklin's grave: "a penny saved is a penny earned."It's a tradition.
First United States Mint: A visit to the first and still active U.S. Mint does not take much time. On a self-guided tour, see the Mint Deed signed by President Andrew Jackson, the first coining press used to strike America's first coins in 1792, and, if operating, watch coins being cranked out at the rate of 1 million per minute from 40 ft. above the factory floor!
Stop #4: National Constitution Center
Experience how the U. S. Constitution, one of the most important and influential documents in history, influences the cultural and daily lives of Americans today. The impact of the 4-page document is explored through multimedia theatrical productions, interactive displays, and artifacts, including one of the rare original public copies of the US Constitution. Allow 1 hour.
Stop #6: Reading Terminal Market. Have lunch at a busy, bustling, crowded indoor farmers market, the oldest continuously operating one in America. Dizzying with color, action, and scrumptious aromas, it's where locals and restaurant chefs buy fresh produce, fish, meats, seafood, poultry and flowers. Lunch choices are global – home-cooked Amish, Cajun, Mexican, Middle Eastern, Greek, Soul, Chinese, French. Crowded, but take it all in – faces and flavors!
DAY 1: AFTERNOON 1pm – 5pm
Stop # 8: Cathedral Basilica of Saint Peter and Paul
Completed in 1864 and expanded and renovated in the 1950s, its exterior and interior architectural details are magnificent. Outside: heavy bronze doors, massive Corinthian columns, brownstone Palladian façade, a verdigris copper dome. Inside: marble floors, expansive paintings, coffered ceilings, huge bronze chandeliers, painting-lined great dome, 156 feet above the floor, angel sculptures everywhere.
Stop #9: Barnes Foundation
This art museum features thousands of post-impressionist and early modern paintings from the private collection of Albert C. Barnes, it's a lovely place, both landscaped grounds and spectacular 2-story, modern building. An astounding number of paintings by Renoir, Matisse, Manet, Degas, Seurat, Prendergrast, Titan and Picasso, are exhibited alongside artifacts and art of other cultures.
Stop #10: Rodin Museum
Inside the Beaux-Arts building and in the formal French Gardens, the focus is singular – the sculpture of August Rodin. It's the place to see the most comprehensive public collections of his work outside Paris.  
Stop #12: Perlman Building
Part of the renowned Philadelphia Museum of Art. On a 2-day, visit, the recommendation is to pass on it in favor of the PMA (Stops# 15 &16).
Stop #13: Philadelphia Zoo
A zoo may be just another zoo, but kids of all ages love them no matter where they are!
Stop #14: Please Touch Museum
A fun, magical place, perfect for kids ages 2-6 to play, explore, imagine, pretend in themed rooms – from Alice in Wonderland to Rocket Ships and more, It'a"hands-on" taken literally!
Stop #15: "Rocky" Steps & Rocky Statue
Enter the Museum via an invigorating walk up the steps leading up East Entrance. Known as "Rocky Steps," made famous by Sylvester Stallone in "Rocky III," it's must do and a great photo op. Take a selfie with the bigger-than-life statue of movie character Rocky Balboa at the base of the stairs.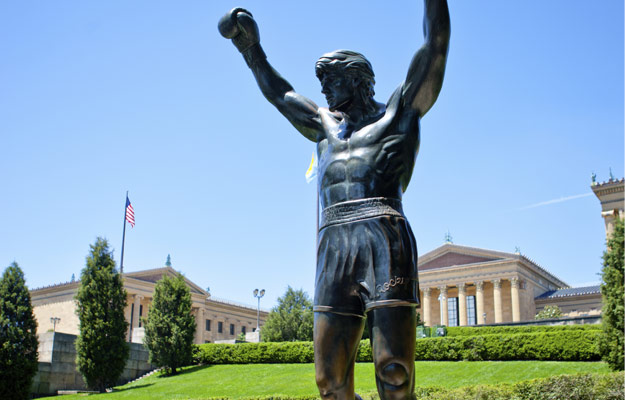 Stop #16: Philadelphia Museum of Art
The permanent collection of the 3rd largest art museum in the country covers art across all cultures and continents – from ancient Chinese to modern art expressed through paintings, sculptures, textiles, armor and armament, furniture, decorative art and more. Besides the world-class collection of works by the greats in each category, what makes the experience special is the ease of viewing beautifully curated exhibitions in glorious spaciousness. The 80 period rooms are astounding; rotating temporary installations are varied and compelling.
Stop #17: Franklin Institute
For older kids and adults, this fascinating hands-on science museum is great! See the stars above; the earth below; everything between! It's a place to grasp scientific principles by doing. Pedal away on a virtual bike race, understand balance on a surfboard simulator; see how environment alters river flow on the Stream Table, test Newton's laws of motion and get a handle on the physics behind the Foucault Pendulum.
Stop 20: Academy of Music
The beautiful landmark building is the oldest known Opera house continuously in use in the US. It's where opera, ballet, orchestral performance, and national productions are held.
DAY 2: MORNING 9am – 1pm
Stop #5: Chinatown
Walk through colorful Friendship Gate through the bustling, aromatic, predominantly Asian community. The mix of unique architecture, eclectic shops filled with all manner of Asian goods and souvenirs, markets, noodle houses, bakeries and restaurants too numerous to count – Chinese from all regions, Vietnamese, Thai, Korean, Malaysian – make it a fun place. Pick up some souvenirs, try tasty bites, find a restaurant to return to for dinner.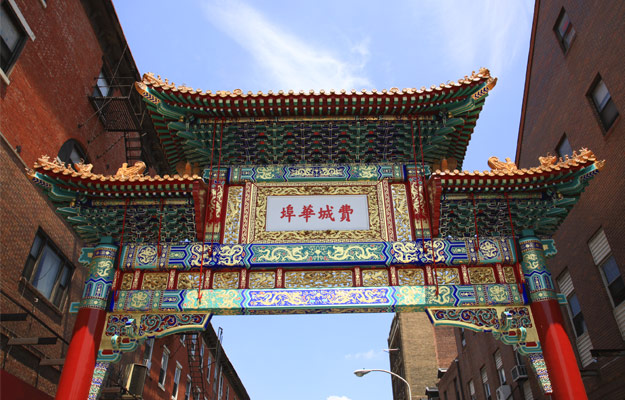 Stop #11: Eastern State Penitentiary
Looming and foreboding, it's one of Philly's most visited places. Once the most famous prison in the world, holding such notorious criminals as Al Capone, its a maze of crumbling cell blocks and empty guard towers awaits visitors. What lies behind the haunted-looking Gothic entrance tower is creepy. One-hour tours include life inside the prison's cell blocks, a look at Al Capone's restored cell, stories of escapes, and prisoner art installations.
Stops 18 & Stop 19: Four Seasons Hotel and The Bellevue/Rittenhouse Square
Walk around Philly's most upscale areas; stop for lunch. The Shops at The Bellevue is upscale shopping on the ground floor of the historic Bellevue. Bellevue Eatery downstairs has a great selection of salads, sandwiches, and international fare. Try Tavern on Broad nearby for cold bear and pub food. Or, lunch at one of several nice restaurants nearby. Rittenhouse Square, one of five original squares planned by city founder William Penn, is a tree-filled, family-friendly park with lovely plantings and sculptures.
DAY 2: AFTERNOON 1pm – 5pm
Stop #21: Antiques Row
Although the number of antique shops has dwindled significantly since the 1980's, there are a few left around 9th and 10th Streets.
Stop #22: South Street
Skip Antiques Row and get off at Stop #22 on South Street, Philly's eclectic, bustling "happening" place, where people from all backgrounds, ages and cultures live and gather. Most of the stores are independently-owned clothing boutiques, vintage stores, bookstores, record stores, and ethnic restaurants. Philadelphia's Magic Gardens between 10th and 11th, a totally magical mosaic maze of outdoor folk art installations of found objects, colorful glass, thousands of glittery mirrors spanning a city block is a must see.
Stop #23: Vietnam Veterans Memorial
It honors the sacrifices of 646 Philadelphians during the Vietnam War. In a moving tribute, the name of each is etched in granite on the south wall of the monument.
Stop #25: Penn's Landing
Along the Delaware River Waterfront, check out the activity on the river. Seeing it from the comfort of Big Bus is a good way to catch the views.
Stop #26: Old City/Christ Church
In an area of tree-shaded brick paths and cobblestone streets this historic gem was built between 1727 and 1758. Christ Church where many prominent players in the founding of America worshiped. The Georgian Colonial architecture is remarkable; the interior is exquisite. It has the pulpit constructed dates back to 1769; the 600 year old Baptismal font was brought over from England in 1697; pews of George Washington, Betsy Ross and Benjamin Franklin.
Stop #27: Museum of Jewish American History
A beautiful museum chronicles the over 350 year history of Jews in America in a spell-binding way through stories, objects, artifacts, documents, images, film and interactive media displays. If you plan to visit here at the end of Day 2, allow at least 2 hours.