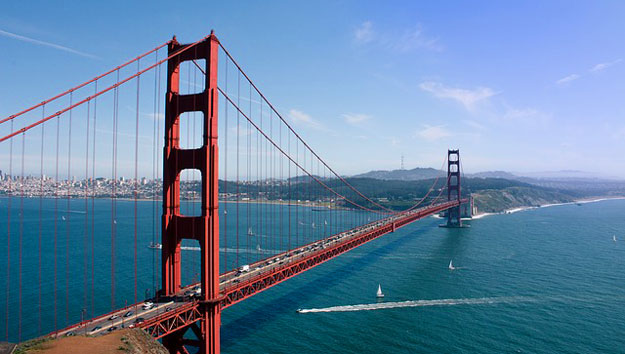 Our guide will show you how you can get around San Francisco in 2 Days using Big Bus while also receiving discounted admission to the most popular experiences with CityPass.
Big Bus 48 Hour Pass
This is your ticket to getting around San Francisco to see the sights and important landmarks easily and without the parking expense, hailing a cab or figuring out transit routes.
Narrated tour hits all the highlights and landmarks
Hop off/hop on privileges at 20 great stops
Visibility is great from inside seating or from the open top deck of the double decker bus
Personalizing your experience by hopping of at any stop you want maximizes your time
English narration by an on-board guide or through audio tours in 10 languages
CityPass Discounts
It's a discounted package of admission tickets for a Bay cruise, cable car rides and general admission to 3 well-known attractions or museums accessible from Big Bus stops.
Muni Booklet with unlimited transportation on all Muni trolleys, buses and historic cable cars. Use it to experience an iconic San Francisco experience –ride on the historic cable cars.
Get out on the Bay on a boat cruise
General admission to famed California Academy of Sciences in Golden Gate Park, where 4 really cool experiences are rolled into one – an aquarium, rainforest, planetarium, natural history museum. A bonus: a living "green" roof!
Plus choices of: 1 of 2 aquariums – Aquarium on the Bay or Monterey Bay Aquarium. One or 2 of: Exploratorium at Pier 15 is great for kids; the astounding collection of American art in the de Young Museum in Golden Gate Park is a must see for art lovers.
Recommended 2 Day Itinerary:
DAY 1: MORNING – 9AM UNTIL 1PM

Start out early along the bustling, beautiful San Francisco Bayfront – the Embarcadero and Fisherman's Wharf. It's a combination of tourist destination activities, attractions, shopping and restaurants and an active commercial fishing hub, but overall it's a great place to start your visit. Here's where you'll find waterfront marketplaces filled with seafood stalls, steaming crab delicacies, sourdough bread, bustling fleet of commercial fishing boats and pile upon pile of languishing sea lions. The views are fantastic; the activity energy invigorating.
Pier 39
People flock to Pier 39. and so do the sea lions! It's San Francisco's waterfront Festival Market Place with 110 stores, 14 Bay view restaurants serving plenty of fresh seafood, lots of attractions, street performers and many lunch choices. Use CityPass to visit the Aquarium by the Bay which features local aquatic animals beautifully exhibited. While at Pier 39, check the schedules and make time to take a Bay Cruise. Blue & Gold Bay Cruises have two CityPass options for departure from here: 1-hour Bay Cruise travels under magnificent Golden Gate Bridge, around Alcatraz Island, past Angel Island; or buzz around Bay on RocketBoat's 30 minute thrill ride.
Home of the San Francisco Giants where America's favorite pastime is played, is one of the coolest sports stadiums on the west coast. There's something magical about the place. While stadium facilities are state-of-the-art modern, it has the look and feel of a classic ballpark. On tour, walk on to the field, imagining the roar of crowds, and into the dugout, feeling the quiet intensity of the players watching strategy unfold. Step into the Batting Tunnels where you can almost hear the crack of a bat. Imagine the anticipation of visiting teams as they suit up in the Visitors' Clubhouse. Try out seats on different levels, soak up views of San Francisco Bay, and check out the amenities in luxury suites and the Field Club Lounge. Step into the Press Box, where broadcasting greats have called the game. Let the kids explore interactive Coca-Cola Fan Lot, a mini-AT&T Park play area complete with video scoreboard and speed-pitch game. This interactive tour is a home run for the entire family!
Aquatic Park
Located on the Bay on the northern edge of Fisherman's Wharf. The collection of floating historic ships is wonderful, the views breathtaking and the Maritime Museum interesting. Check out the Visitor Center on Jefferson at the corner of Hyde Street to make the best out of your visit.
Ghirardelli Square
The former chocolate factory is now a 3-level shopping center and restaurant. If you haven't had lunch along the piers, have it here.
DAY 1: AFTERNOON 1PM – 5PM
Historic Cable Car Ride
From Aquatic Park at Hyde Street, use CityPass Muni booklet to get on the historic Powell/Hyde cable car line. It travels up and down the hilly streets through the Russian Hill neighborhood and on to the Cable Car Museum. Visit the museum or pass on it and get on the Powell-Mason line, once again using your Muni booklet, to get back in the Fisherman's Wharf area. Note: there is always a line to get on this 'must do" outdoor activity.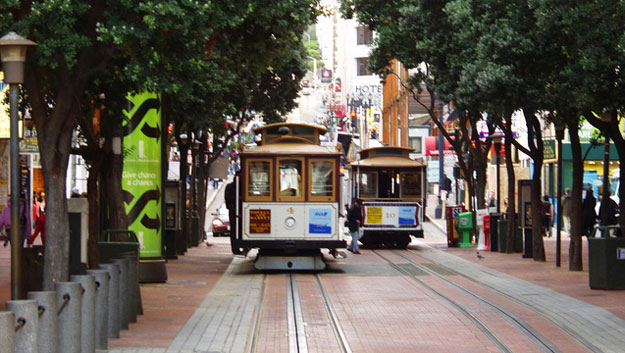 (Stop #1) San Francisco Overview on Big Bus Tour
Begin a great narrated city tour. Chill out, take in the sights and listen to the narration. You'll see a lot and become oriented to the city. While all stops have something of interest to explore nearby, not all need to be hop off stops. This is a great way to see all of San Francisco while also keeping your weekend getaway on budget. Recommendation: save California Academy of Science for day 2.
(Stop #3) North Beach and Coit Tower
Visit Coit Tower and take a walk through North Beach, a neighborhood which still has the atmosphere of its Bohemian past. Stop into City Lights Bookstore, the first all-paperback bookstore in the US, publishing house of independent literature and favored hang out for progressive thinkers of the 1950s Beat Generation.
(Stop #5) Union Square South
Walk around this beautiful 2.6 acre urban park for a closer look at upscale trendy boutiques, shops, art galleries, restaurants and night clubs favored by locals. Soak up the lively ambiance over coffee at an outdoor café. Hop back on Big Bus at Stop #6 at the north end of Union Square.
(Stop #7) Civic Center Area
Hop off here for the Asian Art Museum, the largest museum in the Western world devoted to the arts and cultures of Asia.
(Stop #9) Alamo Square
This is the location of the most photographed places in San Francisco – the Painted Ladies. It's a collection of beautifully restored, privately-owned Victorian homes, the prevailing architecture of many San Francisco neighborhoods. Take photos from the bus or hop off for a closer look.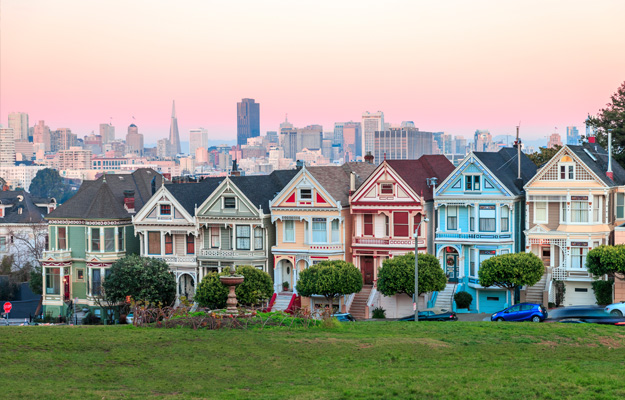 (Stop #10) Haight Ashbury
The name of the neighborhood where America's counter-culture movement began in 1967 still evokes images of America's hippie culture. While still eclectic, change has come. Only a few hippie-era relics remain tucked away in the neighborhood. With the exception of a few grittier areas, it has gentrified into a place of upscale boutiques, vintage stores, record shops, restaurants, and dance clubs.
(Stop #12) Golden Gate Bridge
The scenic ride across Golden Gate Park, through expansive, hilly, historic Presidio, and along the Bayfront to majestic Golden Gate Bridge, San Francisco's most iconic structure, is wonderful. Then, cameras ready! It's over the awesome bridge where, if it's not layered in fog banks, the view is truly magnificent! If you are planning to sit on the upper deck, wear layers of warm clothing because it gets really cold and windy. Stop #12 on the Marin County side is a good photo-op if you are dressed warm enough to hop off, take photos and wait in the cold outdoors at least 20 minutes for the next bus.
(Stop #13) Palace of Fine Arts
After crossing back over Golden Gate Bridge, the drive along the Bayfront is scenically lovely. There is no need to hop off at the ancient-looking Greco-Roman temple built to house art exhibits in the 1915 Panama-Pacific Exposition, it's a favorite wedding and photo spot. Unless you want to take time to walk around it, you can take photos from the bus.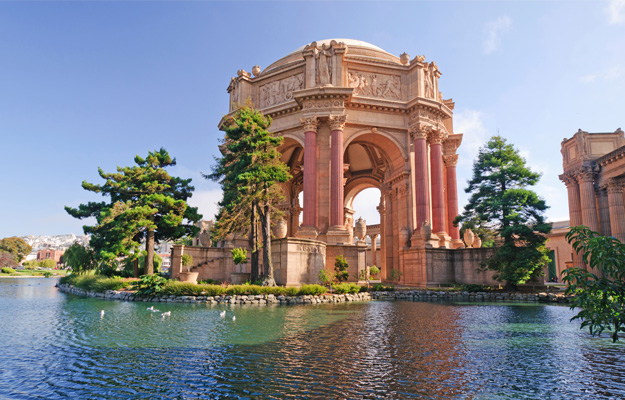 (Stop #14) Marina District
A young, upscale residential area with some of the best waterfront and Bridge views in the city is a nice drive through.
(Stop #15) Lombard Street
You cannot see the famous steep, crooked 1-block portion of Lombard Street from the stop, but you can walk to it. It's between Hyde and Leavenworth, a few blocks away.
(Stop #18). Ferry Building
Make this your last stop. It's a short walk to the Ferry Building where you can get a really tasty end-of-the-day snack throughout the fabulous food market.
DAY 2: MORNING 9AM – 1PM
Start early. Get on Big Bus at any stop along the route before to stop #11. On the now-familiar route, one option is to get off at stops to see sights you missed on Day 1 and really want to see. Save time for the stops below:
(Stop #11) California Academy of Sciences
Use CityPass. Plan at least 2 hours to experience one of the most biodiverse aquariums in the world; a rainforest teeming with plants and animals; a planetarium with an all-digital, immersive universe experience; a natural history museum of earth past and future; a living "green" roof. Enjoy lunch in Academy Café.
(Stop #11) De Young Museum
Use CityPass. The collection of American paintings, sculpture, decorative arts, textiles and costumes from the 17th to 21st centuries on exhibit is remarkable. Plan at least 1 hour. If you did not lunch in Academy Café, lunch in de Young Café.
DAY 2: AFTERNOON 1PM – 5PM
Get back on Big Bus at Stop #11. The route is the same as Day 1. The bonus: 2 trips over the Golden Gate Bridge! It's never the same twice and always thrilling. On the way back, get off at any stops you missed on Day 1 and want to see. Watch your time if you want to go through Chinatown.
Chinatown (Stop #17)
Spend the rest of the afternoon in the oldest Chinatown in North America. Enter via Grant Avenue through ornate Chinatown Gate. Colorful, crowded and noisy, it's a great place to wander around. Pop in and out of the shops on Grant, the touristy street. It's dizzying – silks, kimonos, and Chinese jackets; tea sets, sake sets candles; hand-carved dragons and miscellaneous handicrafts; bird cages and kites, plus a good share of plastic stuff piles out of storefronts. Then, venture out. Get off Grant Street.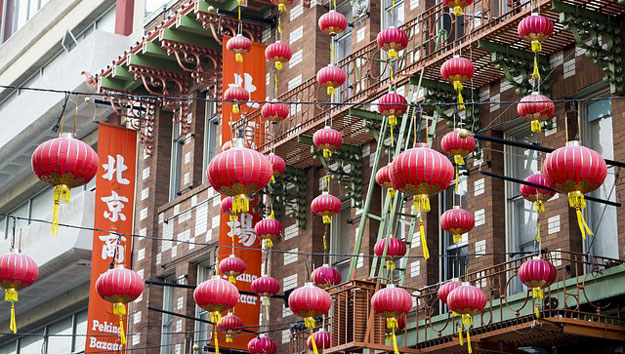 Wander down Stockton, or Bush, or Clay to find stores with genuine Asian antiques; ceramic, jade and religious sculptures; bonsai; hand-carved bone jewelry. Find traditional Chinese herbalist storefront shops along Washington and Jackson Streets. Don't miss the concentration of colorful Buddhist Temples along picturesque Waverly Place.
Duck down minuscule alleys where local businesses thrive. Don't miss Ross Alley where you can watch 2 women making fortune cookies by hand in popular Golden Gate Fortune Cookie Company. Queue up to taste deliciousness at Golden Gate Bakery on Grant. Walk through produce and live markets on Stockton between Columbus and Broadway.
Wind up Day 2 with dinner in Chinatown where restaurants serving cuisine from all regions of China are everywhere – authentic, large, small, fancy and plain.