In LA you can follow the glitz and glamour – places where A-listers, reality show stars and movie stars, past and present, live, work and shop. Or, you can spend 3 days in LA using your GoCard to explore another side – interesting neighborhoods, wonderful museums, aquariums, botanical gardens, and exciting whale sightings. As you go from one GoCard attraction to another, forego Rodeo Drive boutiques and pricey, fancy lunches. Instead, browse through eclectic flea markets, sample tasty food truck fare, stroll through old-fashioned beach piers from another era.
Venice Beach is a great place to begin exploring the other side of LA. The colorful beach community is an eclectic throwback to LA's bohemian spirit. Along Venice Beach Boardwalk, walk elbow to elbow with locals, beach people, and visitors from everywhere, browse the kitschy art, watch street performers, and grab a bite to eat. For a more upscale, equally eclectic experience, head a few blocks east to Abbot Kinney Boulevard for a 1-mile walk past edgy boutiques – from internationally-known to vintage finds – restaurants, art galleries and spas housed in bungalows from another era or in architecturally modern, low scale buildings, many painted in colorful murals. This artist community is the heart of Venice Beach, a place where locals, artists, bohemians and celebs mingle unpretentiously. A super-fun time to visit is on the first Friday of every month to grab a tasty bite from some of the many food trucks lining the Boulevard.
Aquarium of the Pacific in Long Beach, a beach community south of Venice Beach, is all about the Pacific Ocean, the planet's largest and most diverse body of water. Use your GoCard to explore the relatively small aquarium, home to more than 11,000 ocean animals from the waters of Southern California, Baja, and the Northern and Tropical Pacific.
A Whale Watching Cruise or Harbor Cruise, departing from Long Beach, is a chance in a lifetime to see magnificent whales up close. Not only will you spot whales, you'll see dolphins, and other marine life up close, right off the coast of California. The cruise vessels have quiet, low emission engines and stadium-style seating offering exceptional viewing from every seat. On-board naturalists from the Aquarium of the Pacific narrate the tour filled with interesting facts about the magnificent giants of the Pacific. June-October, you'll see endangered blue whales; May-Nov. is the time gray whales travel along SoCal's coastline on their way from Alaska to Baja, Mexico. Other whales spotted year-round can be orcas, humpback whales, fin whales, sperm whales.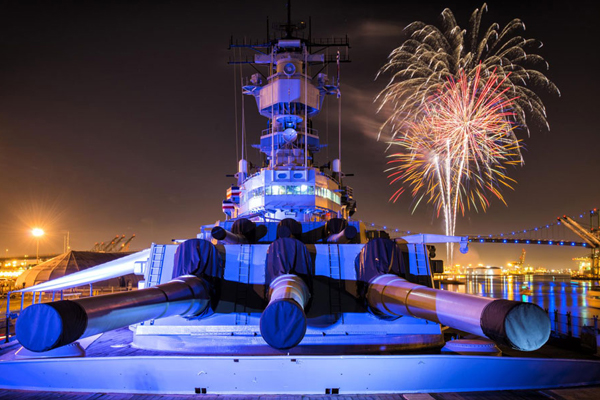 For a change of pace while in the Long Beach area, take a tour of the Queen Mary, the luxury, now retired cruise ship with a storied past. Explore the most luxurious and technologically advanced ocean liner at the time from stem to stern. See what it was like being a passenger during her glory days of the 1950s. See how she proudly served as a troopship during WWII, and hear stories about paranormal activity aboard the regal ocean voyager. Or, visitors interested in military history enjoy a self-guided or special guided tour of the Battleship Iowa, designated the "World's Greatest Naval Ship," due to her big guns, heavy armor, fast speed and technological modernization. During her over 50 years of service she escorted more of America's Commander-in-Chiefs than any other battleship in the nation's history.
Santa Monica, a short ride from downtown LA, is home to Santa Monica Pier's Pacific Park, an oceanfront mini-amusement park from another era, compete with a Ferris Wheel with ocean views, a small roller coaster, a carousel, midway games, souvenirs, food court and several restaurants – all in a carnival atmosphere. Young children enjoy the up-close experience of small Santa Monica Pier Aquarium. 
While on Santa Monica Pier, catch the Hop-on-Hop off LA Bus Tour Yellow Route to see the community of Santa Monica off the pier. Head inland to Beverly Hills, through Brentwood, Rodeo Drive, Century City, Fox Studios and more. Hop off to explore places of interested at stops along the route and hop back on the next available bus which passes stops every 40 minutes.
If you are visiting Santa Monica on a Wednesday, be sure to join locals doing their weekly shopping and chefs looking for the best fresh, seasonal ingredients in Santa Monica Farmers Market between 4th and Ocean. Established in 1981, it is one of the largest and most diverse grower-only certified farmers' markets in the country.
For a complete change of pace, head to Pasadena to spend at least a half day in The Huntington Library, a lovely center of art and culture set in gorgeous gardens spread out over 120 acres. It's easy to become totally immersed in the beauty of it all. The library has amazing rare books and historic manuscripts such as the Gutenberg Bible and Chaucer's Canterbury Tales. Two art galleries exhibit priceless works of art, including paintings by Gainsborough, Reynolds, Sargent, Cassatt and Hopper. Stroll through beautiful gardens – the 12-acre Desert Garden, serene 10-acre Japanese Garden, gardens filled with fragrant camellias and roses, or exploding in the color of exotic tropical plants. The Chinese Garden and the Garden of Flowing Fragrance are serenely stunning. Have lunch in Café 1919, or tasty fare in the Freshwater Dumpling & Noodle House.
If you are in LA on the 2nd Sunday of the month, a trip to the Rose Bowl Flea Market in Pasadena is a must! Filled with the unusual, the ordinary, the beautiful and the exotic, the flea market takes place in the famous Rose Bowl! Come early and shop or browse through the goods of over 2500 vendors!
If you want to spend a day in and around downtown LA, several interesting museums are on your GoCard list. All are great for kids. California Science Center IMAX Movie Exhibit is the place to explore science through dynamic interactive exhibits, live demonstrations, awesome films and innovative programs. Admission is free to the permanent exhibitions, however there are fees for the really cool, special exhibits. GoCard is your entry into the popular IMAX Movie Exhibit, a family favorite.
The Natural History Museum is just across the mall from the Science Center. The dinosaur exhibit is incredible; the spider exhibit had a definite creep factor. In addition to these popular exhibits, the multi-level museum has mammals, gorgeous gems, cool fossils, from huge to micro, butterflies and more.
La Brea Tar Pits & Museum is the place to uncover the mysteries of the creatures of the Ice Age on a journey through an active dig site right on Wilshere Boulevard! The La Brea Tar Pits, where extinct creatures roamed over 10,000 years ago, is unique. Explore real tar pits, watch bubbles of methane burst in the air and smell the tar smell where gigantic ice-age creatures became trapped. Take an excavation tour; find out how the animals were preserved in the tar and are still being unearthed on site today; watch paleontologists work on recently dug up fossils and micro-fossils.