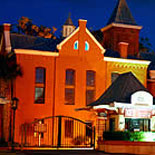 Prepare to meet ghostly criminals hanged at the gallows in the Old Jail. Hear the trapdoor spring open and the rope snap tight as another apparition is set loose to prowl the yard. Feel the hair stand up on your neck as an icy-cold breath whispers a graveyard message in your face.  The Paranormal Seekers are your guides at the Old Jail in St. Augustine, Florida. Halloween tours are forming now.
Purchase tickets for A Night at the Old Jail
Built in 1891, this spooky landmark housed Florida's most viscous criminals, some meeting their Earthly demise at the end of a rope. The on-site museum explains the history of this infamous jail for all to see. Some of the jail areas are intense and frightening. You will hunt ghosts. Our Paranormal Seekers team will outfit you with latest high-tech equipment to seek out paranormal "hot spots" and explore previous ghostly encounters. You'll get a hands-on lesson using sophisticated equipment that finds paranormal activity. You'll walk through the Old Jail and be directed where to look for apparitions. Then you're on your own. Explore the dark corners and moving shadows. Go where your shivers and goose bumps lead you. Use the equipment to seek evidence of ghosts recently passing by. Find a ghost standing before you, telling a secret from the grave. Our professional team will help you, interpreting readings and showing you if a ghostly presence is near. When you find a spot known for ghostly encounters, you'll likely stir up a supernatural experience. Tall apparitions have been seen walking about.
Tip number 1: Keep your smartphone handy!
Tip number 2: Because tours are intense, don't bring children under 12.
Tip number 3: Make your Halloween reservation before all the spots are filled. The ghosts are waiting.
Join us if you dare…