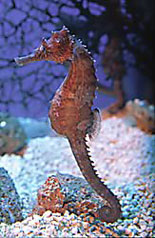 The Aquarium of the Americas is located on Canal Street near the legendary French Quarter. It is a popular family entertainment destination and a member of the Audubon Nature Institute. Visitors can view exhibits that feature more than 10,000 aquatic animals from over 500 species that represent marine life from North, Central and South America.
Colorful macaws, massive anacondas and poisonous frogs are the featured attractions inside the enclosed glass greenhouse that replicates an Amazon Rain Forest habitat. The exhibit also has freshwater stingrays and piranhas. A treetop loop of suspended wooden walkways provides guests with an aerial view of the flora and fauna that reside in one of the world's most unique habitats.
Purchase your tickets online and save! Use coupon code NQAA5 for an additional discount at checkout.
Add on to the fun by purchasing the Aquarium of the Americas and Audubon Zoo Package. It's an animal and nature lover's dream!
Shark Cove is home to wobbegong carpet shark, a bottom-dwelling animal with a shaggy beard. The Deep Grotto reveals moray eels and other creatures that live in the depths of the sea. The Seahorses Gallery enables visitors to observe the paternal devotion of weedy sea dragons, pipefish and sea horses.
The Gulf of Mexico exhibit is the largest in the aquarium. It features sharks, sea turtles, neon-colored frogs and other aquatic life that thrive amongst the barnacled pilings of an offshore oil rig. The aquarium's 30-foot long acrylic tunnel provides an amazing vantage point to view the undersea ecosystem of a Caribbean coral reef. Guests can watch divers feed stingrays amidst moray eels and angelfish as they walk through the tunnel.
The Mississippi River gallery is home to catfish, owls and the aquarium's rare white alligator. King Mydas, an endangered Pacific turtle, and his friends reside in a 400,000-gallon saltwater tank. The state-of-the-art facility also has exhibits dedicated to African penguins and sea otters.
Adventure Island is an interactive learning exhibit and play zone. Visitors can touch baby cownose rays as the animals swim in the shallow pool. Volunteers can help the staff give the rays their favorite treats during feeding time. The Hurricane Simulator places adventurers in the epicenter of one of nature's most powerful storms. Parakeet Pointe is an enjoyable hands-on experience with hundreds of colorful, exotic birds that will accompany guests who visit the 800-square foot outdoor exhibit.
The facility also houses an onsite café and an IMAX theater. The Aquarium of the Americas is a fun-filled destination for people of all ages.
Comments Off on Aquarium of the Americas Coupons