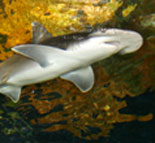 The Aquarium of the Americas is a renowned Audubon Society institution. Visitors can see over 10,000 marine animals from more than 500 different species. The aquatic facility displays animals from ecosystems throughout the North, Central and South American continents. Notable displays include the Caribbean reef exhibit, which features a 30-foot-long acrylic tunnel encompassed by a 132,000-gallon tank. The exhibit is populated with fascinating animals, such as iridescent angelfish and air breathers like the tarpon. The African Penguins bray like donkeys, and the baby sea otters sound like seagulls. The Amazon exhibit includes freshwater rays, anacondas, parrots and piranhas inside a glass, climate-controlled enclosure that mimics the animals' natural habitat. Other exhibits present the wide assortment of plants and animals that dwell in ecosystems associated with the Mississippi River and the Gulf of Mexico. These exhibits include spoonbill fish, sharks, sea turtles and aquatic life that thrive near oilrigs, such as jellyfish. The Mississippi gallery is also home to indigenous animals like catfish, owls and a rare white alligator.
Is your group planning a visit to the Aquarium of the Americas? Trusted Tours and Attractions provides deeper discounts to groups of 10 or more. For more information, please visit our page: Group Discount Tickets

In Parakeet Pointe, colorful birds sip nectar while perched on visitors. Adventure Island has a rock-climbing wall that guests of all ages can scale for unobstructed views of the aquarium. The interactive play zone has a touch tank with cow nose rays, and a simulator enables visitors to experience hurricane force winds. During chat and feed sessions, you can gain interesting perspectives on the aquarium's residents. Located on the mighty Mississippi River, the marine park is near New Orleans' historic French Quarter.
Comments Off on Aquarium of the Americas Discount Group Tickets