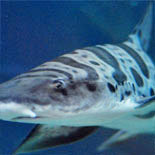 Located at Beach Street and Embarcadero near San Francisco's Pier 39, the Aquarium of the Bay is home to more than 20,000 aquatic animals. Since the facility opened 15 years ago, it has introduced seven million visitors to San Francisco Bay's native aquatic birds and marine wildlife. The inhabitants include an assortment of sharks, skates, sturgeons, bat rays, eels and rockfish.
Planning a visit to the Aquarium of the Bay in San Francisco? Save even more with the following coupon code. Have a group larger than 10? Contact us for group rates.
Coupon Code: SFAQ15 (Additional $1 Off with Coupon Code)
Purchase Tickets Here: https://www.trustedtours.com/store/aquarium-of-the-bay.aspx
The aquarium acquires its Giant Pacific octopuses from local crabbers. You can watch the octopus solve puzzles, which the aquarium staff provides to help the intelligent animal ward off boredom.
In the Under the Bay Exhibit, you can observe ethereal jellyfish as their tentacles immobilize their prey. A moving sidewalk transports you through a 300-foot long acrylic tunnel that enables you to get enjoy an up-close view of each type of shark that patrols San Francisco Bay's deep waters. A 700,000-gallon aquarium tank duplicates their natural habitat in the bay.
The Discover the Bay exhibit has eight tanks that contain over 1,000 aquatic animals, including moray eels, Bay Pipefish and garibaldi. The pipefish resembles a seahorse, and the males give birth to the offspring. The garibaldi is the Golden State's marine fish.
The Touch the Bay exhibit is an interactive display that enables visitors to enjoy an unforgettable encounter with some of the creatures who populate the magnificent bay, such as sea cucumbers, leopard sharks and other aquatic sea life.
Promo Code: SFAQ15 (Additional $1 Off with Coupon Code)
Purchase Tickets Here: https://www.trustedtours.com/store/aquarium-of-the-bay.aspx
Comments Off on Aquarium of the Bay