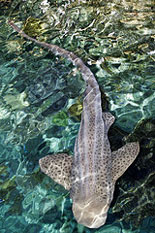 Located near Los Angeles, the Aquarium of the Pacific has more than 11,000 aquatic animals from 500 different species. The collection features marine animals and plants from three major regions of the Pacific Ocean. Each exhibit is designed to inform visitors about the habitats and seascapes found throughout the Pacific.

The Southern California/Baja exhibit features sea lions and seals. You can explore the undersea world of whales and sea otters that live along California's coast. The Tropical Pacific exhibit reveals marine life that thrives amongst the coral reefs and warm waters of the western Pacific. Specimens on display include blacktip reefsharks, sea dragons, clown fish and live coral. The Northern Pacific explores the lives of the giant Pacific octopus and sea jellies as well as plants that have adapted to the polar region's frigid conditions.
Popular interactive attractions include the Shark Lagoon and Lorikeet Forest. You can touch epaulette and bamboo sharks as well as stingrays as the glide by in their shallow pools. The aquarium's lagoon is also home to whitetip, sand tiger and zebra sharks. In the Lorikeet Forest, you can feed multicolored Australian birds that sit on your shoulder as you tour the exhibit.
The aquarium's architectural design evokes the image of breaking surf and the rhythm of the ocean. It welcomes more than 1.5 million visitors each year. The aquarium hosts several special annual events, such as the Pacific Islander and Moompetam Festivals.
Save $1 with Coupon Code: LAAP1
Purchase Discount Tickets for Aquarium of the Pacific
Find additional coupon codes and daily deals for other tours and attractions on Twitter