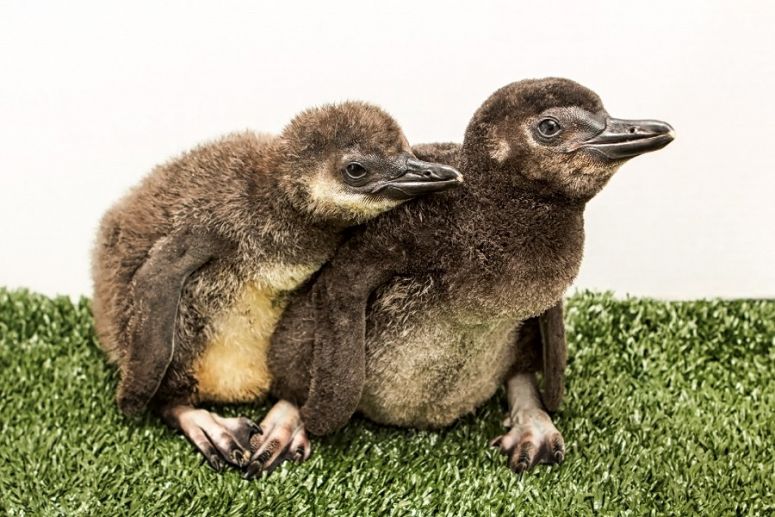 The chicks will leave their nursery to join their parents in the Aquarium's June Keyes Penguin Habitat on August 18, 2016
The Aquarium of the Pacific's two new Magellanic Penguin chicks will make their public debut and join the other penguins in the June Keyes Penguin Habitat on August 18. Members of the media are invited to watch as the two penguin chicks waddle on exhibit around 8:00 a.m., and the public can see them when the Aquarium opens that morning at 9:00 a.m.
The older of the two chicks hatched on May 17 to parents Kate and Avery, penguins originally rescued off the coast of Brazil. The younger chick hatched on May 25 to parents Patsy and Robbie. Robbie, the father of the younger chick is also a rescued penguin. Magellanic Penguin chicks are hatched with a downy layer of plumage that is not watertight. The Aquarium's penguin chicks are taken after about twenty-one days to a behind-the-scenes nursery until their down is replaced by watertight juvenile feathers, a process called fledging. During their time in the nursery, the chicks learned to swim and to take hand-fed, whole fish.
In celebration of the baby birds, the Aquarium is offering an opportunity to name Kate and Avery's chick through its Adopt an Animal program. Those adopting a penguin chick at the $100 level or higher before September 30 will receive two Aquarium admission tickets and the opportunity to suggest a name for the chick. The Aquarium's animal department will choose one winner, and that winner will be able to go behind the scenes for a feeding and introduction session with the penguins.
Magellanic Penguins are a temperate species native to the coasts of Argentina and Chile in South America. It takes between 38 and 43 days of incubation before a Magellanic Penguin egg will hatch. The parents take turns incubating the eggs and feeding the chicks after they hatch.
On exhibit starting Thursday, August 18, 2016 – Media opportunity at 8:00 a.m. / Aquarium opens to public at 9:00 a.m. See all the coverage with the hashtag #AOPpenguins
Buy Discount Tickets Online For The Aquarium