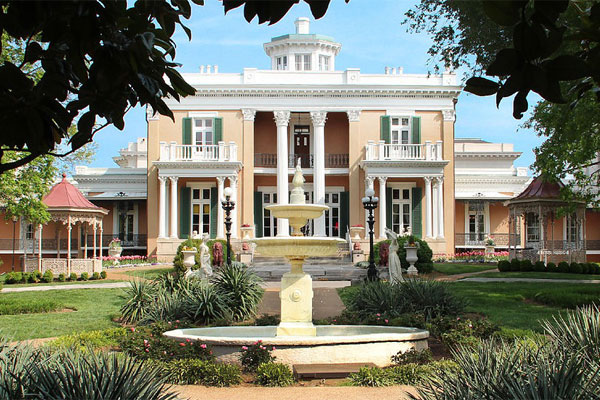 The grand, light peach 19th century villa perched on a hill in the center of Belmont University has a fascinating story to tell.  It's not only the largest house museum in Tennessee, it's one of the few whose history revolves around a woman. She was Adelicia Hayes Franklin Acklen, one of the wealthiest women in antebellum South.

VISITING BELMONT
The Mansion was the centerpiece of Adelicia's exquisite summer home, where she and her second husband, Joseph Acklen entertained grandly.  The grounds of the surrounding 177-acre estate were stunning.  There were lovely rose gardens, gazebos and a collection of animals too. So vast and unique were the grounds that the family opened them as the first public park and zoo in Nashville.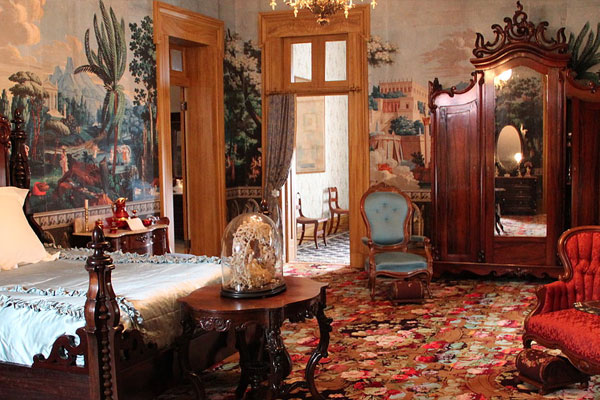 Mansion Tours
A visit to Adelicia's exquisitely restored summer estate offers a glimpse into the way people of means in Nashville lived before, during and after the Civil War. Begin your hour-long guided  tour of the 36-room, 10,000 square foot villa by ringing the doorbell.  In keeping with Southern hospitality, you are welcomed by a historical interpreter who is your guide through the lovely home filled with fine furnishings, paintings, silver, china and statuary.  On a self-guided stroll through manicured gardens surrounding the mansion, cast iron statuary and charming gazebos are wonderful photo ops.  Belmont has several ways you can explore the gardens and grounds using your smartphone.
If you are visiting Nashville between Thanksgiving to January 1st, Belmont Mansion, decorated with hundreds of Victorian Christmas decorations, is magical.
Save $1.00 on Belmont Mansion Tickets when you use the Promo Code NVBELMONT
Save $5.43 With The Old Town Trolley & Belmont Mansion Package– No Promo Code Needed
Specialty Tour Options
If you want to delve deeper into details of the mansion and gardens, specialty tours by appointment and reservation are offered for an additional fee. The Curator's Tour, by appointment only, is an in-depth tour focusing on original objects in the collection, architecture and compelling stories of those who lived and worked there. Visitors interested in gardening should make a reservation for the informative Garden & Grounds Tour led by historic gardening experts.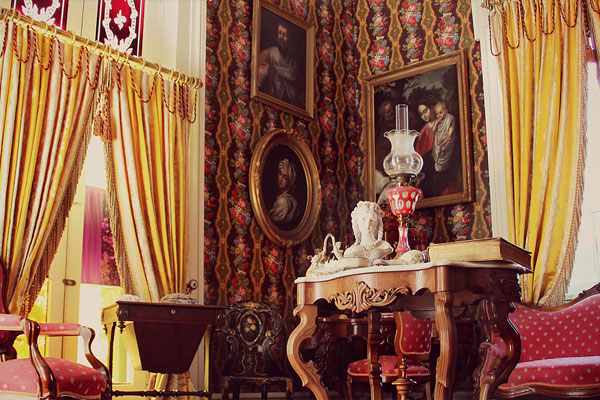 The Story
Woven into all tours is the story of Adelicia Acklen, her years at Belmont, and how the twice-widowed woman kept her family going after the Civil War left the South in a state of upheaval financial ruin.  It's a story of how a woman of means, born in 1817, managed to save a huge amount of cotton from her Louisiana plantations from becoming a war-time casualty. The cotton was in storage waiting to be sold. In an effort to keep the valuable commodity out of Union hands, a Confederate General gave the order to burn it.  Adlelicia's only recourse was to travel to Louisiana to save the valuable cotton. Having known the General since childhood, she used her influence to arrange a meeting with him.   She became ill before the meeting.  It was up to her cousin, Sarah Ewing Sims Carter, who traveled with her, to negotiate the deal to save the cotton. The General agreed to move the cotton to a safe place. What followed were some shrewd moves by the two widows. They managed to get a permit to send the cotton down the Mississippi to New Orleans on a Union gunboat.  Once in New Orleans, Adelicia sold it to England for a considerable fortune.
In her absence, occupying Union troops used Belmont Mansion as their headquarters. The once-lovely grounds were used as an encampment for 13000 Union troops. Adelicia sold Belmont Mansion in January 1887, and the family collection of lovely furniture, exquisite art and decorative items was sold in an estate sale after her death in April of that year.  Belmont Mansion became a women's school whose needs altered the interior and led to the addition of buildings on the grounds. In 1952, the school became Belmont University, which today is a coed, liberal arts college.
It was not until January 2015 that major restoration began to bring Belmont Mansion back to its glory days between a 1853 and 1884, when it was the Acklen's summer home. Some of the scattered treasures were found and returned. Many items came from Beverly Kaiser, whose husband, Franck, was Adelicia's great grandson.  These pieces had been handed down to Franck and used to decorated their St. Louis home. Where original items could not be recovered, period pieces have been found and added to the collection. Special attention has been given to architecturally restore the interior spaces to their 1853 appearance.
The result is the elegant mansion it is today.
Save $1.00 on Belmont Mansion Tickets when you use the Promo Code NVBELMONT
Save $5.43 With The Old Town Trolley & Belmont Mansion Package– No Promo Code Needed