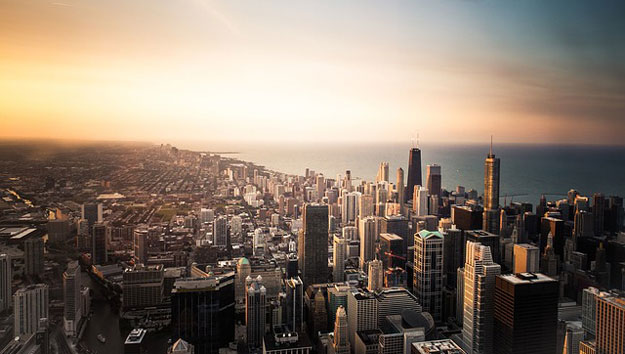 Museum of Science and Industry
Expect a magical, out of this world/in this world experience with a huge Wow! factor.  As one of the largest science museums in the world it lives up to its mission of captivating and compelling young minds in the sciences, technology, medicine and engineering.  While geared towards kids, everything is attention-grabbing for all ages and all interests. It's an exciting place to spend a day, exploring, experiencing, asking why and figuring out how.  Exhibits run the gamut – trains, planes, space travel, storms, human development, farm technology.  Watch toys being made by robots on an assembly line; startle at lightening-like sparks of the Tesla coil; marvel at the technology behind Apollo 8; find out what creates a tornado or a tsunami; see how chicks hatch; learn about the great train story; see how flight evolved.  Go deep into a coal mine, ride in a flight simulator (unless motion-sickness prone), get inside legendary U-505 submarine, get lost in a mirror maze, become a hamster on a circular run;  watch action-packed Omnimax movies.  A must see for kids, it's always busy, and excitement runs high!  Tips:  Action exhibits, which kids want to do, cost extra. Plan ahead. Check out which require an extra fee and purchase those ahead.  CityPass offers general admission at a lower price and includes an Omnimax show. Arrive early, spend the day, and expect lines.
Art Institute of Chicago
See for yourself why this is one of the world's leading art museums.  Thoughtfully curated exhibits combining the best and most relevant art objects from a permanent collection of over 260,000 artworks spanning multiple cultures, some dating back 5000 years, give America's second largest art museum its incredible depth. The diversity of the collection is astounding; the list of the greats, formidable.  In every gallery, world-renowned works seen by most only in art books are right there!  The Asian collection of ancient Chinese bronzes and jade is astounding; delicate Japanese screens and spectacular woodcut prints are archaeologically and artistically significant. Medieval art of Europe exposes a world of intricate armor, interesting arms, tapestries and metalwork.   Art of the ancient and medieval Mediterranean world is all about textures – mosaic, sculpture in stone and terracotta; Byzantine and Islamic art is intricately lovely. The American collection of paintings and sculpture from 18th century to 1950 and decorative objects from 17th century to present reflect the rapid development of distinctly American art.  Bold, dynamic contemporary art, in one of the most comprehensive collections in the world, includes iconic paintings, sculpture, and large installations.  Works of the great masters of European 12th century to mid-20th century are here; the collection of legendary innovators of change – Impressionists, Post-Impressionists, Expressionists – is astounding.  Sculptural traditions of Africa and Mesoamerica  are expressed through masks, sculptures, beadwork and textiles.  There are galleries of furniture, photography, prints and drawings, and miniatures, a visitor favorite.  Tips:  Plan ahead. Make a must see list. Buy an audio guide or download a highlight app.  It's not really a place for action-oriented kids who get antsy within the confines of gallery etiquette. CityPass offers general admission to all permanent , some special exhibits, and the audio tour.  Art aficionado or neophyte, this is one fabulous experience.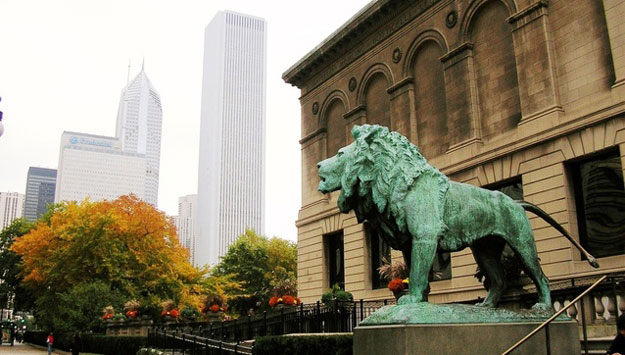 Field Museum
Meet Sue, all 42' long of her!  A face to face encounter with the largest, most complete T.rex fossil ever found is really cool!  As large as she is, she's just one small part of this world-class natural history museum.  Architecturally beautiful outside, inside it's all about the archaeology, history, science, and art of the world. The permanent collection is massive in scope and diversity. Sue isn't the only dinosaur around There are others, and mammoths and mastodons too. Down halls and around corners exhibits filled with impressive artifacts flow. Mummies of ancient Egypt are lined up in rooms of a 3-story, 5000 year old tomb replica. Taxidermy might seem dated in today's high tech world but, through the diversity and placement in realistically natural habitats, they are timeless teaching tools.  There are asteroids, plants, bugs, and birds. Exquisite gems fill one hall; fabulous jade figures another. Compelling exhibits focus on the lives, ceremonies, and rituals of Native Americans, Pacific Islanders, Inuits.  Hands-on exhibits of how man has evolved through 4 billion years are fascinating. Biodiversity and conservation issues are explored.  Tips:  Special temporary exhibits cost extra; movies do too. City Pass saves on general admission to the permanent exhibit.  Unless you have interest in a special exhibit, there's plenty to see in the permanent collection. Purchase tickets ahead. Plan ahead. Download the free app for an exhibit map.  Spend at least 4-5 hours. Arrive early.  Expect crowds, especially on school group and vacation days.  Take a lunch break in Explorers Café.  It's a wonderful experience for anyone and any age –adults, teens and kids.
Willis Tower Sky Deck
See Chicago from The Ledge – glass boxes suspended 4.3 feet out from the Sky Deck of Willis Tower, 1353 ft. (412 meters), 103 floors up in the sky.  For the daring, it's a thrill!  From this height atop from what was until recently known as iconic Sears Tower, the view is breathtaking.  At such heights, the city looks like a Lego village spread out below. On clear days, you really can see forever, 50 miles away. That first step out and onto the Ledge glass floor feels really weird.  It will definitely elevate the heart rate. A thrilling extreme to some, it's vertigo-inducing to others.  Kids and teens love it!  For the not-so-daring who just can't take that step, see the view vicariously as Chicago's panorama drifts by on large screens in the Sky Deck.  The warp-speed elevator ride, 103 floors in 90 seconds, is fun for everyone.  On the way up, Chicago info and history streams in a multi-media experience. Pretty cool.  In the Sky Deck complex, there are lots of visuals and a chance to explore Chicago through interactive touch screens or see a 9-minute movie on Chicago's significant architectural rise.  Tips:  Expect lines and lots of jostling around The Ledge.  Buy tickets ahead.  Go early. A CityPass  is a fast pass to the top and Ledge access.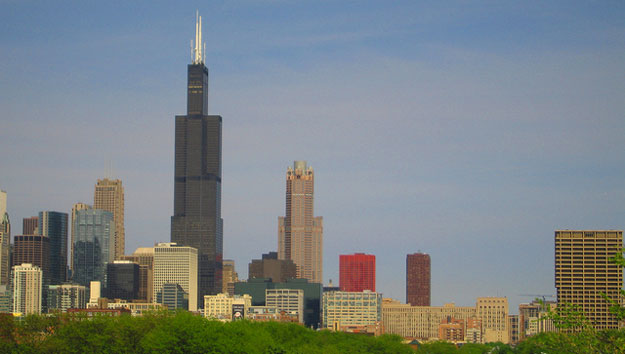 360 Chicago
Get Tilted! Ride up 94 floors to the 1000 foot high observatory atop of Hancock Tower for, at the very least, great panoramic views of the city from floor to ceiling windows or, at the most, to be tilted outward at a 30 degree angle in a glass and steel enclosed, hydraulically operated tipping platform for downward facing views below.  Tilt! is a 2- minute thrill ride.  Here's how it works: each glass platform has 8 individual viewing bays.  Hold on to the side bars. With a whirring sound, out you tilt!  The downward view while lying face down, flat up against viewing windows at a 30 degree tilt is at once freaky and thrilling. It's awesome to see The Magnificent Mile stretching out below if your brain has time to take it in while getting used to the tilting sensation.  Tilting is not necessary to the see great views.  There's plenty to see through tall viewing windows around the observatory.  Blue Lake Michigan, just two blocks away, stretches out forever; the city rising below is lovely; touch screens explain the view, adding history and architectural facts to the experience.  Day views are pretty; night views spectacular!  Tips:  Lines are long. CityPass is a fast pass to the top. Tilt! costs extra.  Purchase tickets ahead.  No photos allowed in the Tilt! area.
Shedd Aquarium
With new razzle-dazzle, technologically infused aquariums with huge Wow! factors popping up everywhere, the Field may feel dated to the experienced aquarium-goer.  However, this old gem has remained relevant through great updates.  It's a wonderful place for families. A diverse collection of marine life is divided into habit zones.  Large wall tanks with huge viewing windows showcase both salt and fresh water species. Exhibits flow from brightly colored, darting salt-water reef creatures of the warm Caribbean to silver glinting fresh-water species of the cold Great Lakes. That contrast alone is fascinating. Not all fish look alike! Exotic mysteries of the Amazon are revealed and, to the delight of kids who love to see frogs, snakes and lizards, a new Amphibian exhibit opens May 2015. Of course, there are sharks.  Whales too. Not the giant splashy ones, but gentle Beluga Whales, looking as if molded from white playdough. Sleek dolphin glide through free-form tanks, some with underwater viewing.  Penguins are faves, as are ever-cute otters.  Popular touch tanks have made their way to Shedd:  May -October, kids can dip their hands in to touch a stingray, gently.  Tips:  Lines are long.  Purchase tickets ahead. CityPass tickets bypass main entrance ticket lines. General admission does not include timed Guest Experiences – aquatic shows, dive presentations, or 4-D films.  If an entertainment factor is an expectation, these are nice add-ons, there's a lot to see without them.
Land & River Tour of Chicago
Chicago has 2 all-encompassing attractions:  fantastic architecture and grand Lake Michigan shoreline.  See them both by land and by lake on a 4-hour Gray Line Land & River Tour.  Start out on land for a 2-hour scenic guided tour of downtown, along the shore, through neighborhoods.  It's a great way to see remarkable innovative and stylistic architectural details that placed Chicago architects in a position of prominence in the development of American architecture, most notably vertical. It's a fascinating story, one that came about in the late 1800s and early 1900s during the re-building of downtown Chicago following its massive destruction of the Great Chicago Fire in 1871.  At that time, Chicago was at the center of America's rise to prominence in the Industrial Revolution, a time of great personal wealth and large-scale business development.  Innovative commercial architecture became competitive, and the skyscrapers and phenomenal buildings pointed out and explained along the tour are a result of that intense competition.  At the same time, there were dramatic changes in residential architecture, primarily through the influence of the timeless, clean style of Frank Lloyd Wright.  The tour travels along the shoreline too, giving a super land/water perspective of the Windy City.  Next, it's out on the water!  The second 2 hours are spent aboard a comfortable luxury lake sightseeing vessel, cruising along Lake Michigan's shoreline .  Notable buildings and places seen up close and reaching towards the sky by land are seen from a different perspective – from the water.  From this view, scale and shape change to form an amazing skyline.  Buildings, seemingly huge from the ground, appear to float on a wafer-thin land.  The contrast is remarkable.  The seasonal guided tours, June 1 – Sept. 30th, have 2 departure times from the Palmer House: 9:30am tour focuses on the panoramic, scenic Chicago; the 11:30 am tour focuses more on historic Chicago.  By land and by sea.  It's a comprehensive, interesting way to see a great city.
Driehaus Museum
An architectural masterpiece inside and out, this house museum, originally the Nickerson Mansion, is one of the few remaining palatial homes of America's Gilded Age (1870-1900). A visit here is an exquisite immersion into a unique time in America's rise to world power.  It was a time when extraordinary wealth, generated by this country's venture into the industrial age, was in the hands of a few uber-wealthy tycoons.  Beautifully restored and preserved  by the foresight and passion of philanthropist Richard H. Driehous, the mansion, now museum, is one of the grandest residential buildings of 19th century Chicago. In his quest to preserve and promote architecture and design of America's past, Driehaus has given visitors a remarkable experience.  Some pieces in the elegantly furnished galleries are original; others are collected, historically accurate pieces.  The Tiffany glass dome is just one of countless spectacular features.  Throughout galleries in the 3-floor house, Driehous' vast personal acquisitions, collectively known as The Driehous Collection of Fine & Decorative Arts, fabulous American and European decorative and fine art created between 1880 and 1920, are placed as they would have been at the time the Nickerson's were in residence.  Spend an hour or two wandering through this special place or, for a small extra fee, take a docent-led tour.  It's a special place.