Outdoor activities are part of the LA experience. Year-round gorgeous weather and beautiful, dramatic scenery make being outdoors a must. It's easy to do. Wear comfortable clothes and shoes and know where to go. With so many bests, picking out activites to do depends on time and interest. Given the vastness of the area, plan on taking day trips.
WALKING/HIKING & VIEWS, VIEWS, VIEWS
Runyon Canyon
One of the most scenic hiking trails in the area is just two blocks from busy Hollywood. Several Runyon Canyon trails through the wild chaparral and evergreen trees lead to magnificent views of Los Angeles and the ocean spreading out below.
Griffith Park + Samuel Oshcin Planetarium
Hiking one of the trails of a 53-mile trail network in Griffith Park is a favorite LA pastime. Drive to the Griffith Observatory to take the trail leading from there to hike to the top of Mount Hollywood, the park's highest peak. Views of the Los Angeles Basin are fabulous! Return to the parking lot, walk over to the Samuel Oschin Planetarium for a stellar experience. Look through telescopes, explore exhibits and see live shows. Have lunch or dinner (until 7 pm) in the Café at the End of the Universe. The park closes at dusk; the Café closes at 9 pm, the Planetarium at 10 pm.
Climb Mount San Antonio, aka Mt. Baldy
Experience the highest mountain in the San Gabriel Mountain Range several ways. Of the 4 popular routes, the best option for unseasoned hikers is to start at the Ski Area parking lot and either hike the service road to Top of the Notch Restaurant, 7800 feet up, or take a 15 minute ride up in the ski lift. Take in spectacular views over a great breakfast, lunch or sunset dinner. Seasoned hikers can continue on for 3 ½ miles along Devil's Backbone to reach the summit.
CRUISE THE BEACH TOWNS
Head south by car or bike for a day of cruising through Southern California's beach towns, each with a unique vibe. Begin with the two most iconic, Venice Beach and Santa Monica Beach. Don't rush it. Connect with the laid-back groove by stopping for a walk. If you're biking, the beachfront ride along Marvin Braude Trail is the way to go.
Venice Beach
For years, the 1 ½ mile Ocean Front Boardwalk has been a gathering spot for the eccentric. Jostling through wall-to-wall people, it's the place to find a mix of uniqueness in people and places. Check out eclectic stores, flea market finds, food, street vendors, performers and eclectic art and crafts.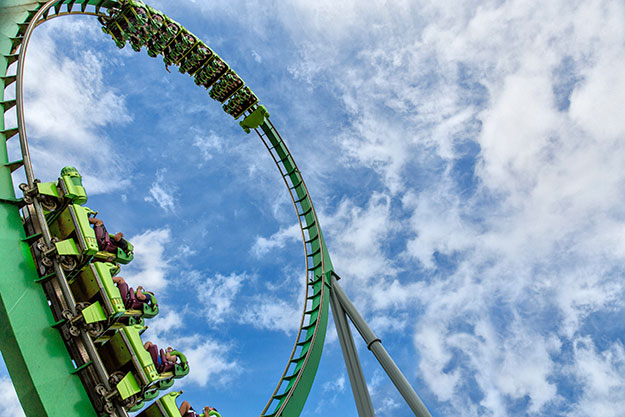 Santa Monica Beach & Santa Monica Pier
It doesn't get more iconic beach town than this: a huge beach for sunning and surfing, a long pier for fishing, shops to browse and restaurants to grab a bite to eat. Topping it off, Pacific Park is the place for roller coaster thrill rides, a spin with amazing views on the world's only solar-powered Ferris wheel, mid-way games, souvenir shops and tasty pick-up foods, all in a carnival atmosphere.
Manhattan Beach
Called "Pearl of the South Bay," downtown Manhattan Beach, just steps away from yet another long, broad beach, has great restaurants and shops. Walk out to the end of Manhattan Beach Pier to the café and Roundhouse Aquarium.
Redondo Beach
Another vibrant SoCal beachfront town, great surfing conditions give credibility to its claim as the birthplace of California surfing. Redondo Pier has great seafood dining options, and stores and restaurants line the beach.
End a great day of beach town cruising with a beach bonfire on Dockweiler State Beach, the only place in LA County where it's legal to have a bonfire. Get there early to lay claim to one of the dozens of fire pits along the beach. Bring your own wood, food and drinks, kick back and take in a magnificent sunset.
TAKE A RIDE NORTH UP PACIFIC COAST HIGHWAY
Incredible views of rocky cliffs plunging down into the ocean make this a breathtaking drive! Stop in Malibu, where star power is evident in beautiful beachfront homes, great restaurants and upscale boutiques. Continue north, winding along one of the most scenic drives in the country. Pull off the highway at El Matador Beach to see the beauty of rock formations up close and wade through tidal pools. Continue on as time permits. It's spectacular.
HEAD OUT TO THE DESERT
Visit Joshua Tree National Park
An unusually beautiful outdoor experience lies 140 miles outside of LA, near Palm Springs. While it's possible to hike trails through giant boulders and rock formations in a park with one foot in the Colorado Desert and the other in the Mojave Desert, driving through it on scenic paved roads and stopping along the way at dramatic vistas or roadside interpretive exhibits is the way to go for non-hikers. The stark beauty of the twisted, branching Joshua Trees set against massive rock formations is breathtaking.
Experience the Living Desert in Palm Springs
Ride out to see a zoo and botanical gardens on 1200 acres in the Sonoran Desert. Go early morning when it's cool. Walk through paths shaded by trees to see animals from all over the world. Take a shuttle if you prefer. Take tours, see wildlife shows, walk through botanical gardens. Hike along one of 3 nature trails through the undisturbed beauty of the Sonoran Desert. Choices range from an easy ¼ mile walk to a 3 ½ mile hike through a boulder-strewn canyon and along a rocky ridge line with great vistas.
INSIDE OUT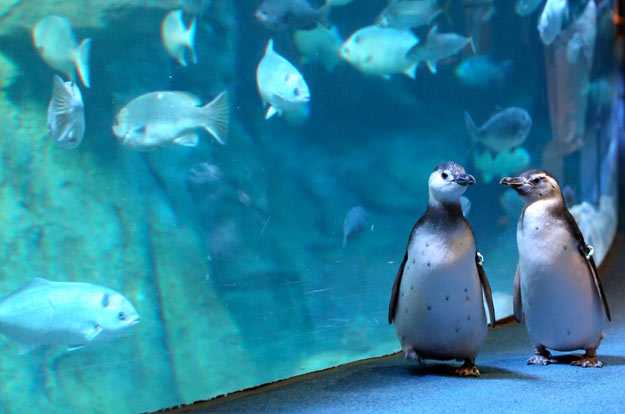 Aquarium of the Pacific
To see the undersea world without going any further than Long Beach, a visit to this exciting, innovative aquarium is a must. While not technically an outdoor experience, visually it takes you there through wonderful, multidimensional exhibits exploring different facets and mysteries of the undersea world of the Pacific Ocean. Moon jellyfish glowing in black light, delicate Horses & Dragons of the sea, Vanishing Animals, gliding otters, and waddling penguins are just the beginning. Immersive theater, behind the scene experiences, and interesting exhibits round out the experience.