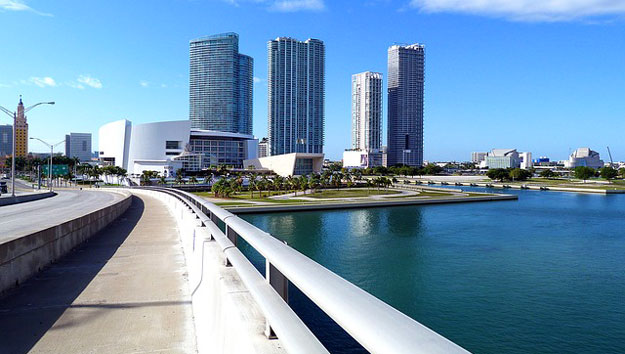 In tropical Miami, being outdoors is part of the culture. It's a state of being, year-round. Enjoy bright blue skies, sunny days and balmy tradewinds make doing anything outdoors fun, from action-packed activities to strolling down lovely boulevards, through open garden malls, dining al fresco in sidewalk cafes, and walking through tropical parks.
Two main types of outdoor activities can be experienced in Miami. The coastal neighborhoods of Miami Beach, Key Biscayne, and Coconut Grove offer ample opportunities to enjoy watersports and boating. Inland neighborhoods to the south and west of downtown, offer outdoor activities with a change in landscape and tempo.

SOUTH BEACH (SoBe) & MIAMI BEACH
The stretch from 1 Washington Ave to 21st St. which includes Lummus Park Beach, is known as "America's Party Beach. It's action-packed, and where bodies in skimpy swimsuits and topless tourists bake in the sun.
A quieter, tamer beach is just north between 21st & 45th streets. It's a pretty, luxury hotel-lined stretch of beach lined without the SoBe party vibe. Another quiet spot, South Pointe Park, at the very southern tip of Miami Beach, has a fishing pier, shady areas, and great cruise ship views. Lunch nearby at legendary Joe's Stone Crab or order take-out claws and all the fixings for a beach picnic.
Glide through Sobe's must-see places on a Miami Art Deco Segway Tour. Entertaining guides make sure you see a lot during the 2-hour narrated ride. It's interesting, super fun, and the way to go for active families, teens, and young adults.
Pedal your way through SoBe at a more leisurely pace on a 6-mile Miami Beach Bicycle Tour. The 2-3 hour narrated ride checks off all the highlights, from Oceanfront Pathway along Ocean Drive to Lincoln Road Mall, and the outdoor Holocaust Museum and Bass Museum.
Trade the glitz and glam for tranquility on a free, self-guided stroll through a quiet oasis, 2-acre Miami Beach Botanical Gardens, where something fragrant is always in bloom. Throughout the Garden water features cool the air, palm trees rustle in the breeze, perfumed scents of flowering trees are everywhere. Look up, down, and all around for orchids; watch butterflies darting through native plants; find calm in the Japanese Garden.
Spend time with mammals, exotic birds, reptiles and other interesting creatures amid tropical foliage in Jungle Island, on Watson Island on the causeway between SoBe and downtown. Watching engaging shows, wading in Biscayne Bay from Parrot Cove Beach and enjoying a bite to eat at Lakeside Café add to the fun.

DOWNTOWN
Getting out on Miami's clear blue water is a must. Or, just hang out by it. Do both at Bayside Marketplace on Biscayne Bay in downtown Miami. This vibrant waterfront open-air marketplace with great views, lots of food choices, a mix of shops and lively music – all with a distinct Latin/Caribbean vibe – is a fun outdoor Miami activity of its own. Hop on one of the numerous scenic boat tours departing from Bayside docks. Most tours are narrated, last 90 minutes, and travel over turquoise water to show off Miami's sparkling skyline, exclusive Fisher Island, Star Island, Millionaire's Row, palatial homes of the rich and famous, and gleaming cruise ships. Each experience differs according to boat type. Here's a sampling: The sleek Bayside Blaster or the AC comfort of a Biscayne Bay Sightseeing Cruise; breezy double-decker viewing on Miami Aqua Tours. Go-fast Thriller Miami Speedboat Tour's SuperCat 55 lives up to its name as it passes all Biscayne Bay must-sees before throttling up for an off-shore ride.

KEY BISCAYNE
Upscale, international Key Biscayne, just south of downtown and across Rickenbacker Causeway, is quieter and has more open space in which to enjoy natural outdoor experiences than Miami Beach.
Bill Baggs Cape Florida State Recreation Area is a quiet beach at the south end of Key Biscayne. The lighthouse is fun to climb and the Lighthouse Café is a good place for lunch. Crandon Park, encompassing the northern third of the island, has a popular beach and cabana shelters and kayaks to rent as well as eco-adventure tours to take.
Naturalist-led Miami Eco-Adventures' guided kayak and canoe tours take off from Crandon Park for wonderful paddles over seagrass beds and sand flats,through amazing mangrove forests, and out to an ancient fossilized reef. Check out their kayak, canoe and snorkeling tours of other interesting areas along Biscayne Bay. Sailboard Miami rents paddleboards from their location on Rickenbacker Causeway. They also rent kayaks for self-guided tours of nearby picturesque spots.
Miami Seaquarium. Spend time in the company of dolphin, manatees, sea turtles, sharks, reef fish, sea lions, crocodiles, alligators, native birds and more. There's plenty of sea life to see and aquatic shows to watch in the popular marine-life entertainment park with wonderful Miami skyline views. For a once-in-a-lifetime experience, Swim with Dolphin is awesome.
COCONUT GROVE & CORAL GABLES
The Grove's village atmosphere makes it a great place for an outdoor walk and lunch al fresco in one of many small eclectic restaurants. Step into Miami as it was when pioneers first settled along Biscayne Bay in The Barnacle Historic State Park. Walk down to the bay through draping live oaks and massive banyan trees. Enjoy the breeze from the covered veranda of the Grove's historic pioneer home. Tour it if you can.
Head over to Dinner Key Marina, Florida's largest marina, for a thrill of a lifetime on Miami Watersports' Parasail ride over Biscayne Bay. Panoramic bird's-eye views of downtown high-rises, Miami Beach, Key Biscayne, down the southern coastline and of sea life swimming through clear waters from 800 feet up in the air are awesome. Check out the wide range of private fishing charters docked at the marina. Try conch fritters and other seafood choices at long-time hang-out, Monte's Raw Bar.
The Gables is larger than the Grove and has a cosmopolitan ambiance. Its signature commercial shopping streets, Ponce de Leon Boulevard and Miracle Mile, are broad and walkable, making shopping an outdoor activity. Enjoy cuisine from all over the globe in pleasant small restaurants, many with outdoor patio dining, along main boulevards and charming side streets.
Bring a swimsuit and towel for a swim through ledges and caves of free-form Venetian Pool, created from a coral rock quarry in 1923. Tropical and shady, with 800,000 gallons of fresh spring water replaced daily flowing through it, it's a unique Miami outdoor experience.
Walk through spectacular Fairchild Tropical Gardens, one of the finest botanical gardens in the world. It's an immersion into a tropical world of amazing mature plants and trees on a gorgeous bayfront property with lovely vistas. Imagine walking, or riding the tram, though flowering vine-covered trellises, orchid and fern houses, butterfly conservatory. Wander through a huge variety of tropical fruit trees heavy with exotic-looking fruit, and through clusters of every unusual palm imaginable.
Surround yourself with a totally different natural beauty – a giant mangrove forest in Matheson Hammock Park. Miami Eco Adventures' Matheson Mangrove Canoe Trek is a tranquil tour through shoreline mangroves and out into Biscayne Bay. It's 2 hours of never-ending sights – pelicans cruising in formation overhead; Great Blue herons standing motionless in the shallow flats; nurse sharks swimming slowly along the sandy bottom; sting rays gliding by; ospreys soaring overhead.
INLAND OUTDOOR ACTIVITIES
Head out into the south county "burbs," or out in the country, as urban folk might say.
ZooMiami is the best! It's well worth the 24-mile drive southwest of downtown Miami. Get there early, when animals, starting their day in natural habitats throughout the huge park, are the most lively and engaged. With a collection of over 3000 animals, there's much to see and do. All the favorites are here – big cats, gorillas, chimps, monkeys of all kinds, elephants, camels, giraffes, rhinos, hippos, herds of hoofed and horned mammals who roam the plains, reptiles, amphibians and birds of every kind and color. Besides animals to see, for an extra minimal fee take part in interactive activities – feeding parrots and giraffes; riding a camel! On hot days, kids can cool off in fun water play areas. Three cafes and numerous food carts offer plenty of lunch, drink, and snack choices.
Deering Estate was built by wealthy Gilded Age industrialist Charles Deering, brother of James who built palatial Villa Vizcaya in Coconut Grove, the 444-acre swath of land along southern Biscayne Bay is a pleasant experience. Walk through expansive natural areas along Biscayne Bay; tour the historic home and out-buildings; examine fossils and tools left behind by prehistoric humans; see the work of artists in the Artist Village – visual, performing and literary art interpreting South Florida's unique natural and historic treasures.
Have a tasty, fragrant tropical experience at Fruit & Spice Park, 7.9 miles southwest of ZooMiami in the agricultural community of Homestead. Take a tour on foot or by tram through acres of exotic fruit-bearing trees and plants, bamboo, spices, herbs and nuts from all over the world. Come upon sunning iguanas roaming freely. Stop by the store for fruit tastings. Lunch in Mango Café.