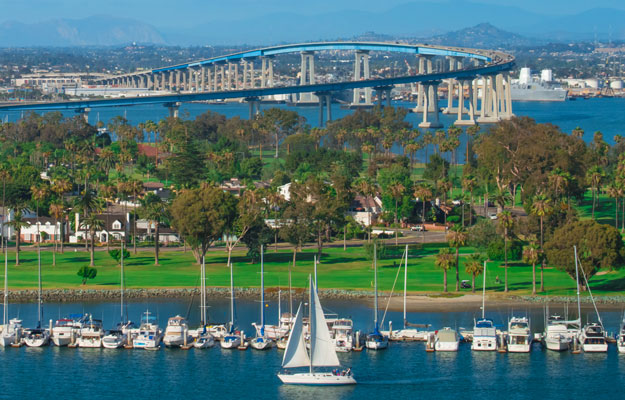 In San Diego, it doesn't take much convincing to get out on the water. Glorious weather and a big blue bay stretching along the expansive, curving waterfront and out to the Pacific Ocean just beyond, make it irresistible. A large number of boating tours and cruises make it easy to for everyone to enjoy the exhilarating experience of being out on the water. From thrill to chill, there's a San Diego cruise for you.

WHALE WATCHING CRUISES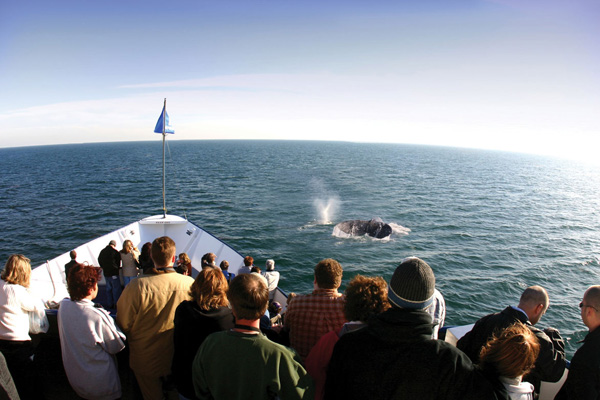 San Diego Whale Watching cruises top everyone's list. Spotting massive whales breaking the water surface with a huge splash, seeing them spouting as they surface, and diving back down again is awesome. Whale Watching cruises are seasonal, and the whale species sighted on their migration journey changes from summer to winter. During summer months, Hornblower's 4-hour Morning or Afternoon Summer Blue Whale Watching Adventure goes in search of Blue Whales. San Diego Winter Whale & Dolphin Watch searches for Gray Whale sightings. Live narration by on-board naturalists and comfortable, stable vessels add to the once-in-a-lifetime whale sighting experience.
SAILBOAT CRUISES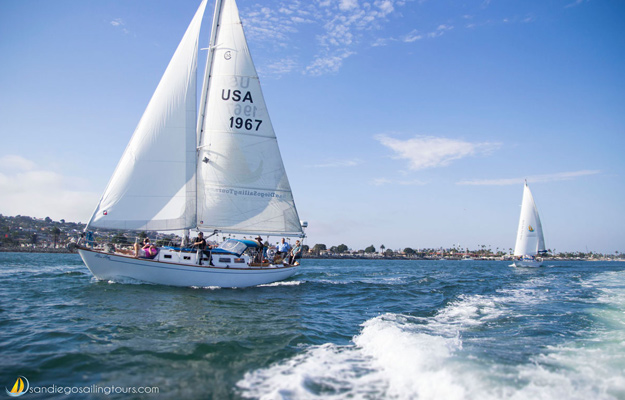 San Diego Sailing Tours' 2-hour Signature Sailing Tour is your chance for a daytime sail around the bay on a beautifully restored luxury sailing vessel. Sail past Point Loma, Coronado, Shelter Island and downtown. Carrying only 6 passengers, the experience aboard the 36-foot vessel is personal and pleasant. The wind and sea take over your senses, views are spectacular, service is first class, and chances of spotting seals, sea lions and dolphin up close are high. For a real treat, sailing into the glowing sunset on San Diego Sailing Tours' romantic 2-hour Sunset Sail is hard to beat.
SIGHTSEEING, BRUNCH OR DINNER & DANCING CRUISES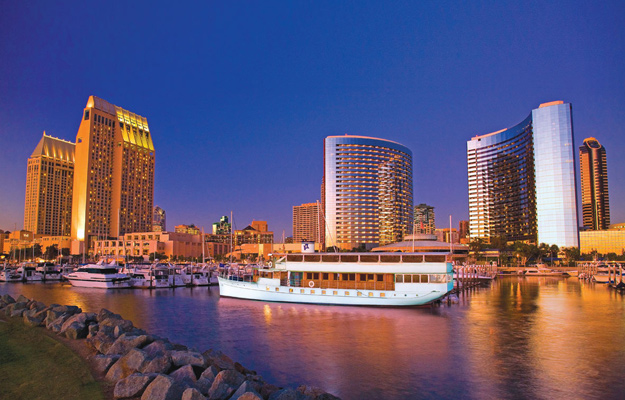 Visitors looking for a relaxing cruise which combines spectacular views, dining and dancing, will find it from several sightseeing cruise companies offering cruising options of North Bay, South Bay or both. Hornblower Cruises has a wide selection. See San Diego's spectacular skyline from another perspective in the comfort on Hornblower's 1 & 2-hour scenic Harbor Cruises. The Observation Deck provides plenty of panoramic views and on-board live narration helps identify sites as you pass them by. For the whole package, take a leisurely 2-hour cruise around the bay aboard Hornblower's luxury vessels on a Champagne Brunch Cruise or dine and dance the night away as the sparkling nighttime skyline drifts by on an elegant Dinner Cruise. Both are seasonal (May 1-Oct 31).
FLOATING PARTY CRUISES
Start your San Diego evening our right! Enjoy a unique happy hour experience on Hornblower's 2-hour Sights, Sips & Sunset Cruise. The cruise is timed to catch sunset while cruising around the bay. Or, from 9pm – 11pm, get in the party mood with cocktails and dancing to the music of a DJ spinning favorite tunes on a Rock the Yacht Cruise. Both floating party cruises are on Fridays and Saturdays only, April – October, and on Saturdays, June – September.
UNIQUE LAND & SEA TOUR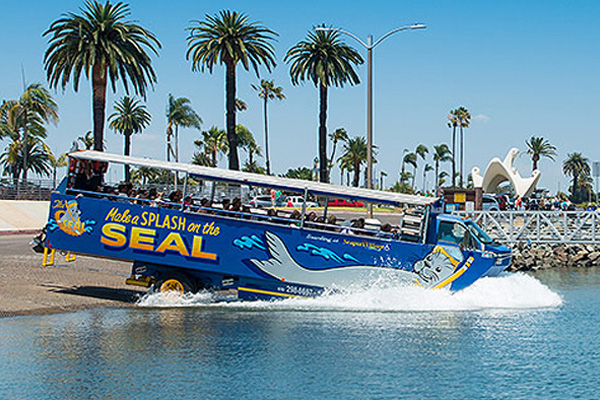 Get the best of both land and sea views of San Diego on a SEAL Tour. The interesting, super-fun 90-minute narrated tour aboard a big, odd-looking, blue amphibious vehicle rumbles through San Diego streets way above traffic level before splashing down into the water off Shelter Island for an amazing cruise around the north end of Big Bay. The water and surrounding views are awesome. There's activity everywhere. Fighter jets and helicopters take off from Naval Air Station North on Coronado, a variety of vessels make their way into the harbor, and submarines are moored near Port Loma, rising in the distance. The coolest photo op: sea lions sunning and frolicking on floating bait cages.
BOATING THRILL RIDES
Adventure RIB Riders gets you close to nature on a small, fast, rigid inflatable boat. Imagine gliding through the ocean on Navy designed, low-riding boats at fast speeds. On the ride, explore the ocean in search of whales, dolphin, and many other marine species.
Patriot Jet Boat Thrill Ride lives up to its name. The fast, twisting, turning ride is wild, wet and totally thrilling. The 30-minute bay ride in an open-air jet boat is like a roller coaster on water. It's great for families and all thrill seekers. Kids kids love it!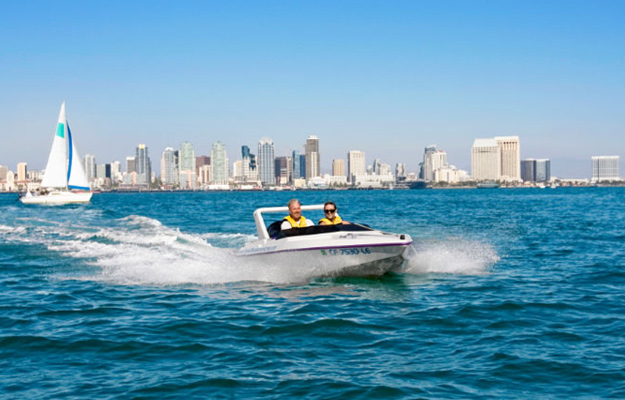 Drive your own speedboat on a San Diego Speedboat Adventure! Following in the wake of a trained guide, you'll cruise around San Diego Harbor in speedboats at a slow cruise or as fast as a jet ski. The small boats hold a max of 3 people and are powered by a 30 hp outboard motor. Two-way communication mounted on each boat lets you communicate with the guide and listen to the narration as you pass by interesting sights. Anyone over 18 can drive alone; ages 16 to 18 can drive with adults on board. Children have to be over 5 to be allowed to ride.
MELLOW RIDES
Gondola Company is a total change of pace. Imagine a mellow, romantic 50-minute private daytime or sunset ride in a small gondola cruising in and out of the canals of the Coronado Cays. Larger gondolas, accommodating 7-14 passenger, are great for families or groups. Extended families traveling together have a great time on the Fleet Cruise, where up to six smaller gondolas travel side by side through the canals.
FERRY RIDES WITH VIEWS
For some visitors, the ride on the Coronado Ferry from downtown San Diego to Coronado, with spectacular views coming and going, is just enough boating. It's a quick ride and the cost is minimal. The ferry runs on a regular schedule, departing from Broadway & Harbor Drive or San Diego Convention Center on the downtown side, to Coronado Ferry Landings on the Coronado side. The commuter ferry is a great way for visitors to get to Coronado for lunch or dinner or shop in Coronado Ferry Landings. From there you can rent kayaks to paddle in the waters around Coronado or rent bikes to explore the village of Coronado. If you like long walking tours, check out the San Diego Coronado Bay & Beach Small Group Walking Tour which takes off from Coronado Landings for a delightful 3-hour walk around Coronado.
GO SAN DIEGO CARD CRUISE CHOICES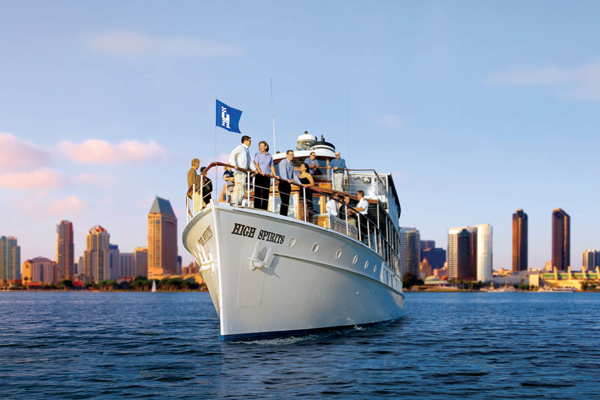 If you have a 2 or 5 day Go San Diego Card, use it to get out on the water on either the 1-hour Harbor Cruise or the Whale Watching Cruise.