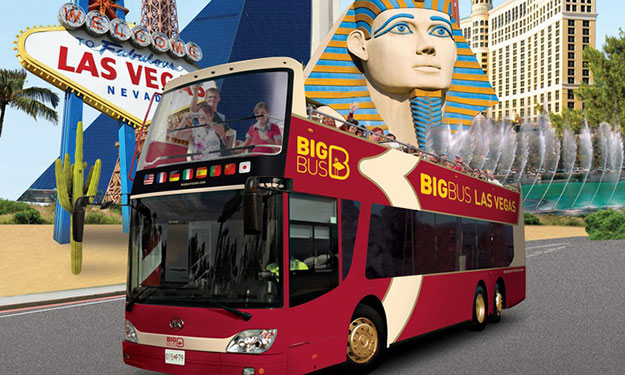 Las Vegas – The Great Escape.  The make-believe Wonder of the World!  Being there, particularly along the Strip, is like being on a huge Hollywood movie set.  Everything is over-sized, over-done, grand, fabulous.  It's also hectic, mind-blowing, overwhelming. A lot of people walk the Strip but, it's much longer than expected. The sheer size of hotels, where so much action is, spaces them far apart.
On Big Bus, there is no need to feel overwhelmed.  Viewing from the open top deck of the double decker bus tour is great. Interesting narration by guides as they point out hot spots, highlights and hidden gems, covers a lot. See something interesting to explore along the way?  Don't wait. Hop-off at any of the 18 convenient stops to join the dizzying street-level crowd for the full experience.  When done, leave the crowd behind, hopping back on the next arriving Big Bus.
While the main attraction is the Strip, aka, New Las Vegas, just to the north is Downtown, or Old Las Vegas, where this extravaganza all began. Big Bus takes you to both. Along Downtown's Fremont Street, Big Bus tour guides recount how the gambling town rose from the desert, pointing out where old saloon casinos with Old West stood: Golden Nugget, Boulder, Pioneer Club.  Just to the south is the Flamingo, many reincarnations removed from Bugsy Siegel's Pink Flamingo, the first modern casino resort on the Strip.
Along the Strip, each massive hotel is its own movie set.  There are spires, spheres, space ships, rides, dancing fountains, erupting volcanoes, wild animals, botanic gardens, gold lions, pyramids, sphinx, and neon everywhere. A volcano erupts at the Mirage; Bellagio's fountains leap high into the air;  a roller coaster rides above New York New York and through it. Sharks swim in the indoor-outdoor aquarium at Mandalay Bay; gondolas cruise the Grand Canal in charming miniature Venice at the Venetian. Forum Shops line the ancient Roman streets of Caesars Palace; Paris wouldn't be Paris without the Eiffel Tower. Want to meet Elvis, Sponge Bob and every impersonator imaginable, they're all there, waiting to catch your attention, and a tip.  And everywhere: casinos, casinos, casinos; shows, shows, shows.
Save your walking for exploring the sights, not getting there.  See it all on Big Bus.
1 Day Big Bus Tours
Ticket good for 24 hours from the time voucher is redeemed for a ticket
1st tour departs Circus Circus at 10 am, departing every 30 minutes until 6 pm
Tours can be boarded throughout the day at any of the 18 designated stops
Two routes, Blue and Red, allow for choices of what to see
Full circuit without hopping off and on is 1 ½ hours
Save $3 with Coupon Code:  LVH11
Purchase Discount Tickets For 1 Day Bus Tours

Las Vegas By Night Tours
Departs nightly from Circus Circus at 7:00pm or Excalibur at 7:30pm
Includes 45 minute stop at Fremont Street
See all the glimmering lights of Las Vegas
Purchase Discount Tickets For Bus Tours at Night