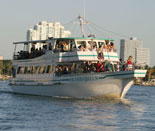 When booking the Biscayne Bay Sightseeing Cruise you are booking an enjoyable and comfortable cruise that is going to allow you to see some of the most adventurous sights that Miami has to offer. You'll cruise past the Millionaire's Row which is where the homes of the rich are, beautiful white sandy Miami Beach and Fisher Island. You'll also have your breath taken away by the Skyline of Miami that makes a picture like no other. This hour and a half cruise offers huge picture windows to insure that you don't miss any of the scenic surroundings that Miami has to offer. You'll find that this cruise is one that is laid back and easy going.
You can purchase beverages and snacks for your cruising pleasure. There's no need to rush down to the dock, there is a tour just about every hour with 3 different vessels leaving the dock to show off the sights of Miami from Biscayne Bay. Whether you prefer to be indoors or outdoors for this cruise you'll find comfort either way. The outside offers you covered areas that will protect you from the sun but if you find it warm on the deck you can head down to the salon that is fully air conditioned to add to your cruising pleasure. You'll find that this is one of the most relaxing cruise offers available on the Biscayne Bay and is totally for your pleasure.
You can book your Biscayne Bay Sightseeing Cruise at https://www.trustedtours.com/store/miami.aspx as well as other Miami tours and attractions.
Comments Off on Biscayne Bay Sightseeing Cruise Review