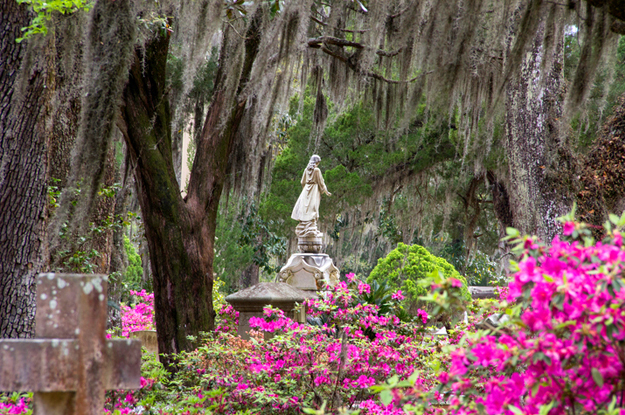 Bonaventure Cemetery is straight out of a Victorian-era novel. Set on a scenic bluff overlooking the Wilmington River, it's one of the most beautiful Southern Gothic "garden" or "rural" cemeteries in the country.
Established in 1846 at the height of the Victorian period, Bonaventure Cemetery reflects the romanticized social rituals surrounding death and mourning of the time. It was designed as a lovely landscaped setting of winding paths canopied by moss-draped live oaks, shady burial plots filled with azaleas ablaze in color, and elaborate sculptural art. It was a place of comfort and solace where mourners spent time together to remember departed loved ones. They strolled beautiful grounds, walked among ornate monuments, sat on graveside benches to read poetry, or picnicked on shady knolls.
Today, Bonaventure Cemetery is a unique Savannah experience. Visit it for its natural beauty, history, folklore and especially the sculpture. The symbolism of Victorian-era funerary art poignantly reveals something about the character and virtues of the deceased. Realistically detailed life-size sculptural figures project sadness, agony, and pathos. Angels dominate the vast collection – towering, guardian, weeping or pensive, they stand, sit or kneel alongside ornate tombs. Grand obelisks and mausoleums are finely sculpted with symbolic details. Sculptures of young children holding lambs, shells and flowers capture the likeness of the children themselves. A favorite is charming Little Gracie Watson.
Until recently, the cemetery's most famous sculpture, Little Wendy, aka Bird Girl, the iconic bronze statue of a slender girl in a long dress holding a pair of shallow bowls in outstretched arms, stood unnoticed in a family plot. One evening in 1993, just as the light was fading, photographer Jack Leigh captured her image. The eerie photo became the cover of the bestseller, "Midnight in the Garden of Good & Evil." From that point on, Little Wendy became known as Bird Girl, the name originally given her by sculptor Sylvia Shaw Judson. Don't expect to see Bird Girl in Bonaventure. She was relocated to Jepson Center for the Arts when the popularity of the book and later the movie, some of which was filmed in the cemetery, thrust her into the realm of pop art.
Bonaventure Cemetery is a must see for anyone who enjoys walking through a hauntingly beautiful meandering garden. It's great for those who appreciate fine symbolic sculptural art, history buffs and the curious. If you want great photos of your Savannah visit, this is the place. Awesome photo ops are endless.
Visiting a cemetery may not be for everyone. It's not for people who think cemeteries are creepy, nor for those who don't enjoy long walks, especially in the heat of summer. Kids bore easily after the novelty has worn off.
How to See Bonaventure
Driving or walking through Bonaventure on your own is free.
Driving appeals to the curious who aren't comfortable walking around gravesites. It's a good way for families with kids to see it or to visit on a rainy or hot day. However, views from the roadways are limited. You'll get a general feeling but miss the remarkable details.
Walking it on your own is doable. You'll need transportation to get there as the cemetery is 3 miles from the historic district. Bonaventure Cemetery is a big place. Covering over 100 acres divided into sections, it's daunting. The popular historic area alone is 14 acres. A downloadable mobile app tour is available as are maps and guide books for purchase in the Visitor Center. Even with those, walking unguided lessens the impact of this unique experience.
To fully appreciate the cemetery and eliminate random wandering, guided tours are the way to go. They capture the imagination, ensure you see timeless places and details, point out and explain the symbolism and take you to the final resting places of Savannah's luminaries including noted lyricist, Johnny Mercer.
Guided walking tours are offered by several tour companies, each with a different twist. Some offer shuttle service to get there; others combine riding and walking. Some have a ghostly slant; others focus on history. A great way to see it without all the walking, and one that appeals to anyone 15 and over, is to glide through it on Segway of Savannah's Bonaventure Cemetery Tour. Engaging, well-informed guides lead you to all the special sites to see the details up close, hear the stories, and learn the colorful history.
Visiting Tips
Wear comfortable shoes and loose clothing.
Wear sunscreen and a hat.
In the summer go early morning or late afternoon.
Take water. Take your time. Take photos.