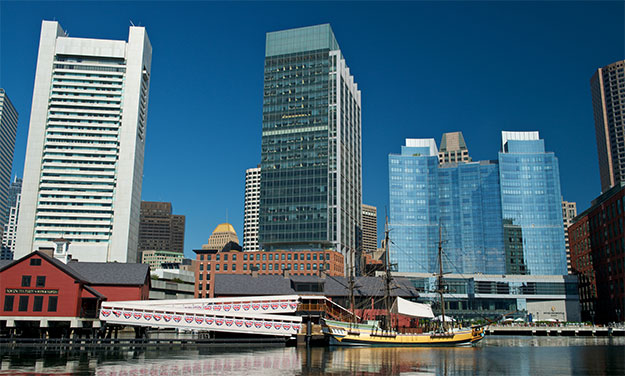 The Boston Tea Party Ships & Museum
A compelling, historically accurate portrayal of the Boston Tea Party, the act of colonial rebellion that took place on December 16, 1773, propelling the colonies towards the American Revolution, takes place daily.  The hour long experience, occurring throughout the day, is a must do. It has it all – high-spirited costumed actors portraying real Bostonians involved in the decisions and acts that led to the event, action and audience participation. Full-sized replica 18th century sailing vessels are boarded and explored, an experience counterbalanced by exhibits using 21st century technology and a moving film.  On view: one of only two tea chests known to have survived that fateful night. As the tour moves through 3 different settings, visitors are transformed into 18th century patriots, donning feathers and storming down to Griffin's Wharf to "Dump the Tea into the Sea!" A dramatic conclusion impacts every visitor. The tour concludes in Abigail's Tearoom on the top level of this floating Boston museum, the perfect place to enjoy a cup of tea the fabulous harbor and panoramic skyline views.
Museum of Fine Arts
Not just for art lovers, world-class MFA is for everyone!  Its comprehensive, globally significant permanent collection, spanning art from ancient Egypt to contemporary, and special exhibitions of spectacular works on loan are world class. A soaring glass courtyard, centered by Chihuly's Lime Green Icicle Tower, makes it feel massive, but with map in hand, good signage and plenty of helpful assistance, it's not daunting.  Galleries are well positioned on different levels, each holding beautifully curated exhibitions divided into categories – art of the Americas, Europe, Asia, Africa and Oceana, the Ancient World.  Priceless works on exhibit cover a wide range – Egyptian sculptures and jewelry,  ancient masks, over 5000 pieces of Japanese pottery, works of French Impressionism and Post-Impressionism, 18th and 19th century American art, glass,  prints and drawings, musical instruments, fine art photography and so much more.  A visit can be self-guided or docent-led. Special gallery programs scheduled throughout the day add to the staggering visual experience.
Isabella Stewart Gardner Museum
A short walk from MFA is Boston's beloved treasure, known to locals simply as The Gardner.  Created through the private collection of Isabella Stewart Gardner, it is a jewel.  Hers is a wonderful story of the love of art and philanthropy, and the intimacy, and extraordinary beauty of the museum is an expression of her unique vision. Her eclectic collection of art from the Middle ages to the early 20th century, which includes works by Botticelli, Raphael, Titian, Velazquez, Rembrandt, Vermeer, Matisse, Whistler and Sargent, was collected from 1865 to 1900 through her travels with her husband throughout Europe and Asia.  The collection is exhibited in a wonderful replica of a Venetian palazzo, Fenway Court, which was specifically constructed 1903 for this purpose. Throughout the museum a special quality envelopes the senses.  Courtyards filled with sun and flowering plants, and sunlit palazzo rooms, each a gallery filled with eclectic works curated with sensitivity and knowledge, flow seamlessly with a special grace. A true patron, Isabella believed a community was enriched by its art, and her extraordinary gift to Boston has done just that.
John F. Kennedy Library & Museum
Overlooking the water he loved, the setting on a peninsula on Dorchester Bay, the setting is the perfect place to honor the memory of John Kennedy, America's 35th president and son of Boston.  It is a reflective and inspirational place. Through permanent and changing exhibits, Kennedy's commitment to seek a new and better world through politics and service is explored through the man, his family, the office of the President and the turbulent, changing times.   Either on a guided or self-guided tour, multimedia exhibits throughout the museum explore relevant topics – the Cold War, Space Race, Civil Rights; the extensive Kennedy family and its immigrant roots; the impact of First Lady Jacqueline Kennedy's work in historic preservation.  Throughout the remarkable museum, the connectivity of this man to place and time is felt in a powerful way.  Visitors leave this warm and welcoming museum with a sense of pride, patriotism, and loss.  While there, visit the new Edward M. Kennedy Institute for the United State Senate, a combination of museum and civics classroom honoring the memory of JFK's youngest brother.  Fittingly located next door, this participatory place with a full-scale replica of the Senate Chamber brings home the principle that embodied Ted Kennedy:  the Senate is a place where bold leadership and stirring debate can reach national consensus.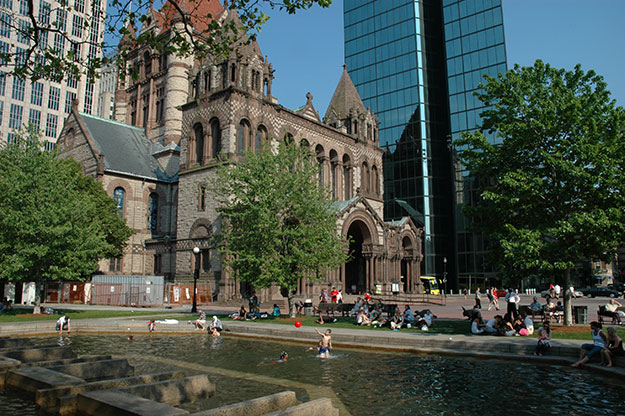 Back Bay Churches
Some of the most architecturally beautiful churches anywhere are found within walking distance of each other on, on or near Copley Square in Back Bay. All have active congregations but are open for self-guided tours at various hours. Trinity Church is big, bold and beautiful. The commanding presence and muscular, sculptural exterior of this Richardsonian Romanesque masterpiece, designed by H. H. Richardson, dominates Copley Square. The open interior rises straight into the tower, creating a massive pyramid of space and light softened with beautiful murals and stained glass. Old South Church is uncharacteristically ornate for a Congregational Church, which it was when built in 1875. Italian Gothic architecture, tall bell tower, red and black slate roof, brown, pink and gray Roxbury puddingstone exterior, carved cherry interior, Venetian mosaics and beautiful stained glass windows, adhere to opulent late 19th century tastes prevalent in the Back Bay area. The congregation was first organized in 1669 by Pilgrim and Puritan reformers who left the First Church of Boston and until 1875 met at the Old South Meeting House, historically known for its role in the events leading to the Boston Tea Party. Church of the Covenant, built in 1865 as a Congregational Church,  it is a must see for its 42 Tiffany stained glass windows, gigantic electrified lantern, baptismal font, and mosaics, all added by Tiffany Glass and Decorating Company in 1890. Located on Newberry Street, a short walk from Copley Square, this Gothic Revival Church with a delicate 240 foot spire, makes an architectural and artistic statement.
New England Aquarium
We are all captivated by creatures under the sea, and the New England Aquarium does not disappoint. Exhibiting a diversity of sea life, this Aquarium is not too big, not too small. It's just right. Interesting exhibits, timed programs and hands on activities offer an educational, engaging time for everyone. Located on Boston Harbor, a short walk from Faneuil Hall, the fun begins before entering.  In the harbor, just outside the entrance, harbor seals frolic. Inside the four-level aquarium, the Giant Ocean Tank elicits one response: Wow! The clear, circular 4-story high tank is alive with activity with species of the Caribbean reef.  From top to bottom, animals swim by on their way through the water column, providing great visibility from a boardwalk that goes around the tank from level 1 to level 4. On each level, galleries hold interesting tanks and exhibits.  Friendly staff are always nearby, ready to answer questions about waddling penguins, sea lions and seals, sharks and sting rays, sea turtles, octopus, glowing jellyfish, camouflaged sea dragons, Pacific coral reef habitat, or species of the Amazon. There's more than just looking in this aquarium. Touch a ray or shark in the Touch Tank; a hermit crab in Edge of the Sea Tidepool.  Participate in climate change activities in Blue Planet Action Center. Watch penguin feedings; seals straining: feedings in Giant Ocean Tank; and dramatic films in the IMAX theater vividly capturing the ocean splendor.
Boston Children's Museum
Got kids?  This is a must do.  Here, it's all about kids, particularly younger ones (toddler-8). It's an innovative play space where kids can touch, climb, explore, discover, experiment, and create. An easy walk from the New England Aquarium, just over the Congress Street Bridge from the Boston Tea Party Ships & Museum, it truly is a hands-on place. The moment kids enter, they get it – it's ok to touch things! Themed sets, play areas and stations cover three floors, offering no end to discovery, there's something for everyone – bubble room, construction zone, triceratops fossil, ships of all kinds, a water and sand tables, life-size chess set, grocery store, storytelling, play acting, basketball, fencing, climbing web, exhibits of life in other lands, and ever so much more. With so much doing, why is it called a museum? Because, while playing and doing, kids learn about science, the arts, world cultures, the environment. On holidays, weekends, and during school field trip months, it can be a hectic place, alive with excited, active children. It's this way because it's kid perfect.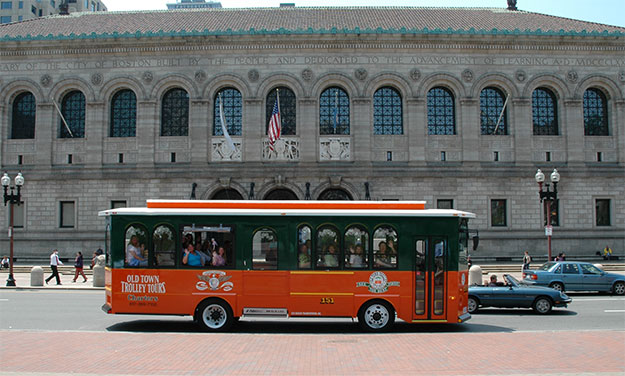 Boston Public Library
An elegant, classically proportioned building sits across from Copley Square.  Two lions in repose, Art and Science, guard the arched main entrance. This is a library. An extraordinary public library. The original building, constructed in 1895 using a design by Charles McKim, is many things. It's an architectural masterpiece, an art museum and a repository of presidential papers all in one.  Elaborate architectural details, amazing murals, stunning decorative elements are around every turn.  Bates Hall is magnificent; the impact of the Sargent Gallery powerful; the Wiggin Gallery collection of prints and drawings astounding.  It holds a wealth of rare books, manuscripts, maps, musical scores and prints and the personal papers of John Adams, 2nd president of the US.  Amid this grandeur, it operates just like any other public library: check books in and out; read in a quiet corner.
Mapparium
Walk through a three-story stained glass globe inside the Mary Baker Eddy Library and see the world as it was in 1935.This unusual experience, accompanied by words, music and lighting, gives a three dimensional view of the world as it was then, and demonstrates  how ideas have changed the world today. Located across from the Prudential Center, the Library was founded by Mary Baker Eddy, noted for her ideas on the connectivity of spirituality and health, a concept she named Christian Science, and founder of the Church of Christ, Scientist. The Library is part of Christian Science Complex, which includes the beautiful Romanesque Mother Church and a 670 foot long reflecting pool, a popular place to enjoy a beautiful day.
Harpoon Brewery
Age 21 and older?  Take a brewery tour.  This is Boston, after all, known its taverns, pubs and beer.  Boston-grown Harpoon Brewery is located in the up and coming Seaport District.  Filled with restaurants, bars, and high-rise lofts going up everywhere, it's fast becoming the "in" place. Inside the Beer Hall, sit around long wood tables and try pints of a full selection of freshly brewed draft beer straight from the source, all within sight of the brewery and cannery. Take an hour-long Brewery Tour for a close up view of how Harpoon beer is made, sampling along the way.