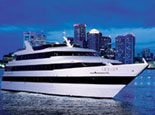 The Boston Odyssey Lunch Cruise is a fantastic way to spend an afternoon, for both tourists and locals.
The Boston Odyssey Lunch Cruise is a great thing to do for many reasons. First of all, it's a three hour relaxing float from Rowe's Wharf around Boston Harbor toward Little Brewster Island and the Charlestown Naval Yard, complete with gentle salt breezes, if you choose to go out on deck. Passengers may dance to live music or sit and enjoy the view. The meals are an event on their own. The chef and kitchen personnel prepare appetizers, meals, salads, and desserts fresh daily. The Boston Odyssey also has an extensive wine selection to complete any meal. Typical lunch choices might include Caesar salad as a first course and Maple-Glazed Chipotle Chicken as the entree, or Shrimp and Corn Chowder with Sesame-Grilled Salmon Fillet. Dessert choices may include New York Style cheesecake or the Odyssey's Signature Decadent Chocolate Truffle Torte.
Passengers on the Odyssey will experience a wonderful afternoon with unbelievable food, great music of all types, for dancing to or just listening, and beautiful views. The inside of the ship is just as elegant and luxurious as its name implies. The Odyssey's tables in the dining area are beautifully set with china dishes, cloth napkins and fresh flowers. Imagine eating a gourmet meal in a grand dining room while enjoying views of Boston Harbor! What could be a better way to spend an afternoon?
The Boston Odyssey can be a private romantic getaway for two or a special event for 75 people. If you and your spouse, or you and your entire department would like to enjoy a casual-dressy afternoon such as this, tickets may be purchased from https://store.trustedtours.com/boston-odyssey-lunch-cruise.