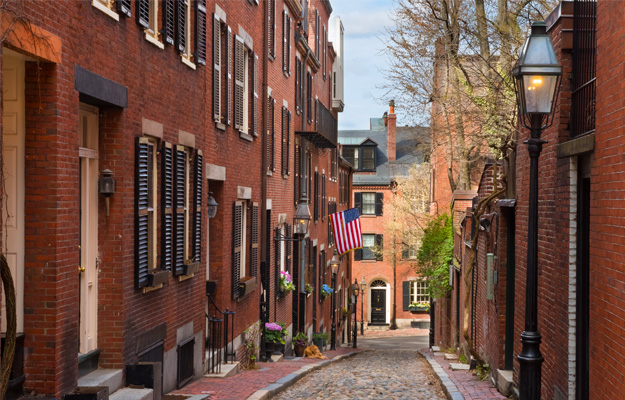 The great thing about Boston is that as rich in the early American history as it is with many wonderful places to visit and things to see, a lot of it can be done on a shoestring budget. Many historic sites, special gardens, libraries, museums or breweries can be experienced either free of charge, for a small suggested donation, or at a discount on selected evenings. Getting around Boston is not only easy, it's cheap too.
What's FREE or so reasonable it's almost free?
USS Constitution
The oldest commissioned warship afloat in the world was commissioned for construction by George Washington, who saw action in the War of 1812, where it gained fame and the name "Old Ironsides" following a sound defeat of four British warships. This grand ship is now in the Navy Yard's Dry Dock 1, adjacent to Pier 1 for a much needed 2-year restoration.  You can still board her while in dry dock, which is pretty cool and also free! While in the Navy Yard, don't miss climbing through USS Cassin Young, a WWII Fletcher-class destroyer that saw extensive action, including experiencing multiple Kamikaze attacks in the Pacific throughout the war. A suggested donation to this not-for-profit museum of $5 to $10 for adults, $3-$5 for kids and $10-$25 for families is appreciated, although not required. It's honestly a once-in-a-lifetime experience!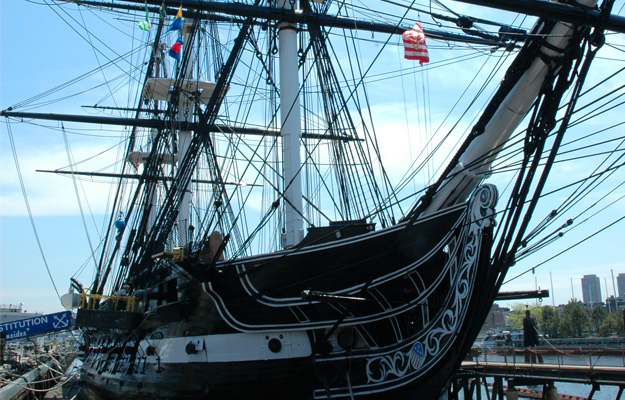 Explore Boston on a Walking Tour
Take a self-guided walk along the famous "red line," the Freedom Trail, clearly marked on almost every Boston map. The walk is about 2.5 miles, so wear walking shoes. Of the 16 historic sites along the trail, some are free, others ask for a donation, or charge a minimal fee. True American treasures, each provides a glimpse into a facet of colonial Boston and the dynamics leading up to the American Revolution. King's Chapel has wonderful architectural detail and tells the story of Loyalist Boston. Free tours are available during the day for a voluntary donation.
For a really great tour spend $8 for their by request Bells & Bones Tour. Where else can you go up to a bell tower to see the Revere Bell and down into a crypt in a truly historical church! The same applies to Old North Church in the North End. It's a wonderful place, and one to walk through on your own for a small suggested donation of $3. The Behind the Scenes Arts & Architecture Tour is great, for a minimal fee of $6 for adults and less for kids and students. There's always a line outside tiny Paul Revere House, also in the North End, where admission is a mere $3.50 for adults and less for kids. Massive Old South Meeting House ($6 for Adults and less for kids) and beautiful Old State House ($10 for Adults and kids under 18 are free), both in the downtown area close to the harborfront, tell both points of view in revolutionary Boston. Be sure to check out the Boston Massacre Site in front of the Old State House, the red line runs right to the medallion marking the spot. Speaking of which, while walking the trail, keep your eye on the red line.
Boston Common
America's oldest park, Boston Common is on the Freedom Trail. A park of the people since 1634, it was first used as a common cattle grazing place and a place of Puritan public hangings. Over its history, it has been a gathering place. Leading up to the American Revolution, Bostonians gathered here in protest, and much to their ire, their "Common" was occupied and uses an encampment by the British Redcoats for a time. Civil War protests were held here, as were anti-war protests and civil rights rallies in the 1960s. In 1979, the Common was the site of the first papal mass held in North America. Today it's a favorite family place of leisure. Statuary and markers can be found along the paths which criss-cross it. For an iconic treat while in the gardens April – Sept. only, take a Swanboat ride for the minimal fee of $3.50 for adults and $2.00 for kids.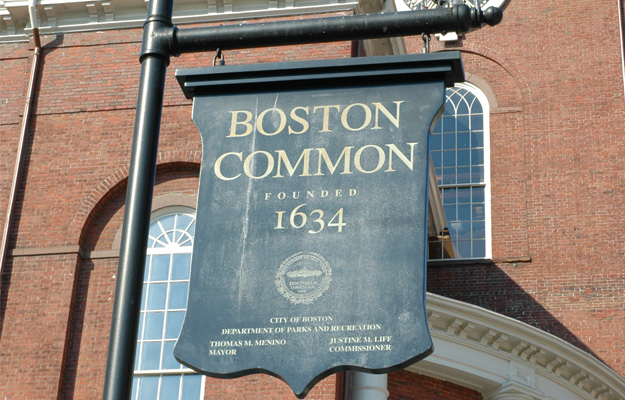 Colonial-Era Cemeteries
Carved on ancient gravestones are names of famous Americans from the earliest colonial times learned about in American history. It's startling to see. In Granary Burying Ground next to Park Street Church: Paul Revere, Samuel Adams, John Hancock. In King's Chapel Burying Ground: John Winthrop, first governor of Massachusetts; Pilgrim Mary Chilton, first woman to step on New England soil at Plymouth; Dr. Comfort Starr, founder of Harvard College. In Copp's Hill Burying Ground in the North End: the Mather family, Puritan clergy; Robert Newman who signaled with the lanterns from the Old North Church.
Stroll Along Boston's Harborwalk
A walkway of wood, concrete, brick that weaves its way along Boston Harbor and up and down the city's waterfront communities. Boston Harbor is where the colonial city took root. Maritime trade was essential to the establishment and growth of America. Today, all lot still happens along the waterfront and boats, large and small, still ply the harbor. Harborwalk is all about spectacular city and harbor views, beautiful scenery, parks, ferries, yachts, harbor tour vessels nestled up long piers and criss-crossing the harbor, lovely residences, waterfront condos, hotels, restaurants, attractions, and locals just going about their business, enjoying a normal day. There are several loops to take which can be followed on a downloadable map. Try the loop from the North End down along the harbor; or Fort Point Channel loop, an adventuresome way to see the waterfront along trendy Seaport.
Stroll Down Newbury Street
Just eight blocks of high end stores and an eclectic blend of boutiques, cafes and restaurants, all housed in beautiful brownstones, signature architecture in Boston's Back Bay. There are a few architecturally significant and beautiful historic churches thrown in. Walk through them if they happen to be open. Stop by Massachusetts Historical Society, an independent research library founded in 1791.
Harvard Square
Head over to Cambridge for a walk around Harvard Square. There's always something going on– concerts, lectures, poetry readings – in an eclectic area filled with small shops, boutiques, bookstores, cafes and the best selection of small ethnic restaurants in town.
Arnold Arboretum
A plant and garden lover's paradise, the magnificent Arboretum, believe it or not, is free! Planned and designed in collaboration with Frederick Law Olmstead, it's a National Historic Landmark, and one of the best preserved of Olmstead's landscapes. The property is vast – 281 acres of slightly rolling landscape which flows with large areas planted by species – Magnolia, Lindens, Cork Trees, Maples, Cherries, Birch, Elms, Hickory, Conifer, Vibernum, Rhododendrum, Azalea, Scrub and Vine Garden, Bonsai Collection. It's a dynamic place where the color of the season is everywhere and changing featured collections are on display. Guided Tours are available April through October. Self-guided tours throughout the year are easy with a map and information picked up at the Visitor Center inside the Arborway Gate.
Boston Public Library
Although it's the main branch of Boston's public library system, this is not your ordinary library. It's an architectural masterpiece, art museum, repository of John Adams' presidential papers, and houses a significant book collection too. Elaborate architectural details, amazing murals, decorative stunning decorative elements are around every turn. Bates Hall is magnificent; the impact of the Sargent Gallery powerful; the Wiggin Gallery collection of prints and drawings astounding. See it in detail on a free Art & Architecture tour given by volunteers at specific times. Or, walk through on your own. While in the area, walk around Copley Square, visit grand, Romanesque Trinity Church, walk up Boylston Street to the Prudential Shops.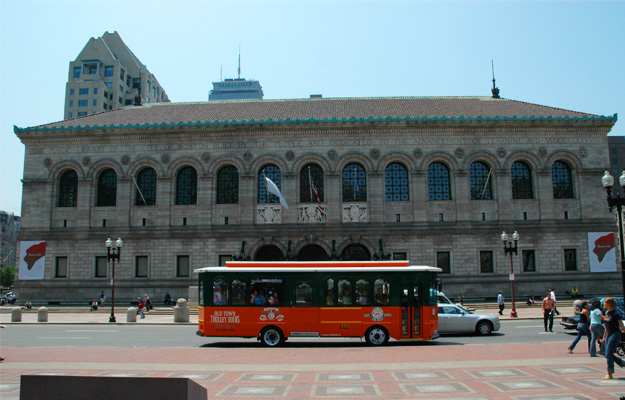 Go on a Brewery Tour
In a city where taverns have been popular gathering spots since colonial times! Samuel Adams Brewery, located on the outskirts of downtown Boston, has a free tour departing every 45 minutes. See how craft brewing process works, taste special malts, smell the special hops, and have a sample or two, of course! Harpoon Brewery is in the happening Seaport District filled with restaurants and bars and lots of high-rise loft residences under construction. Sit around long wood tables in Beer Hall and try pints of a full selection of freshly brewed draft beer straight from the source, all within sight of the brewery and cannery. Take an hour-long Brewery Tour for a close up view of how Harpoon beer is made. Tours are popular and tickets can only be purchased for $5 and include a beer tasting, of course
Insider's Tip: Many places offer free or minimal admission fees on specific evenings.
Museum of Fine Art
Check it out the Museum of Fine Art on Wednesday evenings beginning at 4pm when admission is by voluntary contribution (suggested donation $25) or whatever works for you. Galleries are spectacular, exhibiting every form of art spanning the ages from ancient Egypt to contemporary art. It's an evening well-spent.
Institute of Contemporary Art
For a change of pace, on Thursday nights between 5pm and 9pm go to the Institute of Contemporary Art, ICA, a striking cantilevered glass cube hovering over Boston Harbor between Fort Point Channel and Seaport Districts, when admission is free. It features performances, films, videos, presentations, and galleries filled with thought-provoking work of contemporary artists.
Boston's Children's Museum
The place for kids, especially the young ones (toddler to 8) is just $1.00 every Friday from 5pm-9pm. It's an innovative play space where kids can touch, climb, explore, discover, experiment, and create. The moment kids enter, they get it – it's ok to touch things! Themed sets, play areas and stations cover three floors, offering no end to discovery,
Places to Eat
Boston has great restaurants and loads of cafes, many of them with outdoor, sidewalk seating from late spring to early fall. Some naturally have big city prices; others are priced moderately. Keep in mind, although visitors flock here to experience Boston's wonderful historic places, these are intermingled with the new and contemporary where locals live and work. During the day, downtown office workers queue up at Food Trucks, inexpensive, great eats. They cluster in eateries all over the city, so look for them, line up with them, and enjoy. Faneuil Hall/Quincy Market has quick, tasty, Boston fast food places which fit into a budget; familiar franchise eateries are all over the city; small, ethnic restaurants offering tasty meals at reasonable prices are everywhere and are great finds.