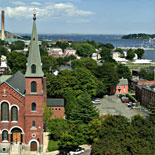 The catamaran Nathaniel Bowditch is named in honor of a 19th century mathematician who revolutionized maritime navigation. Passengers can take the beautiful vessel on a high-speed journey from Boston's Long Wharf to the dock at the Salem Ferry Center. The vessel's twin diesel engines propel her through the water at 33 knots. The trip on the vessel takes approximately 55 minutes, which means that you will spend less time on the water and more time touring the city. The 92-foot-long ship has two decks and can accommodate 149 passengers. The main deck is enclosed and equipped with a galley that serves a variety of menu items, and the partially enclosed upper deck has a viewing area. You can enjoy the open-air and the scenery of the North Shore as you travel to and from the legendary city. The mariners of old never crossed the water with this level of speed or comfort.
Save $1 with Coupon Code: BNSF1
Purchase Discount Tickets for the Boston to Salem Ferry
Once in Salem, you can explore the museum dedicated to the city's infamous witch trials, which inspired Nathaniel Hawthorne's House of the Seven Gables. The museum is located one block from the Salem Wharf. The city is also home to the Salem National Maritime Site, which recounts the tales of the sailors who brought exotic spices, food and silks back from the Far East on tall ships. The world-renowned Peabody Essex Museum is an art and cultural institution founded by affluent ship captains in 1799. The city has many beautiful examples of Federal, Colonial Revival and Victorian era homes that exemplify Salem's rich maritime history and its prominent role in 19th century as a center of art, literature and culture. While you are in Salem, you can enjoy a fascinating mix of restaurants and boutiques. The BHC Boston to Salem Ferry provides seasonal service from May to October.