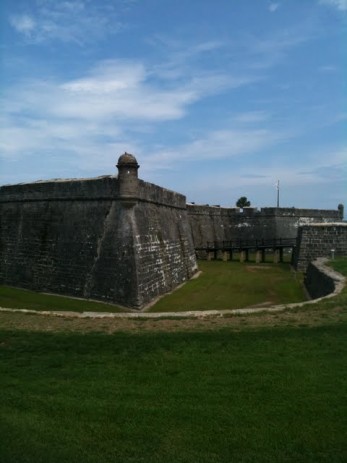 St. Augustine, Florida is home to the oldest masonry fort in the United Station. The Castillo de San Marcos was first built in 1672 by Spain during its occupancy in Florida. From 1763 through 1784 Britain occupied the state and renamed the masonry St. Mark. When Florida became a U.S. territory in 1821 The Castillo de San Marcos became Fort Marion, named after Francis Marion, a revolutionary war hero. It was not until 1942 that the Congress renamed the building Castillo de San Marcos.
St. Augustine is named after a European city founded by Pedro Menéndez de Avilés in 1565. This city was originally a Native American Village that was transformed over the next 100 years as the site of a Spanish defense town. Here nine wooden forts were built. After the attack of English pirate Robert Searle, the masonry was ordered by Mariana Queen Regent of Spain to protect the city.
This masonry was built with coquina stone, "little shells" in Spanish. These ancient stones create an adhesion similar to limestone. Native American workers as well as construction workers from Havana, Cuba built the masonry. Workers quarried the ancient shells at Anastasia Island which is now known as Anastasia State Park. This park and quarry site is located across Matanzas Bay from the Castillo de San Marcos masonry. A ferry carried the stones across the bay during the twenty-three year construction project (from 1872-1695).
Telephone: 904-829-6506
Web: https://www.nps.gov/casa/
Address: 1 South Castillo Drive, St Augustine, FL 32084
Comments Off on Castillo de San Marcos National Monument