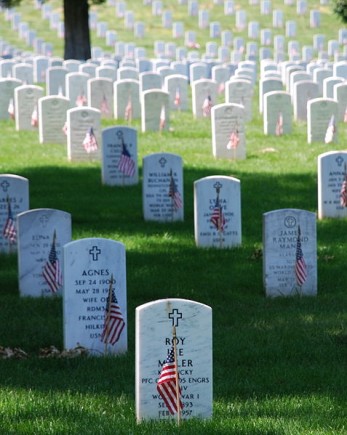 Celebrated annually on the last Monday of May, Memorial Day is a multifaceted holiday. First and foremost, Memorial Day is a time for remembering the men and women who have given their lives while serving for the United States military. However, the holiday also marks the beginning of summer vacation, whereas Labor Day marks the end. Memorial Day was established as a federal holiday in 1967 after being informally celebrated since the Civil War. Did you know that Americans didn't call it Memorial Day originally? Not until after World War II did the holiday earn the title of Memorial Day.
Every city in the US celebrates Memorial Day in some facet. Ironton, Ohio hosts the longest continuously running Memorial Day parade, which began in 1868. However, Doylestown, Pennsylvania was the first city to host a Memorial Day parade in 1867. In the nation's Capital of Washington DC, you can visit the west lawn of the White House to enjoy the National Memorial Day Concert. It will be hosted by the President and First Lady to pay respect to the nation's soldiers and their families. In the Big Red Apple, New York City, the annual Memorial Day Parade is held in Manhattan at Broadway and Dyckman from noon until 2 p.m. New Yorkers are also invited to a free concert by the NY Philharmonic at St. John the Divine on Memorial Day. Chicago will be celebrating Memorial Day (2012)  in a spectacular way with CIA director David Petraeus as the grand marshal of the Memorial Day parade. Also, the parade is celebrating the 150th anniversary of the military tune "Taps," so expect to have a grand, old time in Chicago this Memorial Day.
On the West Coast, Americans can celebrate Memorial Day in the sunny state of California at a variety of events. Starting in San Francisco, fallen soldiers, active duty personnel, and their loved ones are paid tribute at a memorial ceremony on the USS Hornet. Also, over the weekend in San Francisco there will be a free opera provided in Dolores Park, as well as Civil War battle reenactments and encampments. Festivities continue with a Caribbean-inspired Carnaval at the San Francisco Festival. In Los Angeles, get your running shoes out for the 36th Annual Brentwood Run and Walk, which is a Memorial Day tradition that starts at 7:30 a.m. In southern California, San Diego will feature a Sea World Fireworks Show for the three-day Memorial Day weekend; the display will be at scenic Mission Bay.
Comments Off on Celebrating Memorial Day