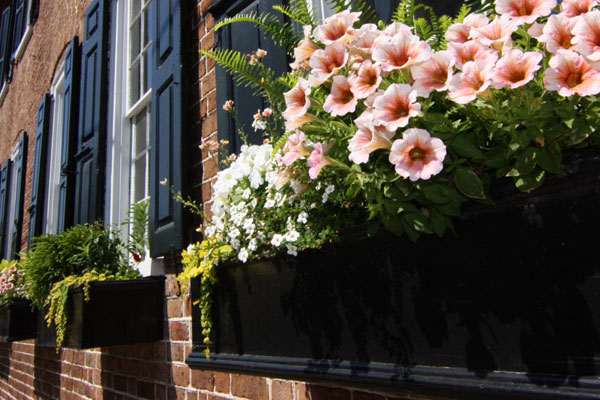 Charleston is a charming, architecturally picturesque city filled with a treasure trove of magnificent antebellum homes, beautifully preserved churches and public buildings and hidden gardens down cobblestone lanes.  Founded in 1670, it is one of America's oldest cities.  Most of its beautifully restored homes and buildings are in the Historic District, on what is known as The Peninsula, an area of low-lying land between the Ashley and Cooper rivers. Spend the first day of your 2-day visit to Charleston in the Historic District. On the second day, sample distinctively delicious Lowcountry cuisine on a food tour in the morning and take a short car ride from the Historic District to Ashley River Road for an afternoon spent touring remarkable antebellum plantation homes and spectacular gardens.
Day 1 Historic Charleston
Throughout Historic Downtown Charleston, the unique combination of its heritage of the elegance of Restoration England and color of the West Indies give Charleston its wonderful ambiance.
For first time visitors, taking a walking tour is a must.  It's the best way to see, appreciate and experience the history and essence of Charleston. Trusted Tours & Attractions offers tickets to Charleston Strolls History Walk, an engaging 2-hour walk through the narrow streets and down hidden lanes takes you to places you might otherwise miss. Find discount tickets here.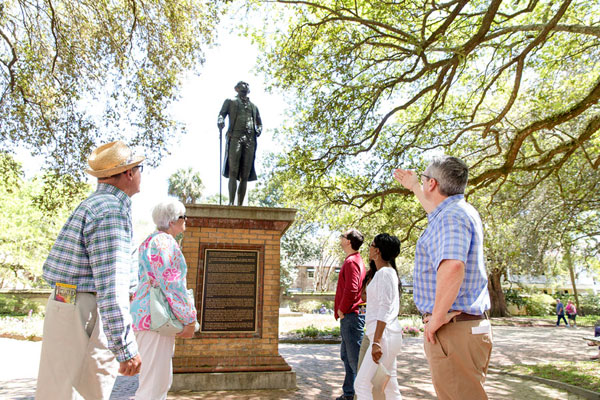 After the tour, spend the rest of the day exploring on your own.  Start by visiting some of Charleston's magnificent collection of beautifully restored homes and churches.
Heywood Washington House, a well-appointed Georgian-style double house built in 1772, was the town-home of Thomas Hayward, Jr., one of the signers of the Declaration of Independence.  It is richly furnished and the 1740s kitchen is the only one open to the public. George Washington used the home during his visit to Charleston in May 1791.
Joseph Manigault House is exquisite. Built in 1803, it reflects the in-town lifestyle of wealthy rice planters and their families. The tour also gives insight into the lives of African American slaves who lived and worked there.  From the amazing free-standing spiral staircase to room filled with elegant period furniture, the house tells the story of the prosperity, wealth and stature.
Nathaniel Russell House is one of America's most important neoclassical homes. The 1808 home of prosperous merchant, Nathaniel Russell, whose fortune came from trading rice, "Carolina Gold", indigo, tobacco, cotton, has been restored to its former grandeur.
Edmondston-Alston House, constructed in 1825, has a wonderful view of Charleston harbor and Ft. Sumter  On April 12, 1861, General P.T. Beauregard watched the bombardment of Ft. Sumter from the piazza, and in December of that year, General Robert E. Lee stayed in the home.
Aiken-Rhett House is unique. Built by merchant John Robinson in 1830 as a double house with central hallway and two rooms on either side, it was enlarged and renovated in 1833 into the palatial home of William Aiken, Jr.  A large number of African American slaves lived on the property to sustain the Aiken's life style. The house and property, including the original outbuildings, have been preserved, not restored.
Countless steeples of historic churches of all denominations tower the "Holy City" skyline.  Seek out these early churches:
St. Philip's Episcopal Church, the oldest congregation in Charleston, dating to 1681, is the best-known. The National Historic Landmark has an ancient feel inside.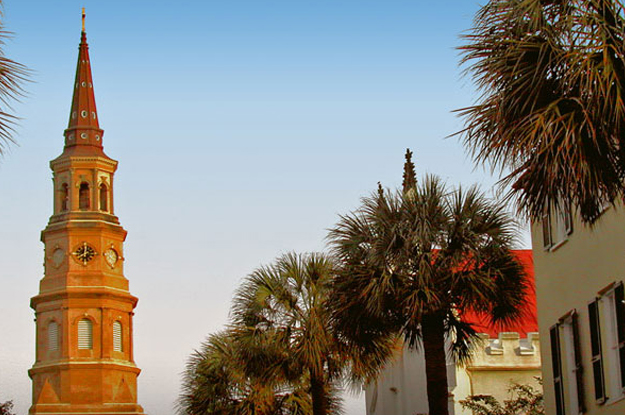 St. Michael's Episcopal Church is massive, has beautiful wooden pews, stained glass, bells that date to 1764 and an organ that has been in the church since 1767.
St. John's Lutheran Church, the house of worship of the oldest Lutheran congregation in the South, dating to 1742 has a stunning must-see interior.
The Unitarian Church congregation dates to 1772, and is the oldest Unitarian church in the South.  The lovely gothic church is another National Historic Landmark.
Day 2  Lowcountry Food Tour and Ashley Drive Plantation
Lowcountry Food Tour
Charleston's culinary scene is exceptional. An abundance of great restaurants located in quaint cottages or trendy restored buildings, serving delicious regional Lowcountry dishes made with fresh locally-sourced ingredients, and prepared by a long list of award-winning chefs have made Charleston a popular culinary destination.
Spend a fun and tasty morning on a 2.5 hour food tour, sampling and learning about the origins and preparation of Lowcountry cuisine.  Take advantage of discounted tickets for Charleston food tours offered through Trusted Tours & Attractions.   Savor the Flavors of Charleston is all about learning the ingredients in Lowcountry food and sampling it at several restaurants. Chef's Kitchen Tour is a favorite of serious foodies.  Visit several well-known restaurant kitchens to see how Lowcountry  menu selections are prepared, learn about the exciting renaissance of lowcountry cooking, and taste, taste, taste! Find discounted tickets here.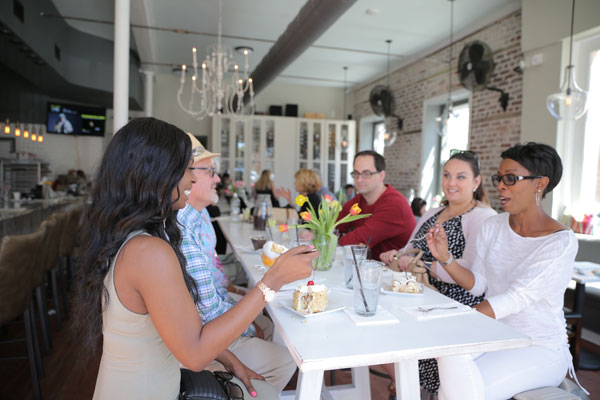 Ashley River Drive Antebellum Plantations & Gardens    
Magnolia Plantation & Gardens.   Walk through lovely gardens and take a house tour for a glimpse of plantation life in the early 1800s. The expansive rice plantation was first settled by Thomas and Ann Drayton in 1676. Generations of Draytons took pride in their beautiful romantic-style gardens.  After the Civil War, the family's focus turned to the gardens which grew to become the first public arden in America where plantings work with nature to create a harmonious landscape.  The house has undergone various renovations, and only its core dates to the Revolutionary War era, during which the grounds were occupied by both British and America troops.
Drayton Hall.  The 1738 plantation home of another member of the Drayton family is the earliest and finest example of Georgian Palladian architecture in the U.S.  Drayton Hall is not a house museum filled with antiques.  It has no furnishings.  Tours focus on the preservation of this architectural treasure.
Middleton Place.  Another Ashley River Road former rice plantation was the home of Declaration of Independence signer, Arthur Middleton.  Built in 1755, it's known for its formal, landscaped grounds, the oldest in America. The elegant house museum is beautifully appointed in furnishings of four generations of Middletons.  In the Stableyards, demonstrations by costumed interpreters of skills once performed by enslaved people give visitors a sense of life on a Lowcountry rice plantation.
Twilight and Evening Ghost Tours     
An old city seeped in Lowcountry superstitions and buildings dating as far back as the early 1700s, are the perfect combination for ghostly haunts and paranormal activity. Find out for yourself on one of four fascinating and scary ghost tours offered through Trusted Tours & Attractions.  A walk through the Old City Jail on the Haunted Jail Tour is creepy; to hear what went on there is frightening.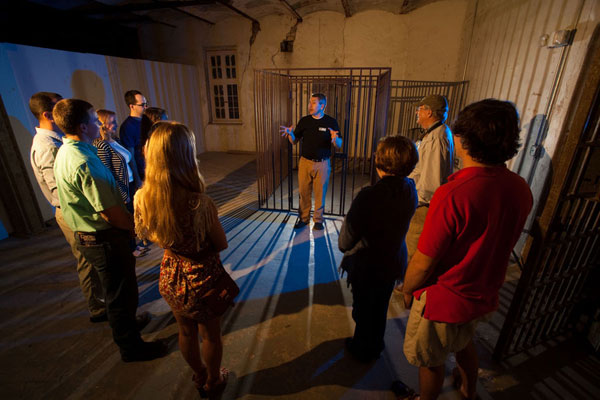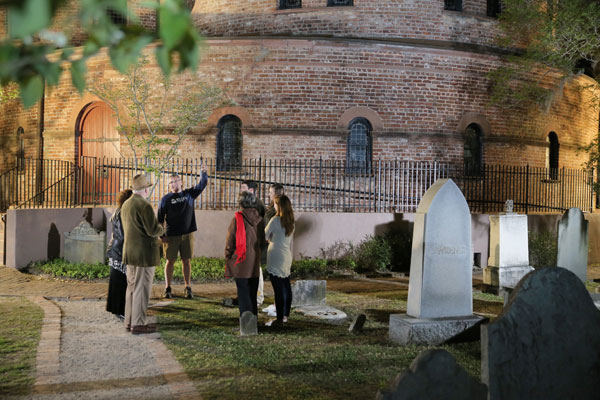 On the Ghost & Graveyard Walk, venture into the dark recesses of one of Charleston's oldest cemeteries and listen to the shocking stories of love, loss and intrigue of the long departed. Go behind the scenes in The Dungeon for a frightful night on the Ghosts & Dungeon Tour.  Hear about the shocking and scandalous past of many of Charleston's long departed residents on the Dark Side of Charleston Walking Tour.  Whichever you choose, you'll  experience another side of the "Holy City."