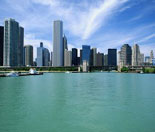 Chicago is a perennially popular destination for visitors from across the nation and around the world. It's a cosmopolitan city that offers plenty in the way of cultural attractions, gourmet dining and designer shopping. But there is another side to Chicago, one that is designed precisely for the budget conscious traveler.
Navy Pier
One of Chicago's premier tourist attractions for those who don't mind their fun being a little kitschy and commercial, Navy Pier offers free admission for people simply wanting to wander through and see the sights. The Children's Museum is here as are many shops, rides and other attractions, but the people watching is always free and so are the views of the Chicago skyline.
Lincoln Park Zoo
This one is fun for animal lovers of all ages. Visitors marvel at powerful lions and stand in awe of the gorillas at this entirely free zoo. As guests wander through tropical rainforests and African savannahs it is almost possible to forget the city is so close at hand.
Millennium Park
Originally conceived as a memorial to celebrate the beginning of the new millennium the park actually opened four years behind schedule in 2004. Nonetheless it has proven to be a highly popular free attraction. The park is designed to be accessible to everyone and features many green design innovations. While here visitors may visit the Lurie Garden, the Cloud Gate sculpture and the Crown Fountain that highlights public art.
New Maxwell Street Market
Although this open air market was originally located along Maxwell Street it is now found along Des Plaines Avenue. Visitors can find just about anything here and can get some very good deals if they don't mind bargaining. Street performers display their acts throughout and with free admission this is one affordable, colorful and eclectic attraction.
12th Street Beach
This beach is found on Northerly Island, actually a peninsula, that was constructed of landfill materials in the 1920s. The park has seen heavy use ever since from locals and tourists alike. It is an excellent place for swimming in the summer, but offers excellent views of the skyline at any time of year. The island also boasts a bird sanctuary and a nature center all with free admission.
Architectural Point – Michigan/Madison
Visitors fascinated by architecture will not be able to resist this opportunity. Walk the Michigan Avenue historic area to see some of Chicago's most famous buildings and a few that should be more widely recognized. Photograph the Montgomery Ward Building, the Chicago Athletic Association and Willoughby Tower among others.
For more great ideas on Chicago tours, attractions and things to do, visit: https://www.trustedtours.com/store/chicago.aspx
Comments Off on Chicago Free Attractions, Parks and Things to Do