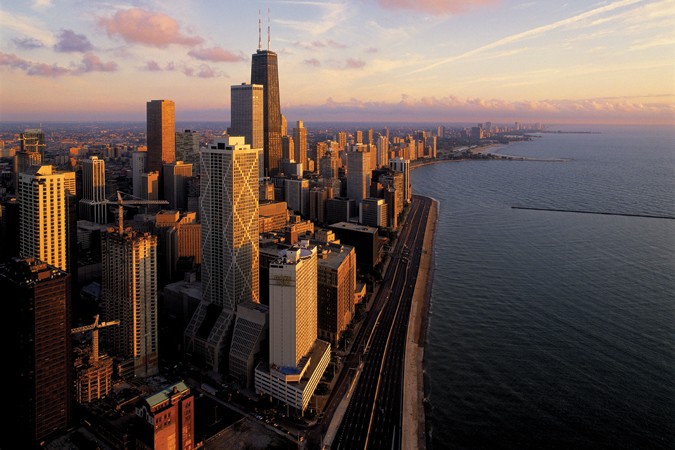 Chicago, one of America's greatest cities, has it all – awesome architecture, skyscrapers jutting up towards the sky, a long lakefront bordered with expansive people-friendly parks, impressive outdoor art installations, a meandering river snaking through it, and a vast array of things to see and do.
In Chicago, there's always something going on, much of it concentrated in an area both north and south of the river, and east of State Street.  Spend hours admiring exhibits in world-class art, natural history and science museums. Explore the universe in the planetarium, aquatic life in the aquarium. Enjoy an evening at the theater; attend a professional sports game; stroll through the verdant landscape and public art of beautiful lakefront parks.  See awesome city views from high above while "Tilted" or out on the "Ledge" atop two of the city's iconic skyscrapers. Admire panoramic skyline views from a boat cruise along the Lake Michigan shoreline; ride the Wheel on Navy Pier. Choose a dining experience from a long list of great restaurants; shop, shop, shop Magnificent Mile.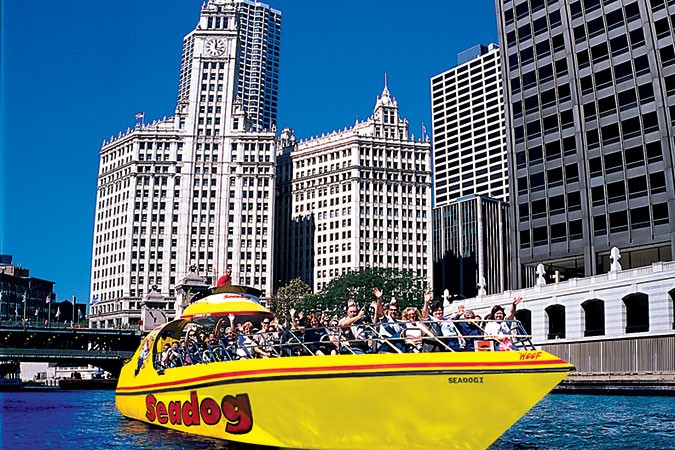 Boat Tours and Cruises
Once you've seen big, blue Lake Michigan, it's hard to resist getting out on it in season.  Seen from the water, the panoramic view of Chicago's signature skyline is magnificent. Skyscrapers stand out dramatically as unique statements of Chicago's architectural styles, the Cloud glints in the sun, The Wheel turns high above the Navy Pier, the iconic Museum Row trio jut out into the lake, and skyscrapers lean in along the Chicago River. There's a boating option for everyone. Short 30-minute thrill rides, a fave of kids, daytime sightseeing tours, leisurely 2-3 hour sightseeing + lunch, champagne brunch or dinner cruises in climate-controlled grand spaces aboard luxury cruising vessels. The common denominator: a great time and fabulous views. Save an additional $3 per ticket with these coupon codes:
SeaDog Lake Tour– CHDO1
SeaDog Architectural Tour– CHAT1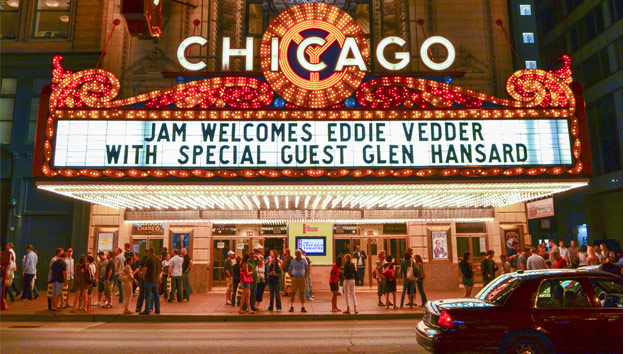 Theater Tours
Like many other large American cities, Chicago has preserved some of the grand, gilded theaters from the roaring 20s era. Taking a guided tour of the interior of one of the finest is a must-do time travel.
Chicago Theatre Tour– Save Additional 5% with Promo Code CHTH5
Kid Stuff
Vacation planning with kids has to include indoor fun, especially in colder months. In the community of Schaumburg, about a 1 ½ hour drive northwest of Chicago, large, fun attractions appeal to kids 2-12 and to families.  Depending on the age of your kids, check out these favorites.
Legoland Discovery Center– Save Additional 10% with Promo Code CHLD10
Medieval Times Illinois– Save Additional $1 with Promo Code CHME1

Sightseeing Tours
Getting around big city Chicago to see the iconic sites is easy on a sightseeing bus tour.  Options are many. Families and travelers who want to tour and visit museums and attractions in different parts of the city can do both on an all-day hop on/hop off double-decker bus tour. Kids think riding on the top level is cool, travelers eager to see the sights enjoy the narrative of on-board guides, and the option of hopping off close to the places you came to see is convenient.  Visitors who prefer to spend a couple of hours seated in the comfort of a roomy bus admiring the sights from big viewing windows while listening to onboard narration have multiple choices. Put together the option that works for you at a discount using the coupons below:
Check Back For Future Sightseeing Tour Coupons
Segway Tours
Gliding around Chicago on a guided Segway tour is interesting and engaging for anyone over 12 years old.  It's the best way to sightsee with teen-age kids and young adults. It's a fun ride, the guides are great, and nobody gets bored. Once everyone easily gets the hang of riding upright on the odd-looking vehicles after a quick training before heading out on tour, it's a blast! Segway tours are seasonal, from April to the end of October, last 2 or 3 hours and get you close to all those lakefront highlights you came to see, by day or at night.  Check them out and use the coupons below for a sweet ride.
Check Back For Future Segway Tour Coupons
Food Tours
Whoever thought hot dogs, pizza, beer and specialty brews would be an important food group? In some Chicago neighborhoods they are. Find out by bike or on foot. The walking food tour is year-round as during winter months, the tour travels to destinations underground in the warmth of Chicago's unique Pedway system. Use the coupons below to see sights and stop in interesting places to eat your way through the Windy City.
Check Back For Future Food Tour Coupons
Bike Tours
Seeing Chicago's sights and lakefront views street-level-close on a fun, narrated bike tour is a super way for families and anyone who likes outdoor activities to see the sights while having fun together. Most bike tours are seasonal, last 2 to 4 hours and travel from 7 to 12 miles at an easy pace. Geared for people of all ages, bike tours travel primarily along bike paths and sidewalks and through parks. They can take you on neighborhood rides, past Gold Coast mansions, through city parks and Northside beaches, to Southside's legendary mobster hangouts, past the icons along Museum Row, through grand parks or on a dazzling night ride.  Pick out the one that works for you and get out for a great bike ride!
Check Back For Future Bike Tour Coupons