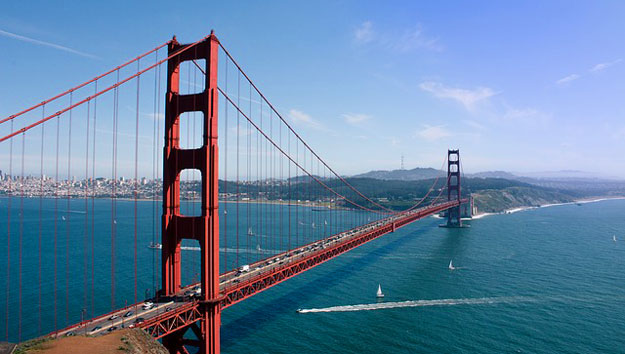 In San Francisco, a city of superlatives, the Golden Gate Bridge, tops the list. The image of the dark orange suspension bridge against a bright blue sky or shrouded by fog is recognized worldwide as a symbol of San Francisco.  Locals and visitors are drawn to the magnificent structure and scenic setting. They come to see it, photograph it, cross it.
The iconic bridge was built for practical reasons. Before the bridge, the San Francisco peninsula was isolated from cities and communities surrounding the bay. Getting people and products in and out of the San Francisco was by ferry, limiting its growth and potential. In the early 1930s, a plan was developed by a team of engineers and architects to solve the problem: build a bridge across the 6700 feet wide turbulent entrance to San Francisco Bay.
Construction began in 1933 on what was to be the longest suspension bridge in the world, a title it held until 1964. It was a remarkable feat. The single suspension span was anchored by 746 feet high twin towers. To support the suspended roadway, two cables, each more than 7000 feet in length, were stretched over the top of the twin towers and rooted in the massive concrete anchors on the rocky shore. Defying skeptics, engineering challenges, relentless winds, treacherous currents, obscuring fog and rocky substrata, the massive bridge was completed in four years. It cost $35 million and 11 lives. The original design called for the bridge to be painted black or steel gray until one of the architects noticed that the deep orange used as the primer was highly visible in the fog and fit naturally into the surrounding landscape. International Orange became its signature color.
HOW TO SEE THE MOST PHOTOGRAPHED LANDMARK IN THE WORLD
A visit to the Golden Gate Bridge is an awesome part of the San Francisco experience, one that appeals to all ages. How you choose to see it depends on how much time you want to spend, how physically active you want to be, and what fits into your travel plans. Check out the many options available at discounted rates through Trusted Tours & Attractions.
WALK IT
Driving there on your own is possible but parking is limited. Public transportation is highly recommended.  A hassle-free option is a Big Bus 24 or 48 Hour Hop on/Hop Off narrated double decker bus tour, combining transportation and sightseeing. Golden Gate Bridge is one of 20 stops along the landmark-filled route. Hop off at the Bridge for the walk of a lifetime! For some, walking to the first tower of the 1.7 miles span is enough; others like having round-trip bragging rights. Take all the time you want before hopping back on the next arriving Big Bus to resume the tour.
BIKE IT
Bay City Bike Rentals has well-maintained bikes for self-guided rides. When you pick up your bike, tell them you want to bike the Bridge and they'll map you there. Bike over the majestic Bridge, bike on to quaint Sausalito for lunch and exploring, then return to the city by ferry. Not ready to bike it on your own? Bay City Bikes has two guided bike tours for anyone, adult or child, in good physical condition who can ride a bike. San Francisco Guided Golden Gate Bike Tour, over the Bridge, to Sausalito and back to the city by ferry, is a blast! Biking over the Bridge glowing gold in the colors of the setting sun on Bay City Bikes popular California Sunset Tour is magical.
SIGHTSEEING BUS TOURS
Visitors looking for comfort, convenience and great visibility opt for guided sightseeing bus tours. It's the effortless way to see San Francisco's highlights, neighborhoods and landmarks, including the Golden Gate Bridge. San Francisco Sightseeing Deluxe City Tour is a comprehensive 3.5 hour narrated tour that makes a stop at Vista Point, the best place for up-close Bridge views, giving visitors the time to appreciate its grandeur and take plenty of photos.
BOAT TOURS & CRUISES
The San Francisco skyline, colorful waterfront, surrounding scenic Bayfront, Alcatraz Island, and the Golden Gate Bridge seen from the decks and large windows of sightseeing boats are spectacular. Cruising under the Bridge is thrilling! Numerous boat tours and cruises, each with a different appeal, leave daily from a number of popular piers. Adventure Cat's San Francisco Bay Day Sail is great for families with kids and anyone who likes the thrill of skimming close to the water and feeling the rush of the wake. Experiencing city and waterfronts sights and going under the Bridge in the golden light on Adventure Cat's Sunset Sail is a special evening. For visitors who want to include a bay cruise in a busy sightseeing day, Red and White's Golden Gate Bay Cruise departs several times a day from Pier 43 in Fisherman's Wharf for a narrated 1-hour tour packed with sights visible along San Francisco's waterfront, around Alcatraz Island, under the Bridge and across the bay to Sausalito.   Their 90 minute Bridge to Bridge Tour includes the sight-filled waterfront, going under Golden Gate Bridge and the Bay Bridge too.
Imagine dining and dancing aboard a large, elegant cruising yacht surrounded by beautiful San Francisco Bay views. Cruising under the magnificent Bridge captures the attention of all the guests on these Hornblower Cruises: San Francisco Brunch Cruise is a champagne brunch weekend event; San Francisco Bay Midweek Dinner and Weekend Dinner Cruises are elegant evenings of dancing and dining in style. San Francisco Supper Club Cruise adds entertainment to a perfect 3-hour evening cruising scenic San Francisco Bay.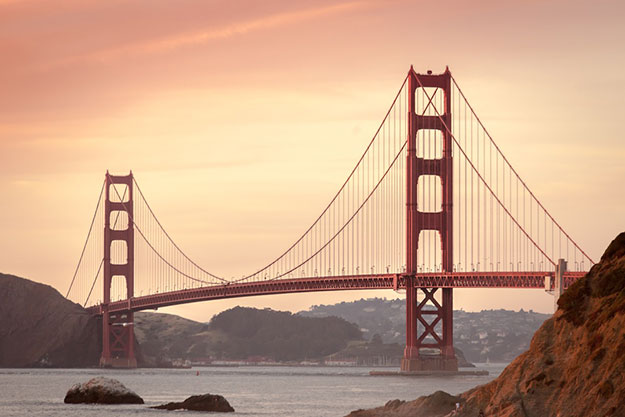 TOUR & ATTRACTION PACKAGES           
With so much to see throughout one of America's most exciting cities, deciding what to do can be daunting. Discounted packages offering popular attractions simplify the choices. The following packages available through Trusted Tours at a discounted rate include Golden Gate Bridge cruise experiences:
Go San Francisco Card
Twenty-seven prime choices of museums, excursions, historic sites, cruises and attractions from which to choose as many as you can do in one day. Red & White Fleet's Golden Gate Bridge Cruise and Bridge to Bridge Cruise are part of the mix.
San Francisco City Pass
Experience 5 must-see landmarks including a Blue & Gold Fleet Bay Cruise which goes under the Bridge.
San Francisco Explorer 4 Attraction Pass
Red & White Fleet Golden Gate Bay Cruise is one of the attractions in the package.