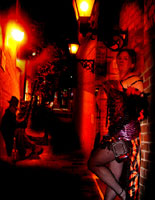 The Dark Side of Charleston Walking Tour is a great adult activity for October, with Halloween coming up. Adults don't have to be left out of Halloween festivities, and who doesn't love a tale of debauchery? The tour guides have extensive knowledge about the city's history and are able to provide intriguing and shocking details about some of the more sordid bits. If you think the streets of Charleston are pure and innocent, think again. Charleston is home to many sinister historical secrets and its scandalous past is no longer hiding. It's not a ghost tour but what you will see and hear is going to disturb you.
On the tour, visitors will have the opportunity to see the more sinister aspects of Charleston's history. Charleston is no stranger to murder, prostitution, or scandal. Visitors will learn about Rumpty Rattles, a man who was shot on Market Street, in front of what is now the Gucci store. Some murders the city would rather keep covered up but the tour won't hide them. The tour visits some sites that were brothels during World War II as well as sites where prostitutes roamed the streets. Tour guides will give visitors a front row pass to criminal activities.
There are some things to keep in mind if you intend to take the tour. It is an uncensored tour of Charleston and would be considered rated R. It's definitely not for children. The tour is about 90 minutes long and you are on foot the whole time, so wear comfortable shoes! Another thing to keep in mind – it's at night! You can attend the 8 or 10 pm tours.
Tickets for the Dark Side of Charleston Walking Tour can be purchased at https://www.trustedtours.com/store/dark-side-of-charleston-walking-tour.aspx for $17.50.
Comments Off on Dark Side of Charleston Walking Tour