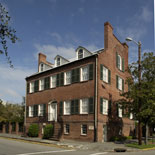 Located on Columbia Square's northwest corner, the Isaiah Davenport House is a Federal style residence that was erected in 1820. The owner was a master builder who designed several of the Savannah's elegant Federal and Georgian style mansions. Unlike his peers, Mr. Davenport used English bricks and brownstone instead of wood for his facades. The 6,800-square-foot home highlighted the architect's skills and social status. It also provided additional space for his growing family. The beautiful house is one of Savannah's oldest masonry buildings.
Buy your Davenport House Discount Tickets Here
Visiting Savannah and the Davenport with a Group? Contact us for deeper group discounts
The Historic Savannah Foundation, a group of concerned citizens, stepped in to preserve the building in the 1950s when it faced demolition after years of decay and neglect. It was the organization's inaugural preservation effort. The foundation completed a detailed restoration of the property and opened the first floor to the public in 1963. After they completed renovating the second and third floors, the groups included those rooms in the tour. The museum house has wallpaper, furnishings and accessories that reflect the inventory that was taken when Mr. Davenport succumbed to the Yellow Fever epidemic that ravaged the city in 1827. The home also displays period textiles, porcelain and toys. An extraordinary drawing on display in the home is part of a series works by local artist Christopher Murphy called "Five Beautiful Doorways at Savannah." The rear courtyard of the residence has been transformed into a garden.
The foundation has received several prestigious awards for its preservation efforts, including gubernatorial and presidential citations. Popular events include candlelight tours, garden tea parties and reenactments of the yellow fever epidemic. The estate is located at 324 East State Street in city's Historic Landmark District. The Isaiah Davenport House museum is available for weddings and public tours. Groups can also arrange special private tours of the house and gardens.
Purchase Davenport House Ticket