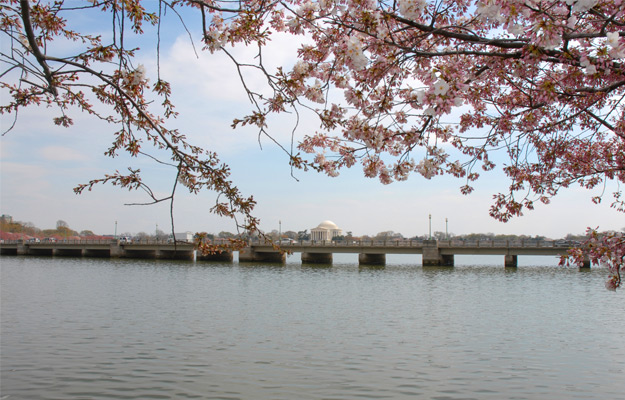 Sunday, March 20th through Sunday, April 17, our nation's capital takes on a distinct pink hue with its official 2016 Cherry Blossom Festival. Throughout the annual, month-long celebration, Washington DC embraces the beauty of the delicate flowering trees in the spirit of friendship and goodwill in which the trees were gifted by Japan in 1912. Whatever stage of pink – bright pink bud,  full-on pale pink, white dusting of falling pedals – when set against a backdrop of clear blue Washington spring skies and America's majestic monuments, Washington DC is glorious.
Celebrating the cherry blossoms has a wide reach. While larger events take place primarily on weekends, cherry blossom related things are happening daily throughout the city as everyone gets into the act.  In public places, museums, galleries, restaurants, bars, stores; on specialty tours; through special events and programs, something diverse and creative cherry-blossom or Japanese-themed is happening all month long. Check out daily stage performances – music, dance and martial art demonstrations around the Jefferson Memorial and in the Tidal Basin Paddleboat Parking Area. Sushi and sake celebrations take place; Japanese restaurants offer special menus; other restaurants feature special cherry blossom-themed creations; bars serve cherry flavored specialty drinks.
BLOOMING INFORMATION
No one can predict exactly when the cherry trees will bloom. It varies from year to year, depending entirely on the weather.
The statistical average peak date (70% blooms) is April. 4th.
National Park Service horticulturalists cannot make accurate predictions more than 10 days out.
Blooming period begins several days before peak and lasts as long as 14 days afterwards.
Cherry trees in bloom are not just around the Tidal Basin and West Potomac Park. Look for them along the shoreline of East Potomac Park all the way to Hains Point, on Washington Monument Grounds and around the National Mall, NW of the Lincoln Memorial.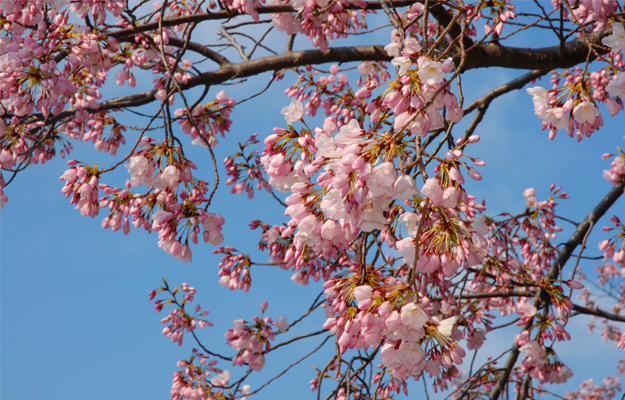 CHERRY BLOSSOM FESTIVAL EVENT DATES
Opening Ceremony.  Saturday, March 26, 2016.  5 – 6:30pm
Warner Theater.  513 13th St. W.. Admission is free but advance ticketing required.  One of the most beautiful festivals in the U.S., celebrating both the advent of spring and the gift of trees from Japan to the United States, symbols of the enduring relationship between the two nations, begins with the welcome and speeches of dignitaries and traditional and contemporary performances of world-renowned American and Japanese performers.
National Building Museum Family Day.  Saturday, March 26, 2016. 9am – 5pm
FREE but requires pre-registration.  Enter the Great Hall decorated with pink cherry blossom balloons and enjoy a series of hands-on family programs focusing on Japanese arts and design.
Blossom Kite Festival.  Saturday, April 2, 2016. 10am-4:30pm
Colorful kites of all shapes and sizes hover, float and dive in the skies over the grounds of the National Monument.  Free and fabulous!  Kite makers from throughout the US and all over the world put on splendid aerial shows and competitions.  On the ground, kite demos, kite making and kite-related activities go on.  Watch the kites, bring a kite or make a kite!
Annual Cherry Blossom Freedom Walk.  Saturday, April 2, 2016
Check in time 9am; Program 10am:  A historical and cultural event to raise awareness about the Japanese American experience during World War II and to highlight the vigilant role that American citizens must continue to play in preserving the Constitutional rights of all Americans.  Held at the National Japanese American Memorial to Patriotism during World War II (intersection of D St., New Jersey and Louisiana Aves, NW).
Southwest Waterfront Fireworks Festival.  Saturday April 9, 2016. 1pm entrance; 8:30 fireworks
Music, water-related activities, cultural experiences, 3 performance areas for live entertainment, fresh seafood vendors!   It's all happening on the Potomac River between 650 Water St. and Titanic Memorial Park.  Enjoy it all while strolling along the riverfront.
Sakura Matsuri Japanese Street Festival.  Saturday, April 16. 10:30 am – 6pm
In the largest one-day celebration of Japanese culture in the U.S., performers from all over the country and Japan bring live musical and dance performances to 3 stages and martial artists demonstrate their skills. Enjoy Japanese cooking demos, sample tasty Japanese food, learn from expert chefs how easy it is to cook. Sakura Matsui tickets ($10 pp; children 12 and under free) can be bought online in advance and at the gate for cash only on festival day.
National Cherry Blossom Festival Parade.  Saturday, April 16, 2016. 10am – noon
Think pink! Wear pink! The parade travels for 10 blocks along Constitution Avenue from 7th to 17th St. NW. Elaborate floats, marching bands from schools all over America, giant helium balloons, celebrity entertainers and performers wow the crowds lined up in the FREE stand-along-the-route-viewing locations between along Constitution Ave from 9th to 15th streets (get there early).  Pageantry, performance, excitement, fun – nothing beats a parade, especially in the middle of the architectural beauty of America's capital bathed in pink.
Anacostia River Festival.  Sunday, April 17, 2016. 1pm – 5pm
Free festival in Anacostia Park, located at Good Hope Road & Anacostia Dr. SE, celebrates communities and parks east of the river.  Hands-on art projects, kayaking, canoeing, live music, bike parades, fishing, ecological workshops, performances, pop-up shops, food vendors connect visitors and residents to the Anacostia River and the around it communities.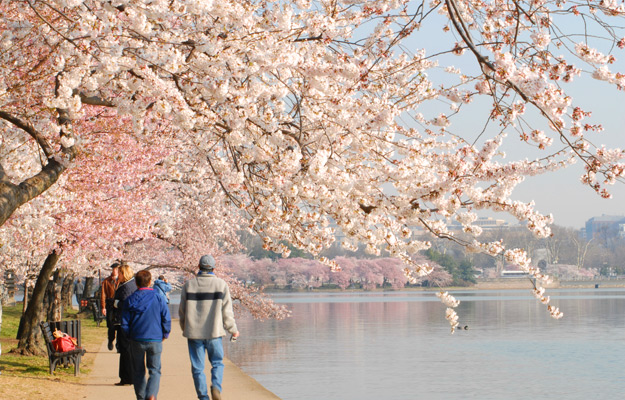 CHERRY BLOSSOM TOURS 
Washington Walks "Blossom Secret Strolls"
A special 2-hour, visually beautiful, guided walking tour.  Not only do you go where many flowering trees are, you learn everything about the cherry trees as well as facts and stories about the nation's capital.
Saturdays, March 26 and April 2 & 9 and Sundays, April 3 & 10 at 2pm
$20 per person; kids 3 & under free
No reservations necessary
Bring cash and meet at the Smithsonian Metro Station, Independence Ave. Exit. 1200 Independence Ave.
Bike & Roll: Blooms by Bike
Celebrate spring and the cherry blossoms on a 2-hour bike ride focusing on the cherry trees and amazing color surrounding the Potomac Tidal Basin and East Potomac Park.
Daily from March 21 – April 12.  at 12pm and 3pm
Additional 9:30 am tour on Saturdays and Sundays
Tours depart from the National Mall
City Segway Tour
For 2.5 hours, glide effortlessly where all the blossoms are – the Tidal Basin, around the Jefferson Memorial, along the Potomac waterfront, out to Hains point, the Lincoln Memorial, Japanese Pagoda and more.  A guide leads the way, ensuring you get to the right places and learn a lot along the way.
Daily from March 10 – April 23 at 10am
All riders must be 16 and older
Blossom Tours by Boat
Marvel at the spectacle of masses of pale pink blossoms reflecting on the blue water!  They're picture perfect!  See the spectacular pink-dotted shoreline framing stately monuments without jostling crowds for viewing positions.  Several large cruising boats do just that. DC Cruises' 50 minute tour departs from Georgetown at K Street NW.  Views from the double-decker boat are lovely.  Spirit of Washington's lunch and dinner buffet cruises are a perfect way to relax and take in blossom views while enjoying music spun by a DJ.  Views from glass-enclosed Odessy are breathtaking.  The vessel's low profile allows it to easily get under the city's bridges.  Lunch, brunch of dinner cruises are elegant and gracious. See the blossoms up close as National Elite Charter Yacht cruises during a 45 minute outing around Hains Point.
Saturdays and Sundays every hour on the hour from 11am – 4pm
Departs from 600 Water St. SW
Memorials Around the Tidal Basin
Visit to the three powerfully moving memorials around the Tidal Basin and get some of the best cherry blossom views at the same time.  Admire the stately Jefferson Memorial, walk through the outdoor "rooms" of the FDR Memorial, take in the massive granite statue of Dr. King, the centerpiece of the Martin Luther King Memorial.
Old Town Trolley Tour
See the city, learn about the city, hop off and on at 14 convenient stops near the White House, the U.S. Capitol, the Supreme Court, the wonderful museums along the National Mall and the nation's great memorials.  Along the way, see pink, pink everywhere!  See the blossoms along the Tidal Basin up close by hopping off the trolley at Stop #8, the Jefferson Memorial or Stop#9, the FDR and Martin Luther King Memorials. An Old Town Trolley tour is the ultimate way to be a spectator of this breathtaking event!