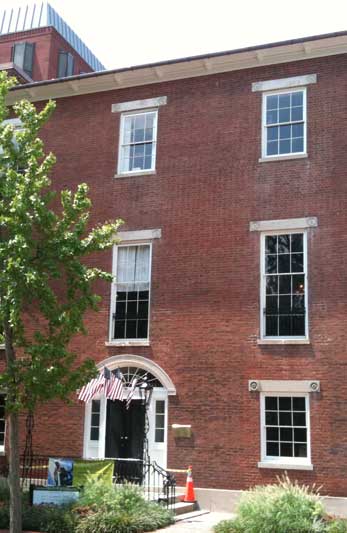 Jackson Place, on the west side of Lafayette Park south of H Street is a charming street lined with several 19th century row houses, restored treasures from the capital's early years. They add a delightful and historic quaintness to the monumental grandness of the President's neighborhood and have colorful presidential connections.
The Decatur House is one of these. Located at 748 Jackson Place, it's yet another of Henry Latrobe signature, flat front, elegantly restrained, Federal-style gems.
Built in 1818, it was the first private home on Lafayette Square – and the last. The first owner was Commodore Stephen Decatur, daring naval officer who served with distinction from 1798-1820.  He is best known for his rout of the Barbary pirates in Tripoli harbor in 1804, and for his untimely death by duel.
The last owner, Edward Fitzgerald Beale, from a prominent Washington naval family and a naval officer in his early years, purchased the townhouse in 1872. His service took him to California where he served several presidents as explorer, surveyor and Indian commissioner of the western frontier during the years of the gold rush and the building of the transcontinental railroad.
The residence remained in the Beale family until 1956, when Edward's daughter-in-law bequeathed the house to the National Trust for Historic Preservation.
In the years between the Decatur and the Beale ownership, political figures and foreign diplomats lived in the townhouse.  Between 1827 and 1833, it was the residence of several Secretaries of State, including Martin Van Buren, Secretary of State under Andrew Jackson, and later 8th president of the United States.
Throughout its history, the Decatur House has undergone architectural changes, namely during the Beale's renovation of 1876, the Gilded Age in America. They embellished the reserved Federal interior with ornate Victorian elements, in vogue at the time, and gave lavish parties in the newly added 2nd floor ballroom.  It was the place to be and be seen. Notably, President Ulysses Grant, their neighbor across the park, was a frequent guest.
The historic house is now museum open to the public Tuesday – Saturday from 10 am to 5pm.  The visitor's entrance is at 1610 H Street.  The interior documents both periods: the Decatur Federal period on the 1st floor; the Beale high Victorian on the 2nd.
Comments Off on Decatur House