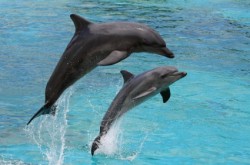 Of all the creatures in the sea, dolphins, hands down, win the popularity contest.  We are inexplicably drawn to them, we personify them, we see ourselves in them!
They appear playful, curious; they show off, display a certain joie de vivre, and even look us right in the eye – all personality traits we claim as our own!   Like us, they're mammals, and are therefore warm-blooded, have lungs that breathe air, give birth to their young and nurse them.  Add these facts – they have large brains, live in complex societies, help one another, learn from experience.  It's no wonder we're intrigued.There's a bit of envy too.  We wish, that like them, we could transition effortlessly between the air above the surface and the mysterious sea beneath it.  We wish we could frolic with abandon beneath the sea, unfettered by flippers, snorkels and masks.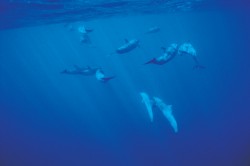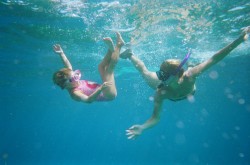 Since at least as far back as the ancient Greeks, human characteristics have been attributed to the dolphin.  In some Greek myths they appear in the nick of time to rescue lost seamen, transport humans from the sea to serve a larger purpose, and are depicted as once human, transformed from human to dolphin through act or deed. They were so important in the culture of ancient Greece, that they appear in sculpture, pottery, and mosaics, and the ancient Greek astronomer Ptolemy named one of his original constellations Delphinus, the dolphin.
However we spin it, there is no doubt that the attraction is there, and in resort destinations all over the globe people attempt to connect with them.  We flock to see them in the wild on dolphin watching trips, applaud their choreographed performances in facilities where they are trained to entertain, clamor for the chance to "swim" with them, either in captivity or in the wild.
In Florida, bottlenose dolphin are the ones you'll see, captive or in the wild.  Captive dolphins are headline acts in major aquatic facilities where they are trained to leap through hoops, beach themselves on platforms, jump in unison, and "tail walk." These attractions include big, splashy Sea World in Orlando; smaller Marineland, between St. Augustine and Daytona Beach, where dolphin have been entertaining tourists since 1938; Miami Seaquarium in Miami; the Gulfarium in Fort Walton Beach on Florida's panhandle; and Theater of the Sea, halfway down the Florida Keys.
In addition to the staged performances, these attractions offer dolphin encounters – immersions or "swims," shallow water contact, feedings, and trainer for a day experiences – all under the supervision of trainers.  In land-locked Orlando, the all-inclusive Vegas-style "island retreat" resort, Discovery Cove, offers scheduled interactions in tropically landscaped lagoons with its resident dolphins.
In the Florida Keys, Dolphin Cove Marine Mammal Education Center in Key Largo and Dolphin Research Center on Grassy Key are more low-key, emphasizing the marine education component of their facility by demonstrating and explaining the intelligence and abilities of the dolphin, as well as offering "swims" with their resident dolphin in on-site coastal lagoons.
"Swimming" with dolphins sounds exciting, but it is not without controversy.  Much has been written about the appropriateness of such interactions, and the concerns of conservationist are available online.  For those wishing to "swim" with dolphins in the wild, it's important to remember that while we have personified them and attribute playful qualities to them, they are first and foremost big, strong, unpredictable wild creatures. There are regulations overseeing human/dolphin interactions and they vary greatly throughout the world.  In some locations, the ability to get in the water with them is restricted to those holding special permits.  Check with the operator at your destination to fully understand what the experience holds.
While watching trained captive dolphins perform is entertaining, and being in the water with them exciting, there is no better way to see dolphins than in the wild, in their own habitat, on their own terms, doing what they do naturally.
Throughout Florida, the popularity of ecotours is rising as tourists increasingly seek out the chance to catch sight of wildlife unique to the area.  Those offering dolphin sightings provide the chance to get out on the water to experience these wonderful creatures, unchoreographed!  The moment is special when suddenly, out of nowhere in the never-ending expanse of sea, a pod of dolphin suddenly surfaces.
Such an encounter is exhilarating, usually accompanied by shouts of "Dolphin – over there!"  What a sight it is! They surface, rolling upward in a "porpoise" motion, breathe through their blow hole, only to "porpoise" back under again.  Before you know it, they pop up again, amazingly far away, a testament to their incredible underwater speed.  They leap into the air with joyous abandon.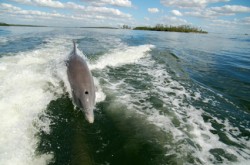 They swim, sleek and streamlined, just below the surface, right up in front of the bow of the boat, keeping just ahead of the boat's forward speed, a majestic bowsprit leading the way.  Or, they zoom up to the boat out of nowhere, break the surface purposefully parallel to the boat, roll a bit to one side to peer up with one eye!
All along Florida's coast, these wonderful naturally-occurring encounters happen just by chance, on trips aboard boats of all sizes.  In Tampa, the Florida Aquarium, which does not exhibit dolphins, offers a Wild Dolphin Ecotour on a boat ride out to areas dolphin frequent.  On day trips aboard smaller charter boats like Wild Dolphin Adventure in Key West, you might see them frolicking in their natural habitat, on the move, searching for fish to eat.  While dolphin are always the star attraction, a trip like this is a  wonderful chance to get out in the turquoise water of the pristine "back country" of the Florida Keys to enjoy memorable times swimming, snorkeling and bird watching in the crystal clear Gulf waters.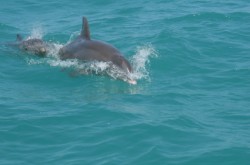 Pay attention when you're out there!  You may get lucky and experience the best sight of all – As these majestic creatures break the surface of the sea nearby, one just may be accompanied by a calf, tucked in tight alongside her, mimicking her every move, but in miniature form!
Comments Off on Finding Dolphins in Florida