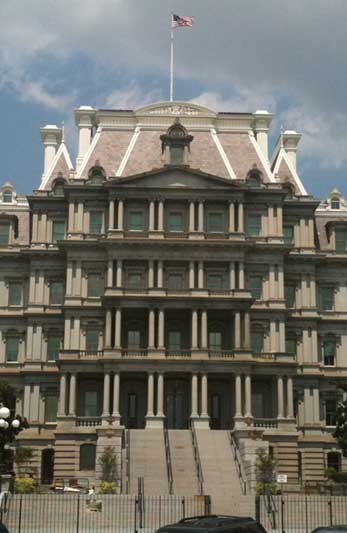 Just across Pennsylvania Avenue from the Renwick is a beauty – the Eisenhower Executive Office Building.  Now regarded by many as one of the loveliest structures in Washington, the huge, frilly, frothy 2nd Empire building has not always been appreciated.
When it was first designed by Alfred B. Mullet in 1871 as the State, War and Navy Building, the ornate 2nd Empire style was in vogue. However, during the 17 years it took to complete it,  architectural styles changed. The over-the-top, Gilded Age grandness Mark Twain called the "ugliest building in America" was considered over-done and out of style. Even President Herbert Hoover weighed in, calling it an "architectural orgy."
Both Mullett and his building were ridiculed, and several attempts were made to cover it up. Many wanted to raze it.  A distraught Mullett committed suicide.
Five stories consuming 300,000 square feet, with columns everywhere – 900 of them – separating a multitude of projecting bays, all topped by a large mansard roof seemingly growing chimneys, is admittedly over the top.
Time has redeemed Mr. Mullet. Today it's appreciated as a wonderful architectural treasure, a nice change from the austere, classical sameness of the city's institutional architecture.
Many of Washington's powerful have walked the halls. While holding other positions before becoming president,  both Roosevelts, Taft, Eisenhower, Lyndon Johnson, Ford, and George H.W. Bush had offices here, as have multiple Secretaries of the Navy, War, and State.
Today the magnificent structure houses various agencies of the Executive Office, including the Office of the Vice-President, the Office of Management and Budget, and the National Security Council.
Comments Off on Eisenhower Executive Office Building