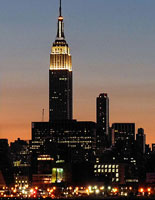 The Empire State Building Observatory holds a cherished place in American culture because of its prominent role in films, such as Sleepless in Seattle and An Affair to Remember. Located on the 86th floor of the renowned Empire State Building, the observation deck provides incredible panoramic views of the city skyline. Since the Art Deco building was constructed in 1931, more than 110 million people have visited the viewing platform. The building holds the record for the most popular outdoor observatory in the world.
Is your group planning a visit to the Empire State Building in NYC? Trusted Tours and Attractions provides deeper discounts to groups of 10 or more. For more information, please visit our page: New York City Group Discount Tickets
Soaring more than 1,200 feet above 5thAvenue, the deck provides impressive views of the Brooklyn Bridge, the Statue of Liberty and the top of the Chrysler Building. On a clear day, you can scan the horizon for more than eighty miles away. Portions of neighboring states are visible from the platform, including New Jersey, Pennsylvania, Connecticut and Massachusetts. The fence surrounding the promenade has numerous large openings that enable visitors to take unobstructed photos and videos of the cityscape.
An enclosed observatory is located on the 102nd floor for individuals who want to view the city from a vantage point higher than the primary viewing platform. This deck is 200 feet higher than the promenade. Tickets for this viewing location are available from a kiosk on the 86th floor. Reports indicate that the Empire State Building observatory generates more revenue for its owners than the building's office rental space.