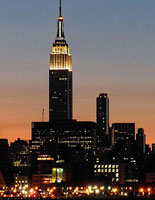 Construction on the 102-story Empire State Building began in 1930 and concluded approximately 16 months later at a final cost of $40,948,000. The internationally recognized, Art Deco-style edifice, designed by William Lamb, became an instant sensation and iconic symbol of New York. The first building to have more than 100 floors, the skyscraper remained the tallest structure on the planet for more than 40 years until it was eclipsed by the World Trade Center in 1973. At 1,250 feet, the Empire State building is one of the top 25 tallest buildings in the world as well as the third tallest in the United States. Only the Pentagon has more office space than the 2,768,591 million-square-foot building.
Planning a visit to the Empire State Building? Keep reading for more visitor information and history or click here to purchase tickets: Empire State Building Tickets
Click here for Empire State Building Prices
Click here for Empire State Building Hours
Over three million tourists visit this New York City landmark each year. The 86th floor Observation Deck provides panoramic vistas of the city and surrounding area. Visitors can reach the observatory on high-speed elevators that travel over 1,300 feet per minute. From this location more than 1,000 feet above the streets of Manhattan, guests can see the Brooklyn Bridge, the Chrysler Building and the Statue of Liberty. On a clear day, portions of New Jersey and Connecticut as well as New York State are also visible. The Observation Deck has a climate-controlled indoor viewing area and an outdoor promenade. Another observation deck is located on the 102nd floor.
The skyscraper was originally designed so that airship travelers could wait on the 86th floor before heading to the 102nd floor lobby prior to boarding the aircraft. The pinnacle of this National Historic Landmark that once served as a mooring port for the airships is now the location for numerous television and radio antennas. The Empire State Building has provided a backdrop for memorable scenes in pop culture. King Kong climbed the Indiana limestone façade, and the promenade was instrumental in "An Affair to Remember" and "Sleepless in Seattle." Lights illuminate the top of the tower to commemorate the season or a special event. The lights were blue when Frank Sinatra died and went completely dark upon the death of King Kong actress Fay Ray.
Each year, the building hosts a foot race from the ground floor to the 86th floor observation deck. In addition to restaurants and coffee shops, there are art exhibits in the lobby. Located on the second floor, the NY Skyride is a 30-minute skyline tour displayed on an 18-foot-tall high-definition screen.
Comments Off on Empire State Building Observation Deck Prices, Hours and Tickets